<![if !vml]>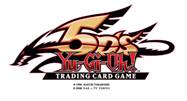 <![endif]>
Konami Digital Entertainment, Inc. Shifts It Into High Gear With
Yu-Gi-Oh! 5D's TRADING CARD GAME Stardust Overdrive
EL SEGUNDO, Calif. – (November 17, 2009) – Following a successful limited release at Official Tournament Stores late last month, Konami Digital Entertainment, Inc. (KDE) announces availability of the Yu-Gi-Oh! 5D's TRADING CARD GAME (TCG) Stardust Overdrive booster set at all hobby and retail stores nationwide.

Duelists everywhere can kick their Decks into overdrive with KDE's latest release! Stardust Overdrive features monsters from all three of the Yu-Gi-Oh! animated series including "Guardian Eatos" from classic Yu-Gi-Oh!, "Clear World" from Yu-Gi-Oh! GX, and dozens of new cards from Yu-Gi-Oh! 5D's including many of the monsters used by and against the Dark Signers on current episodes.

This all new 100-card booster set has something for everyone! Fans of the Dark Signers can collect more Earthbound Immortals and Fortune Ladies plus the Dark Signers' new Reptilianne and Spider monsters. Arrayed against these forces are the newest monsters of the Signers, including "Max Warrior" and the awesome "Majestic Star Dragon" (with 3800 Attack Points). Combined with new Koa'ki Meiru, Ritual Cards, Gemini monsters, Synchros, and much more, Stardust Overdrive (MSRP $3.99 per nine-card pack) will easily satisfy any Duelist.
Yu-Gi-Oh! TCG Stardust Overdrive set information
100-card complete set
Collect:
48 Common Cards (8:1)
20 Rare Cards (1:1)
14 Super Rare Cards (1:5)
10 Ultra Rare Cards (1:12)

The Yu-Gi-Oh! 5D's animated series can be seen in the United States Monday through Saturday on Cartoon Network. The original Yu-Gi-Oh! animated series can be seen Saturday mornings on TheCW4Kids block. For more information on Konami Digital Entertainment, Inc., the Yu-Gi-Oh! TRADING CARD GAME or the Stardust Overdrive booster, please visit www.yugioh-card.com or call 310-220-8630.