<![if !vml]>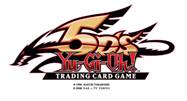 <![endif]>
VINCENT RALAMBOMIADANA TROUNCED HUNDREDS OF DUELISTS TO WIN THE KONAMI DIGITAL ENTERTAINMENT, INC. Yu-Gi-Oh! 5D'sTRADING CARD GAME SHONEN JUMP CHAMPIONSHIP IN COLUMBUS, OH
EL SEGUNDO, Calif. – November 16, 2009 – At this year's final Yu-Gi-Oh! 5D's TRADING CARD GAME (TCG) SHONEN JUMP Championship, held in Columbus over the weekend, more than 800 Duelists showed off their Dueling skills with the ultimate goal to be crowned the SHONEN JUMP Championship winner. Vincent Ralambomiadana, traveling from France to the U.S. to compete in this event, out-battled the field to claim the coveted title.
Vincent Ralambomiadana matched Kevin Slapnik, from Ohio, card for card for the title after two days of intense Dueling. Both competitors were at the tops of their game, with Ralambomiadana playing a French Twilight Deck and Slapnik countering with his Destiny Hero / Zombies Deck, respectively, ready for a grueling Match. Ralambomiadana and his peers took home prize packs that included such items as a "Dark End Dragon" SHONEN JUMP Championship Prize Card, a Top 16 SHONEN JUMP Championship Game Mat, popular personal video game console with Yu-Gi-Oh! 5D's Stardust Accelerator World Championship 2009, Yu-Gi-Oh! 5D's Wheelie Breakers, a 32 GB personal music player with codes to download Konami Mobile Games, and complimentary subscriptions to SHONEN JUMP magazine. Vincent will also receive a paid trip to the National Championship in 2010, courtesy of Konami Digital Entertainment.

Top finalists from the Columbus SHONEN JUMP Championship, along with the top Duelists from the Sunday Regional Qualifiers, also qualify to participate in their countries' respective 2010 National Championships.
For more information on Konami Digital Entertainment, Inc. the Yu-Gi-Oh! TRADING CARD GAME or the SHONEN JUMP Championship series, please visit www.yugioh-card.com.