<![if !vml]>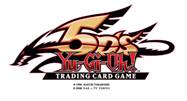 <![endif]>
KONAMI DIGITAL ENTERTAINMENT, INC. REVEALS PLANS FOR NEW Yu-Gi-Oh! 5D'S TRADING CARD GAME PEGASUS LEAGUE
Weekly Events at Official Tournament Stores Reward Creative Deck Builders
EL SEGUNDO, Calif. – (November 11, 2009) – Konami Digital Entertainment, Inc. (KDE) is bringing an opportunity to host weekly Yu-Gi-Oh! 5D's TRADING CARD GAME Pegasus Leagues to Official Tournament Stores. The Pegasus League, first unveiled in August at Gen Con Indy, is the perfect environment to showcase the effectiveness of a Duelist's creative deck-building skills.
KDE will regularly select a brand new format, offering new opportunities for Duelists in search of fun and unique challenges. Starting in November, the challenge is that all Decks must be constructed so that the Main Deck includes four EARTH, four FIRE, four WATER, and four WIND monsters. Each time the format is updated, the latest rules will be posted online on wwww.yugioh-card.com.
Duelists can meet each week and play a Swiss Round event using their Decks from the current League Format. Participants will earn points for playing, along with bonus points for winning. At the end of each month, the top four League competitors can win additional prizes. Further details on the Yu-Gi-Oh! 5D's TRADING CARD GAME Pegasus League can be found at www.yugioh-card.com/en/league/index.html.
Official Tournament Stores only need a supply of Turbo Packs and a reliable judge to host a dedicated weekly Pegasus League tournament. There are no kits to order or keep refilled. In fact, if a store is already running local tournaments, they already have nearly everything needed to host a Pegasus League weekly event!
For more information on Konami Digital Entertainment, Inc., the Yu-Gi-Oh! TRADING CARD GAME, or the company's tournaments and events, please visit www.yugioh-card.com.