Upper Deck Hosts Yu-Gi-Oh! TCG Light of Destruction Expansion Set
Sneak Preview Event on May 3 and 4
Event Offers First Glimpse of New

Set and
the Exclusive "Guardian of Order" Card to All Attendees
Celebrating the much-anticipated release of the newest Yu-Gi-Oh! TRADING CARD GAME (TCG) expansion set – Light of Destruction -- Upper Deck Entertainment (UDE), invites Yu-Gi-Oh! TCG fans to take a sneak peek at the upcoming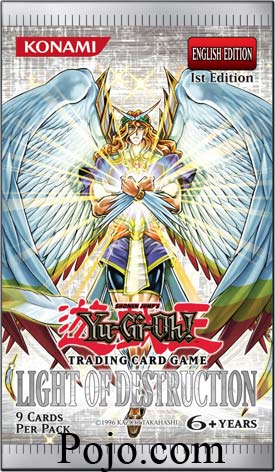 set on Saturday and Sunday, May 3 and 4. Because the set is currently sold out, Duelists are encouraged to take advantage of this opportunity to get their hands on these brand new cards, as well as the exclusive "Guardian of Order" card that allows any LIGHT Duelist can command it to finish off their opponent. Each attendee will receive one "Guardian of Light" card (while supplies last).
Celebrating the release in over sixty North American cities, the Light of Destruction Sneak Preview events allows Duelists a chance to get their hands on the new cards before they are available anywhere else. Duelists can also compete to win prizes, and receive free Shonen Jump products simply by showing up. To find a Light of Destruction Sneak Preview event, players can log onto www.wannaduel.com.
This 100-card set introduces amazing LIGHT cards, allowing Duelists to banish their opponent's monsters from light-years away! Light of Destruction also includes the mysterious, long-in-demand "Arcana Force" cards from Season 2 of the Yu-Gi-Oh! GX animated TV series. These powerful cards and themes are sure to help Duelists and Yu-Gi-Oh! GX anime fans see the light!
Additionally, Light of Destruction boasts 10 cards exclusive to Upper Deck, 10 cards previously only released in Japan, and more Ultra Rares, Super Rares, and Rares than ever before!
For more information on products, events, tournaments, and the latest in Yu-Gi-Oh! TCG news, Duelists can visit www.wannaduel.com.