GO for the GOLD!
Konami Digital Entertainment, Inc. and
Upper Deck Entertainment
Announce the First Ever
Yu-Gi-Oh! TCG Hobby Exclusive!
World Premiere Card Technology!
Must-Have Set for Duelists and Collectors!
Carlsbad, CA (March 6, 2008) – Konami Digital Entertainment, Inc. (KDE) and Upper Deck Entertainment (UDE) announce the first-ever Yu-Gi-Oh! TRADING CARD GAME Hobby Exclusive release, the Gold Series! Visit www.yugioh-card.com for more information.
"Konami is excited to be offering this Hobby Exclusive with Upper Deck," said Yumi Hoashi, VP of Card Business for Konami. "We recognize how important hobby stores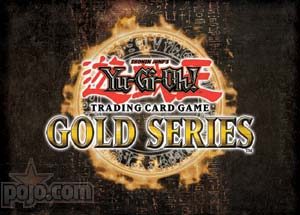 are to our players and are looking forward to the success of the Gold Series."
"The Gold Series Hobby Exclusive is a great opportunity to launch our new card technology," said Leighton Kurashima, Upper Deck's Yu-Gi-Oh! TCG brand manager. "Konami and Upper Deck have worked hard on this product, and we believe the combination of great cards and the new gold technology, which introduces gold borders and other enhancements to the Yu-Gi-Oh! TCG, will make the Gold Series a big winner in hobby stores."
The Gold Series, a 45-card set, features never-before-seen gold foil technology and legendary cards. The set contains reprints of 18 fan-favorite cards, including "Jinzo," "Don Zaloog," "Mirror Force" and "Crush Card Virus," enhanced with the new gold foil card technology. Each 25-card pack boasts three gold technology cards. With unique cards and new high-end packaging, Gold Series is perfect for collectors and Duelists seeking to increase the rarity and prestige of their Decks.
All Yu-Gi-Oh! TCG products are heavily supported by UDE's Organized Play programs. These programs include Hobby League, Shonen Jump Championships, Regional Qualifiers and National Championships. All UDE-sanctioned tournaments award exclusive Yu-Gi-Oh! TCG product to participants and exciting prizes to top finishers in each tournament, which can include an invite to play in the 2008 Yu-Gi-Oh! TCG World Championship Tournament. For more information on the UDE's Organized Play programs, please log onto www.wannaduel.com.