Konami Digital Entertainment, Inc. Upper Deck Entertainment Announces
More Prizes
for
Shonen Jump's 50th Yu-Gi-Oh! TCG
Championship Tournament
More Prizes, More Chances to Win!
Carlsbad, CA (February 14, 2008) – You ain't see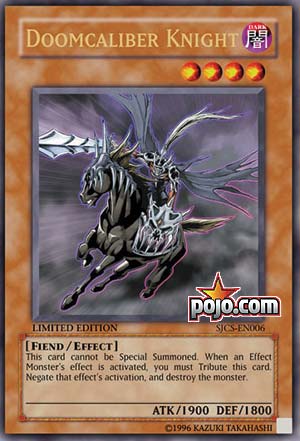 n nothing yet! After stunning Duelists around the world last week, Konami Digital Entertainment, Inc. (KDE) and Upper Deck Entertainment (UDE) today did it again, by unveiling the brand new prize card for Shonen Jump's 50th Yu-Gi-Oh! TRADING CARD GAME (TCG) Championship Tournament. This record-breaking competition will be held at the Orange County Fair and Exposition Center in Costa Mesa, California on March 8-9, 2008. Visit www.wannaduel.com for more information.
In honor of the 50th Shonen Jump Championship, KDE and UDE unveils a new Shonen Jump Championship prize card: "Doomcalibur Knight"! This much desired card will ascend to the Shonen Jump throne, and be awarded not only to the top four finishers in the main event, but also to a lucky Duelist in a side event.
The world learned last week that the Grand Prize winner will receive a playable copy of each previous Shonen Jump prize card: "Gold Sarcophagus," "Crush Card Virus," "Shrink," "Des Volstgalph," and the card that started it all, "Cyber-Stein." An additional copy will be encased in the Championship trophy.
Keep visiting www.yugioh-card.com! KDE and UDE has more tricks up its sleeve!
The Yu-Gi-Oh! TCG is a game of strategy, where players create individual decks of cards collected from Structure Decks and Booster Packs. Two players engage in a Duel while using cards that represent powerful Monsters, magical Spells and surprising Traps. Duelists with well-constructed decks, dominating monsters, solid strategy and good fortune are the victors in the game. The Yu-Gi-Oh! TCG is manufactured by Konami, and is distributed worldwide (with the exception of Asia) by Upper Deck.
All Yu-Gi-Oh! TCG products are heavily supported by UDE's Organized Play programs. These programs include Hobby League, Shonen Jump Championships, Regional Qualifiers and National Championship Tournaments. All UDE-sanctioned tournaments award exclusive Yu-Gi-Oh! TCG product to tournament participants and exciting prizes to top finishers in each tournament, which can include an invite to play in the 2008 Yu-Gi-Oh! TCG World Championship Tournament. For more information on the UDE's Organized Play programs, please log onto www.wannaduel.com.