Become a World-Class Duelist with this Comprehensive Gaming Set Featuring Video Game, Instructional DVD and Exclusive Trading Cards
Konami Digital Entertainment, Inc. today announced that Y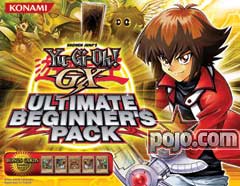 u-Gi-Oh! GX Ultimate Beginner's Pack for the Game Boy® Advance handheld video game system is now available
exclusively
at the Konami online store, www.konamistyle.com. A comprehensive package including everything players need to become master duelists, the game comes with the Yu-Gi-Oh! GX Duel Academy video game, an in-depth tutorial DVD, and a starter deck of trading cards.
Players can first view the instructional DVD included in Yu-Gi-Oh! GX Ultimate Beginner's Pack for a step by step tutorial about the world, characters and rules of Yu-Gi-Oh! gameplay. The included trading cards lets players enjoy the game in its original form, before progressing to the ubiquitous video game adaptation. Players will also receive several limited edition trading cards from the coveted Exodia series to build their new collection of cards.
The perfect video game to introduce players to the Yu-Gi-Oh! universe, Yu-Gi-Oh! GX Duel Academy contains more than 2,000 cards to collect and new modes of play that let duelists hone their skills to perfection. New modes such as Theme Duel, Duel Puzzle and Limited Duel builds the player's dueling abilities, expanding their skills and preparing them for more advanced play. One-on-one duels are also supported through the Game Boy Advance Link Cable.
Yu-Gi-Oh! GX Ultimate Beginner's Pack is rated "E" for Everyone by the ESRB and has an MSRP of $49.99.