Yu-Gi-Oh has come to the DS - Dennis A.
9.7.05
Finally Yu-Gi-Oh has come to the DS, and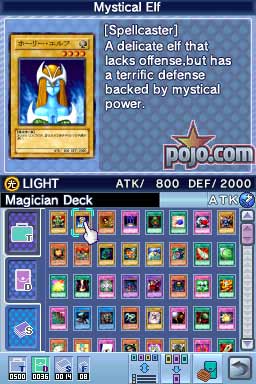 might i say that it was well worth
the wait. Lets face it folks...i've played some good Yu-Gi-Oh video games and
some that well...lets not talk about the other ones.nightmare troubadour is definitely the best one that ive played thus far. The Hot/Cold idea of finding duels its ok...i must admit having to run about the screen gets old.

But even that has a solution since after dueling a person enough times u can add them to a kinda " buddy " list and then can choose to duel them anytime. After you win a duel you gain KC points in order to buy new packs of cards, not only do u get KC points but u also get experience points which allow u to gain access to new packs of cars with better monsters/spells/traps. Now those of you who hve been collecting since the days of metal raiders and magic ruler and have 45 copies of skull servant dont worry u can have them here to since there is no way to make sure u get new or even rare cards in ur packs u will have many copies of every card very soon.

Now lets say u get tired of dueling well they have a very interesting puzzle
mode that buts u in a must win situation ( one turn ) that has mad me
scratch my head many many times, because they dont take all the popular
cards and say here "destroy this " but puts u in some sticky situations, and u do gain KC points for completing them which at first really helps get ur deck going(
these also open up by gaining duelist exp ).

AS for actual game play itself, what can i with using a touch screen the
only feeling u dont have from a real yu gi oh game is actually having to
pick the cards up, all in all go pick it up if u have a DS, if not...well X-
mas is just around the corner.
Free Promos in the game:
Silent Magician LV4
spellcaster/effect
1000/1000
Each time your opponent draw(s) a card, put 1 spell counter on this card(
max 5 ). Increase the ATK of this card by 500 points for each spell counter
on this card.
If 5 spell counters are on this card during the standby phase of ur next
turn, by sending this face- up card with 5 spell counters on it to the
graveyard, special summon 1 " silent magician lv8 " from ur hand or deck

Silent Magician Lv8
spellcaster/effect
3500/1000
this card cannot be normal summoned or set. this card cannot be special
summoned except by the effect of " silent magician lv4 " . this card is
unaffected by the effects of your opponests spell cards

Magician's Circle
Trap
You can activate this card when spellcaster-type monster declares an attce.
Each player selects 1 sellcaster -type monster from their decks with 2000
ATK or less and special summons it in face- up attack position to there side of the
field

Dennis A
Further questions/comments: gobstopper45@hotmail.com