Yugioh U.S. National Video Game Championships
June 24, 2005 - Konami Headquarters
Report by Twinsen21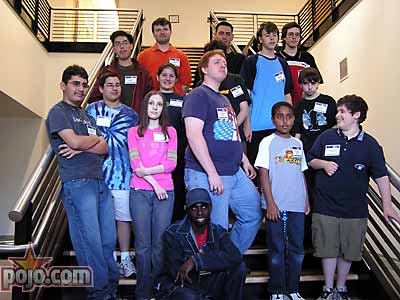 Here is a brief account on what happened at the Yu-Gi-Oh! U.S. Nationals Championship 2005 (GBA Game not the TCG) in Redwood City, CA a couple of weeks ago. Unlike last year where we had playoffs in various ToysRUs all around the US (and getting a nifty Kanan The Swordmistress Promo), we did not have an age bracket this year. That means that you can be over 14 years old and still represent! I'm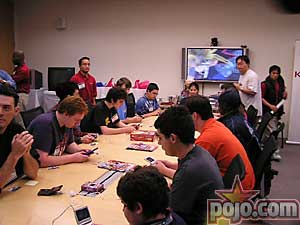 sure most of you already knew about the selection process. There was an online quiz that we could all take a while back. Top 100 moved on to round 2. Round 2 was another online quiz that had to be taken simultaneously. Top 14 moved on to the Nationals Championship.

Even though, it is only Top 14, two other people were given an automatic invite to the event to cap off the last two spots for the Top 16. These two people were Patrick Dicks (last year's Champion) and Matthew Mancusso (last year's 2nd Place). All 16 people will had to play off against each other in order to win the chance to represent the US. 5 lucky people will be flown to Japan to compete in this year's World Championship on August 6th.

The players played really well and in the finals it was between Patrick Dicks and Raymond Lantz. Patrick was running a Cyber-Stein/Chaos Hybrid while Raymond was running a Swarm Warrior deck. In the end, Patrick managed to defend his title and became the US Champion again! Congratulation to Patrick Dicks, Yu-Gi-Oh! U.S. Nationals Champion 2005!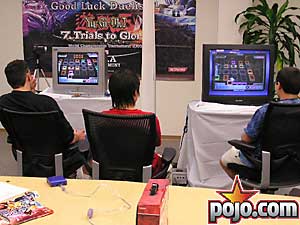 Semi Finals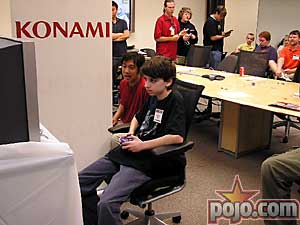 Raymond Lantz in the Finals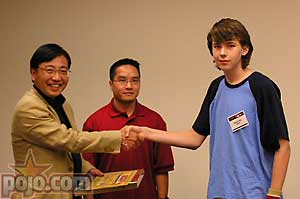 Patrick Dirk's Takes First Place