THE KONAMI CORPORATION AND UPPER DECK ENTERTAINMENT UNLEASH 'FURY' AND 'DESTRUCTION' IN MAY WITH NEW Yu-Gi-Oh! TRADING CARD GAME STRUCTURE DECKS
Built-to-Win Structure Decks Offer Yu-Gi-Oh! TCG Fans a
Competitive Edge in Gaming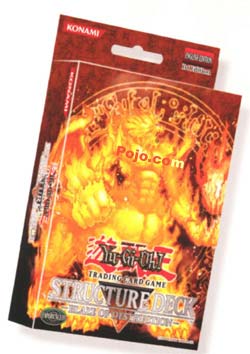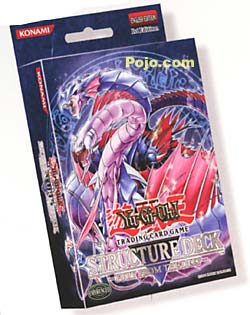 CARLSBAD, CA – May 13, 2005 – Upper Deck Entertainment (UDE) -- in association with the KONAMI Corporation -- unleashes fury and mass destruction in May, with the all-new Yu-Gi-Oh! TRADING CARD GAME Fury from the Deep and Blaze of Destruction Structure Decks. Built to win, the new Structure Decks will be available in participating hobby and retail store outlets late May.
Forces of nature and creatures from the deep collide as the new Fury from the Deep and Blaze of Destruction Structure Decks offer competitive-themed decks modeled after the popular decks available only in Japan. Tournament-ready right out of the box, each deck includes staple cards for experts and beginners alike to use in their quest to become "The King of Games." Each structure deck contains 40 cards, one rule booklet, and one game mat. In addition, each deck will contain one Ultra Rare card, and a Dueling Guide to help beginning and expert Duelists improve their current decks.
UDE currently hosts a series of Regional Tournament Weekends nationwide for the Yu-Gi-Oh! TCG. Each Regional Tournament Weekend event offers a total of four invitations to the U.S. Yu-Gi-Oh! TCG National Championships. U.S. Nationals will be held in Columbus, Ohio at the Origins International Game Expo on July 2. Players are invited to Nationals by winning slots at UDE Regional event weekends or by placing in the top four at a Nationals last chance tournament.
During the game, players duel each other by summoning monsters and activating spell and trap cards. Using a Starter Deck and/or booster sets, Duelists collect cards to play their hands against other duelists. Duelists with well-constructed Decks, powerful monsters, solid strategy and a little good fortune are the winners in the Yu-Gi-Oh! TRADING CARD GAME.
The Yu-Gi-Oh! TCG is a product of the KONAMI CORPORATION, and is distributed worldwide (with the exception of Asia) by the Upper Deck Company.
For more information on UDE and its products, Internet users can log on to www.upperdeckentertainment.com.