Card Game
Card of the Day
TCG Fan Tips
Top 10 Lists
Banned/Restricted List
Yu-Gi-Oh News
Tourney Reports
Duelist Interviews

Featured Writers
Baneful's Column
Anteaus on YGO
General Zorpa
Dark Paladin's Dimension
Retired Writers

Releases + Spoilers
Booster Sets (Original Series)
LOB | MRD | MRL | PSV
LON | LOD | PGD | MFC
DCR | IOC | AST | SOD
RDS | FET
Booster Sets (GX Series)
TLM | CRV | EEN | SOI
EOJ | POTD | CDIP | STON
FOTB | TAEV | GLAS | PTDN
LODT
Booster Sets (5D Series)
TDGS | CSOC | CRMS | RBGT
ANPR | SOVR | ABPF | TSHD
STBL | STOR | EXVC
Booster Sets (Zexal Series)
GENF | PHSW | ORCS | GAOV
REDU | ABYR | CBLZ | LTGY
NUMH | JOTL | SHSP | LVAL
PRIO

Starter Decks
Yugi | Kaiba
Joey | Pegasus
Yugi 2004 | Kaiba 2004
GX: 2006 | Jaden | Syrus
5D: 1 | 2 | Toolbox
Zexal: 2011 | 2012 | 2013
Yugi 2013 | Kaiba 2013

Structure Decks
Dragons Roar &
Zombie Madness
Blaze of Destruction &
Fury from the Deep
Warrior's Triumph
Spellcaster's Judgment
Lord of the Storm
Invincible Fortress
Dinosaurs Rage
Machine Revolt
Rise of Dragon Lords
Dark Emperor
Zombie World
Spellcaster Command
Warrior Strike
Machina Mayhem
Marik
Dragunity Legion
Lost Sanctuary
Underworld Gates
Samurai Warlord
Sea Emperor
Fire Kings
Saga of Blue-Eyes
Cyber Dragon

Promo Cards:
Promos Spoiler
Coll. Tins Spoiler
MP1 Spoiler
EP1 Spoiler

Tournament Packs:
TP1 / TP2 / TP3 / TP4
TP5 / TP6 / TP7 / TP8
Duelist Packs
Jaden | Chazz
Jaden #2 | Zane
Aster | Jaden #3
Jesse | Yusei
Yugi | Yusei #2
Kaiba | Yusei #3
Crow

Reprint Sets
Dark Beginnings
1 | 2
Dark Revelations
1 | 2 | 3 | 4
Gold Series
1 | 2 | 3 | 4 | 5
Dark Legends
DLG1
Retro Pack
1 | 2
Champion Pack
1 | 2 | 3 | 4
5 | 6 | 7 | 8
Turbo Pack
1 | 2 | 3 | 4
5 | 6 | 7

Hidden Arsenal:
1 | 2 | 3 | 4
5 | 6 | 7

Checklists
Brawlermatrix 08
Evan T 08
X-Ref List
X-Ref List w/ Passcodes


Anime
Episode Guide
Character Bios
GX Character Bios
Video Games
Millennium Duels (2014)
Nighmare Troubadour (2005)
Destiny Board Traveler (2004)
Power of Chaos (2004)
Worldwide Edition (2003)
Dungeon Dice Monsters (2003)
Falsebound Kingdom (2003)
Eternal Duelist Soul (2002)
Forbidden Memories (2002)
Dark Duel Stories (2002)
Other
About Yu-Gi-Oh
Yu-Gi-Oh! Timeline
Pojo's YuGiOh Books
Apprentice Stuff
Life Point Calculators
DDM Starter Spoiler
DDM Dragonflame Spoiler
The DungeonMaster
Millennium Board Game
Magic
Yu-Gi-Oh!
DBZ
Pokemon
Yu Yu Hakusho
NeoPets
HeroClix
Harry Potter
Anime
Vs. System
Megaman
This Space
For Rent



Pojo's Yu-Gi-Oh News
4KIDS HOME VIDEO TO RELEASE YU-GI-OH! VOL. 3.1:
BACK TO BATTLE CITY ON MARCH 8, 2005

Limited Edition Yu-Gi-Oh! Enter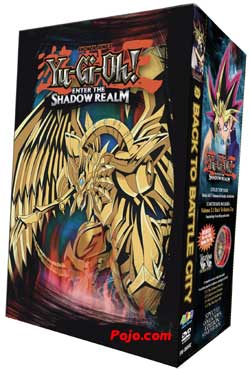 The Shadow Realm Collector's Starter Box Streets April 5, 2005 Exclusively At Target Stores Nationwide Featuring Yu-Gi-Oh! Back To Battle City 3.1 And Bonus Yu-Gi-Oh! Yo-Yo

FOR IMMEDIATE RELEASE:

New York, N.Y. (February 25, 2004)-4Kids Entertainment Home Video, Inc., the home video unit of 4Kids Entertainment, Inc. (NYSE: KDE), in association with FUNimation Productions LTD, will release YU-GI-OH! Volume 3.1: Back To Battle City at retailers across the country on March 8, 2005, it was announced by Joe Lyons, Director of Home Entertainment, 4Kids Entertainment.

In addition, on April 5, 2005, 4Kids Home Video will release a limited edition YU-GI-OH! Enter the Shadow Realm Collector's Starter Box. Found exclusively at Target stores nationwide, the starter box includes Volume 3.1 and a bonus YU-GI-OH! yo-yo. The starter box allows Yu-Gi-Oh! fans to collect additional season-three DVDs and store them in this spectacular designer box.

Volume 3.1 features four action-packed episodes from the third broadcast season of the hit animated series that marked the conclusion of KaibaCorp's ultimate Duel Monsters tournament . the Battle City Finals. The greatest duelists on Earth fought their hardest and now it's down to four, but only ONE can lay claim to the three all-powerful Egyptian god cards! And, with the sinister Marik involved, this is no easy task. Wielding the ancient power of the Millennium Rod, Marik has turned this competition into a dreaded Shadow Game with each duel more terrifying than the last! Who will prevail? Find out when you ENTER THE SHADOW REALM!

Based on a popular Japanese comic series, YU-GI-OH! follows the tales of a boy infused with incredible mystical powers, who, along with his three best friends, sets out on the adventure of lifetime, filled with wild, magical duels.

YU-GI-OH! Volume 3.1: Back To Battle City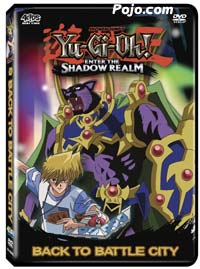 Episode 222 Back to Battle City - Part I
Episode 223 Back to Battle City - Part II
Episode 224 Back to Battle City - Part III
Episode 225 The Darkness Returns - Part I

RUNNING TIME: Approx. 80 minutes
RATING: TV PG

WIDE RELEASE SRP: $14.98 / $9.98 VHS
STREET DATE: 3/8/05

TARGET EXCLUSIVE STARTER BOX SRP: $24.98 STREET DATE: 4/5/05

# # #

About 4Kids Entertainment
Headquartered in New York City with international offices in London, 4Kids Entertainment, Inc. (NYSE: KDE) is a global provider of children's entertainment and merchandise licensing. 4Kids, through its wholly owned subsidiaries, provides domestic and international merchandise licensing; television, film, music and home video production and distribution; media planning and buying; product development; and Web site development. For further information, please visit the Company's Web site at www.4KidsEntertainment.com.