Pojo's YU-GI-OH! News
Upcoming Set News

Here is a picture of the 3 new booster sets coming out for Yu-Gi-Oh.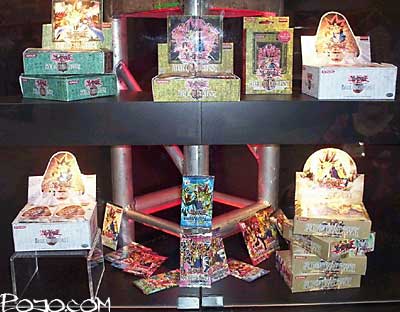 The pic was taken at Origins at the Upperdeck booth in the vendors area Sunday June 27 2004.
On the left is "Soul of the Duelist", it has a green box and I think it will be out in October of this year.

The next one to come out is in the middle. it has a yellow box and is called "Rise of Destiny" This one seems to come in a 3 pack IOC-type retail package with a variant card as well as a 24 pack box.
Finally on the right is the last one of the three to come out and is called "
Dark Beginnings
". Now this set has **
12
** cards per pack that is why the 24 count box looks like a 36 count box.
One quick note on the "Dark Beginnings" box, if you look close the picture is of normal Yugi and not Yami.
- Dan Fisher