Pojo's YU-GI-OH! News
Yu-Gi-Oh! The Movie
4.15.04 Aaron sent us an update on the YuGiOh Movie that hits theaters on August 13, 2004: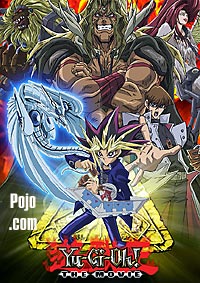 The movie is about an ancient evil, Anubis who tried to take over the world millennia ago and was destroyed by Yami has now come back and is trying to defeat Yami and take over the world again. I think it's after battle city cause Marik would be on the cover.
Also if you look at the poster closely, at the stone tablet above Yami, you can see 2 cards (a 3rd is hidden) connecting to each other. The white dragon is either Kaiba's ancient Blue Eyes or some new monster. The movie is set to be released August 13th 2004 (on a Friday, also date could change). Warner Bros. is also giving out a free limited edition Card (Name unknown) to everyone who goes to see the movie.
Here's official details from Warner Brothers: "In YU-GI-OH!: The Movie, after the conclusion of the Battle City Tournament, deep below the sands of Egypt, an ancient evil has awakened. Anubis, who was defeated centuries ago by Yugi's mysterious alter ego - the ancient Pharaoh - has returned for revenge. Wielding the power of the Eighth Millennium Item, Anubis is determined to destroy Yugi and take over the world!"
----
4.20.04 The blue eyes they are talking about it called blue eyes shining dragon and its a new card that kaiba has not an old one. There is a lot about the movie at janime.net just scroll down there and it has a lot of information. - Michael King