Yu-Gi-Oh! PCK Scans
by GSAttack
Below are scans of the promo cards found in the "Power of Chaos: Kaiba The Revenge" for the PC. There may be two additional cards that I am not aware of at this time (like with "Power of Chaos: Yugi The Destiny").

Below is the spoiler listing for these three cards.

Ed.
---------------------------------------------------------------
PCK-001 Blue-Eyes White Dragon
LIGHT/[Dragon]/L8/ATK3000/DEF2500
"This legendary dragon is a powerful engine of destruction. Virtually invincible, very few have faced this awesome creature and lived to tell the tale."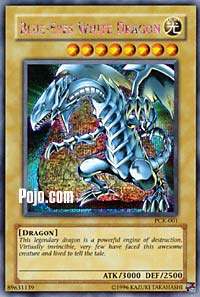 PCK-002 Aqua Chorus
TRAP/[Continuous/Trap]
"If there are monsters with the same name on the field, increase the ATK and DEF of all of those monsters with the same name by 500 points."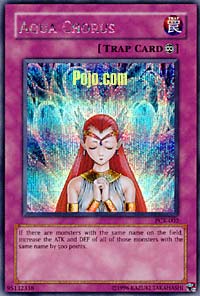 PCK-003 Seal of the Ancients
SPELL/[Normal/Spell]
"Pay 1000 Life Points. Pick up and see all face-down cards on your opponent's side of the field, then return them to their original positions. (The effects of the face-down cards are not activated.)