Yu-Gi-Oh! DOD Scans
by GSAttack
DOD-001 The Winged Dragon of Ra
DIVINE/[Divine-Beast]/L10/ATK????/DEF????
"Spirits sing of a powerful creature that rules over all that is mystic."
[This card cannot be used in a Duel]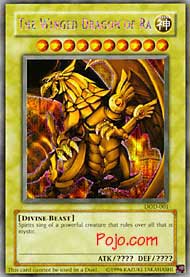 DOD-002 Dark Sage
DARK/[Spellcaster/Effect]/L9/ATK2800/DEF3200
"This card can only be Special Summoned from your hand or your Deck by offering 1 "Dark Magician" on your side of the field as a Tribute when you succeed in the effect of "Time Wizard". At that time, select 1 Spell Card from your Deck, add it to your hand, and then shuffle your Deck."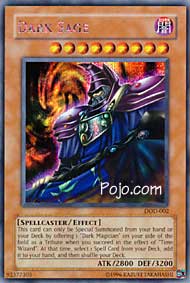 DOD-003 Widespread Ruin
TRAP/[Normal/Trap]
"You can only activate this card when your opponent declares an attack. Destroy 1 monster with the highest ATK among your opponent's Attack Position monsters."