UPPER DECK ENTERTAINMENT CROWNS FIRST SHONEN JUMP YU-GI-OH! TRADING CARD GAME CHAMPION AT GEN CON SOCAL

CARLSBAD -- December 9, 2004 -- Over 300 Duelists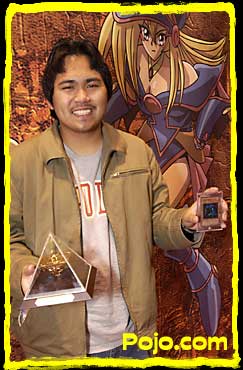 gathered at the Anaheim Convention Center December 2nd-5th to take part in the debut of the exciting new Shonen Jump's Yu-Gi-Oh! TRADING CARD GAME Convention Championship Event. On Saturday, December 4, 309 local and out-of-town participants battled in a nine-round, all day tournament, which featured tried-and-true deck archetypes, a few new innovations, and first-rate competition amongst the most talented Duelists in the game.

San Diego's John Umali had the honors of taking away one of the most attractive prize packages in Yu-Gi-Oh! TCG history, which included the first-ever distributed English language "Cyber-Stein" card, a Dell Inspirion XPS gaming laptop, and a beautiful championship trophy. As a top player, Umali and his Hybrid Deck has earned an invitation to compete in the upcoming Yu-Gi-Oh! TCG National Championship Tournament in 2005. Winners of the Yu-Gi-Oh! TCG National Championship Tournament will represent the United States, and battle over 15 countries for the world's top title in 2005's Yu-Gi-Oh! TCG World Championship Tournament.
John Umali's Winning Deck List

Monsters: 16

1 Air Knight Parshath
1 Dark Magician of Chaos
1 Fiber Jar
2 Magician of Faith
1 Jinzo
1 Blade Knight
1 Black Luster Soldier – Envoy of the Beginning
1 Tribe
2 D. D. Warrior Lady
1 Kycoo the Ghost Destroyer
1 Magical Scientist
1 Breaker the Magical Warrior
1 Reflect Bounder
1 Berserk Gorilla

Spells: 18

2 Scapegoat
1 Book of Moon
1 Mirage of Nightmare
1 Confiscation
1 Mystical Space Typhoon
1 Emergency Provisions
1 Change of Heart
1 Creature Swap
1 Premature Burial
1 Pot of Greed
1 Heavy Storm
1 Swords of Revealing Light
1 Snatch Steal
1 Nobleman Crossout
1 Forceful Sentry
1 Painful Choice
1 Metamorphosis

Traps: 6

1 Raigeki Break
1 Bottomless Trap Hole
1 Ring of Destruction
1 Torrential Tribute
1 Call of the Haunted
1 Sinister Serpent

Side deck

2 Dust Tornado
1 Magic Drain
1 Bottomless Trap Hole
1 Magic Cylinder
1 Ceasefire
1 Hallowed life barrier
1 Nobleman of Crossout
1 Book of Moon
1 Mask of Darkness
2 Mystic Swordsman LV2
1 Exiled Force
1 Mobius the Frost Monarch

Fusion deck:

3 Ryu Senshi
3 Dark balter
2 Thousand-Eyes Restrict
3 Dark Flare Knight
3 Darkblade the Dragon Knight
2 Reaper of Nightmare
1 Fiend Skull Dragon
1 Ojama King
1 St. Joan
1 Giltia the D. Knight
1 Musician King
1 Darkfire Dragon
1 Dragoness the Wicked Knight