Yu-Gi-Oh! The Falsebound Kingdom

Format:

NINTENDO GAMECUBE™
Genre:
STRATEGY
Ship Date: November 4th 2003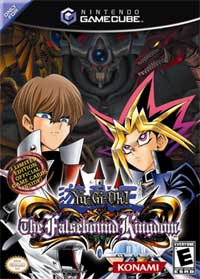 ESRB: E (Fantasy Violence)
MSRP: $39.99
Click here to order from Amazon.com
In the first Yu-Gi-Oh! game on the Nintendo GameCube™, Yugi and his friends are trapped in a virtual reality world gone crazy! The dueling field comes to life with living, breathing monsters and 3D environments as the player forms teams of three monsters and delegates commands in real time to conquer each mission. Characters and monsters from the Yu-Gi-Oh! animated TV series appear in the most visually stunning and greatest Yu-Gi-Oh! videogame adventure ever!
Features
Two heroes with two different scenarios –

Choose to play as Yugi or Kaiba to escape the VR world

Open Field Monster Battle feature allows strategic 3-on-3 team battles

Over 175 full 3D monsters from the Yu-Gi-Oh! world to command

Awesome combination attacks inspired from the Yu-Gi-Oh! comic book and animated TV series

Simple RPG command battle system that makes the battles easy to pick up