Yu-Gi-Oh! The Sacred Cards
10.29.03 Yu-Gi-Oh! The Sacred Cards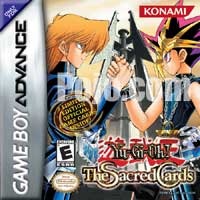 Format:

GAMEBOY® ADVANCE™
Genre:
RPG/CARD BATTLING
Ship Date: November 4th 2003
ESRB: E (Mild Fantasy Violence)
MSRP: $29.99
Click Here to Order from Amazon.com
Join Yugi and his friends in a card battling RPG on the Game Boy® Advance™. In a tournament hosted by Kaiba Corporation, the battle for the ultra-powerful "Egyptian God Cards" begins. Based on events from the Yu-Gi-Oh! animated TV series, The Sacred Cards offers unexpected twists and expands upon the adventure of the Battle City Tournament storyline. Duel against over 100 duelists and rivals and build a powerful deck with over 900 unique cards to reach the finals in the ultimate Yu-Gi-Oh! competition.
A rich, expansive adventure based on the Yu-Gi-Oh! animated TV series

Over 900 cards including new, more powerful cards

Challenge over 100 duelists and rivals to battle in the tournament

Explore a vast city with locations including the graveyard, toy shop, museum and Kaiba Corporation

Duel with the three "Egyptian God Cards" for the first time ever