YGOmaster's Zone
New And Original Decks, Part 4
January 8, 2007
Hey everybody, I'm sorry about the time gap between my articles, I've been pretty busy lately, but I'm ready to make up for it. Today, I'll be looking at some more Original Decks, and ways to use them competitively, and even make them a Top Tier. The deck I'll be looking at today is a Machine Build that might just be the counter you are looking for to stop the almighty Gadgets.
CC (Canceller Control)
Monsters: 21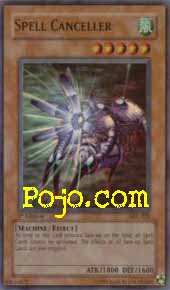 3 Spell Canceller
3 Cyber Phoenix
3 Dekoichi the Battlechanted Locomotive
3 Cyber Dragon
3 UFO Turtle
3 Blowback Dragon
1 Spirit Reaper
1 Sangan
1 Breaker the Magical Warrior
Spells: 10
3 Brain Control
1 Premature Burial
1 Last Will
1 Mystical Space Typhoon
1 Heavy Storm
1 Nobleman of Crossout
1 Limiter Removal
1 Graceful Charity
Traps: 9
3 Sakuretsu Armor
1 Widespread Ruin
1 Call of the Haunted
1 Ring of Destruction
1 Torrential Tribute
1 Mirror Force
1 Bottomless Trap Hole
Total: 40
Side Deck: 15
3 Overload Fusion
3 Royal Decree
3 Des Wombat
3 Poison of the Old Man
2 Giant Trunade
1 Future Fusion
That's the deck. The Spell Cancellers can really hurt the Gadget by taking down all of their Monster Destruction Spell Cards. It plays a bit defensively at first, and you need to get a Spell Canceller in early to mid game. Blowback Dragon is what I usually don't tend to go to, because it is a bit luck-based, but is very nice in this deck. You can destroy defensive Trap Cards, and also sacrifice your opponent's Monsters via Brain Control. You won't see many Spell Cards in the deck because of the triple Spell Cancellers. Most of the deck's Monster Destruction is in the Trap Cards, so we can avoid the problem of the Canceller. As you can see by the Side Deck, it sides into a full-fledged Chimeratech OTK. Cards that you might want to drop for the OTK would be Spell Canceller, Brain Controls, and other cards you probably won't be using.
The way this deck hurts the Gadgets is by taking down most of its Monster Destruction. Spell Canceller and Blowback Dragon will do that, and are the keys of the deck. Once you take care of most of their destruction, they will suddenly be scrambling to find a way to destroy the problems. They will most likely be trying to grab their Cyber Dragons to take down your Spell Cancellers, and then work their way back from there. That's why the deck is packed with our own Defensive Traps. Many people have asked me why I didn't include Jinzo into the deck. The answer is quite simple really, because you need most of your defensive Traps in a situation like the one above. Otherwise, Jinzo will lock you down, and then you opponent will be able to kill your Cancellers, and them be able to use their Spell Cards to take down your Jinzo. Blowback Dragon works just fine in the deck, and can usually work almost as good as Jinzo. ; As you might notice, Blowback Dragons and Spell Cancellers are extremely important, so I'm running Pot of Avarice, Premature Burial, and Call of the Haunted to maximize their use.
The deck also functions with the ever popular Cyber Phoenixes, which protect my Machines from Sakuretsu Armor, Ring of Destruction, Enemy Controller, etc. They also replenish my hand once they hit the Graveyard, and are searched by UFO Turtle as well. They aren't as important as everything else, but can provide tough situations for your opponent, and better advantage for you. They also go with the Side-Deck, because they are both Machines, meaning Overload Fusion will absorb them and boost the Chimeratech Over Dragon to huge game-winning numbers.
Hope you like the deck, and I'm sorry the article was fairly short. I'll be getting back to new articles as soon as I can, so just stay tuned. As always, you can email any Deck Ideas, Comments, Suggestions, or Deck Help to
zbarvian@comcast.net
. CYA next time.
This is YGOmaster, signing off.