Hey everyone, sorry I haven't done an article, I've been pretty busy with school and New Years and stuff. Okay, so I back again with a new article. Today, I'll be looking at Gadget decks, and some cards that might be able to take down the totally hyped up Machines.
Gadgets aren't really that strong, but they have a great effect. I reviewed them in my last article, but I'll give you their effects one more time.
SD10-JP006
Green Gadget
Earth/Machine/4/1400/600
When this card is summoned or special summoned, find the "Red Gadget" in your deck and add to your hand.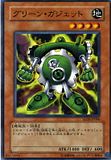 SD10-JP007
Red Gadget
Earth/Machine/4/1300/1500
When this card is Normal Summoned or Special Summoned, select one "Yellow Gadget" in your deck and add to your hand.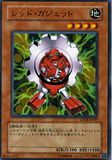 SD10-JP008
Yellow Gadget
Earth/Machine/4/1200/1200
When this card is Normal Summoned or Special Summoned, select one "Green Gadget" in your deck and add to your hand.
Every time you summon one, you get to take another one from your deck to your hand. They continue though, because there are three of them. So, it goes like Green Gadget, Red Gadget, Yellow Gadget, with each of them having to search out a different one. As you might notice, when you Summon one, you automatically get free advantage. Most of the Gadget decks are going to be called Fifth Gadget decks, or decks that abuse the Gadgets by protecting them. A TON of Monster Removal is needed in those decks, because they really don't run anything that strong. So, expect to see three copies of Widespread Ruin, Sakuretsu Armor, Smashing Grounds, Fissure, Hammer Shots, and sometimes even Lightning Vortex. Since they provide free advantage for you to abuse, some cards like Snipe Hunter might be seen in them too. So, let's go over a quick standard Fifth Gadget deck...
Monsters: 21
3 Green Gadget
3 Yellow Gadget
3 Red Gadget
3 Cyber Dragon
2 Snipe Hunter
1 Breaker the Magical Warrior
1 Sangan
1 D.D. Warrior Lady
1 Exiled Force
Spells: 14
3 Smashing Ground
2 Fissure
2 Hammer Shot
1 Premature Burial
1 Pot of Avarice
1 Nobleman of Crossout
1 Mystical Space Typhoon
1 Confiscation
1 Heavy Storm
1 Graceful Charity
Traps: 10
3 Sakuretsu Armor
3 Widespread Ruin
1 Ring of Destruction
1 Mirror Force
1 Torrential Tribute
1 Call of the Haunted
Total: 45
That's just a standard. There might be other Gadget decks that could blend with Overload Fusion along with the all popular Chimeratech Over Dragon, or the everlasting Sacred Phoenix of Nephythys. I'm not going to get into those right now, so let's stick with the one above. Okay, as you can see, it does run a lot of Monster Destruction, but that's a pretty standard thing because you want to just keep poking your opponent and creating advantage through the Gadgets. As you might also notice as the sheer bulk of the deck, a whoppin' 45 Cards actually. This may seem like a lot, but it's really not. Since the Gadgets search themselves out, it's good to have 1 or 2 in your hand at one time. So, since there are 9 Gadgets in the deck, 45 Cards prevents you from having 3 or more in your hand at once. So, that's why you can use that amount of the deck.
Gadgets are Monster obviously, and they also get your hand bigger much faster. Cards that might hurt them are cards that Japan has been using for a while: Trap Dustshoot and Mind Crush. While Trap Dustshoot relies on hand size, Mind Crush relies on knowledge (or complete luck) of the hand. Gadgets provide both of those very easily, so 3 of those together can really hurt the Gadgets. They also do work together also, because with Trap Dustshoot, you can get knowledge of their hand to use with Mind Crush.
My prediction is that Gadgets will be seeing more play than any other deck we've ever seen. They are ridiculousy easy to play, and fairly cheap. They will definetely be seeing a ton of play, so we really need to find a solution to them before they get to that extent. Fortunately, we already have a ton of un-used cards that can hurt their strategy, you just got to know where to look.
What if we took away their Monster Destruction? They wouldn't function, as you can see by looking at the decklist, pretty much their only way to kill a Monarch is a Spell or Trap card, battle means nothing. Unfortunately for us, it's not easy to take all that stuff away. However, we can leave a dent, and then continue punching through that dent until we break open a hole. To take care of their Trap Cards, stuff that will negate Trap Cards will be used, like Jinzo or Royal Decree. Other stuff may be used to, like Mirage Dragon, Pitch-Black Werewolf, Tenkabito Shien, and who can forget the little hero? Elemental Hero Wildheart. They all have the potential to destroy the strongest Gadget, and make sure your opponent will let it go through. There is also a card coming out of the Machine Structure Deck, that is called Ancient Gear Engineer. Here's it's stats:
SD10-JP003
Ancient Gear Engineer
Earth/Machine/5/1500/1500
Negate the effect of a Trap Card that targets this card and destroy it. When this card destroys a monster as a result of battle and sends it to the Graveyard, destroy 1 Spell or Trap Card on the field. If this card attacks, your opponent cannot activate any Spell or Trap Cards until the end of the Damage Step.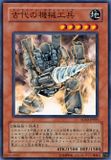 Anyone see insane ability in this card. First off, it's Attack and Defense both conquer all the Gadgets. The other thing I like about this card is it has a great effect too, the ability to not give your opponent the chance of activating Spell or Trap Cards while he's attacking, and then when he destroys a Monster (Gadgets fall), he destroys a Spell or Trap Card on the field. He also negates and destroys a Trap Card that has him as its target, so good bye Ring of Destruction. Also, to even add more to him, he's a Machine, which means he can be searched by UFORoid, or used with Overload Fusion for Chimeratech Over Dragon. Plus, he doesn't have the "No Special Summon" effect that a lot of the other Ancient Gear Monsters do. The downside to him, is he is a Level 5 Monster, which means sometimes you aren't going to be able to get him out without dragging another Monster down with you. We can easily avoid this though, by simpl y looking at its Attribute and Type. Earth and Machine. First off, did anyone notice that you can search him out and Special Summon him to the field via Giant Rat? What about using your opponent's Monster for a tribute? Protecting him with Cyber Phoenix? There's so many possibilities with this card, and so many ways you can use him to his greatest extent.
So, those are only a few of the cards that will take down Traps. What about Spells though, because they are still running the same amount of Spell and Trap Monster Destruction. So, that's gonna bring me to my next subject, taking down their Spells. As you might've seen, I did a deck not to long ago with Horus the Black Flame Dragon LV6, and Horus the Black Flame Dragon LV8. Horus the Black Flame Dragon LV6 on its own has the potential to shut down most of their Spell Cards, because he is completely immune to the one that affect him in any way. Horus the Black Flame Dragon LV8 is in many ways just plain unfair, because he shuts down ALL Spell Cards that your opponent can throw at you. You might not realize it, but those aren't the only ones that will take down some Spells. Look at the card Spell Canceller, it has the ability to also negate every Spell Card put into play, sadly though, even yours. This can be countered though with a lack of Spell Cards, and decks that run 7-9 Spell Cards shouldn't have that much to worry about. Do you a similarity with Spell Canceller and Ancient Gear Engineer? They are both Machine Cards, which both can be supported by Cyber Phoenix. Do you see where I'm going with this?
So, some of the maybe greatest cards to counter the Gadgets are Machines. Ancient Gear Engineer and Spell Canceller both are great choices, and can really destroy the Gadgets. A Machine deck utilizing these cards and a ton of other support, like Jinzo, Giant Rats, and Cyber Phoenixes, could really stand a very strong chance against the Gadgets. So, Machines may start coming back and clash against the Gadgets.
Final Word: Machine Decks have a very strong chance against being our new Anti-Gadget solution. They are extremely efficient, and have a lot of support for their deck. Check out the next Shonen Jump Championships if Gadgets do really become the next CC. If they do, you might want to expect a bunch of Anti-Gadget Machine decks popping up. We'll just have to wait and see.
This is YGOmaster, signing off.