Carrotizer on YuGiOh
Injection Fairy Lily: Cyber-Stein's Hot Sis
November 9, 2006
Everyone's been OTK/FTKed once by Cyber-Stein! "I pay 5000 LP, Limiter Removal, GG?" All the same, you would say, "aw, darn." I've been constantly researching, looking for a way to shut down the evil 2-Star Machine. It seems that a similar card has been used for a long, long time and yet it still never got enough attention.
Oh, that does it. For the fifth time, Yahoo DSL disconnected me, thus ruining my YVD game. Guys, please, don't get their service. I am infuriated as of now. Back to article.
Well, Cyber-Stein took the glory away, but still.
Then, Injection Fairy Lily slaps Cyber-Stein in his face. Ouch.
Having 1500 DEF, 400 ATK isn't so pretty at first glance. Earth? Cool. Spellcaster? Better than Thunder or whatsoever. Effect? *eyes shine* Wow! She is H.O.T as in "Hotty Owns Them." Okay, I'm bad at those stuffs. I admit it.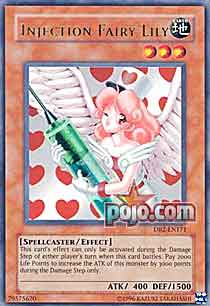 I guess it's a matter of speed; 2000 LP isn't small. Although 1 direct hit from Cyber Dragon, which we frequently get, is more than that, it's not a small cost. Cyber-Stein usually costs 5000 LP to do 5000+ damage in a turn, and you are stuck with 700 ATK weenie. On the other hand, Injection Fairy Lily's cost must be paid each time you battle; you won't kill anything with 400 ATK, except goats…or Frogs. =/
Good thing: one lethal injection from this hot lady will knock opponent's LP down to 4600, and yeah, that will make that Stein pretty useful. Also, keep in mind that this effect can only be used during Damage Calculation part of the Damage Step, meaning if your opponent uses Magic Cylinder/Draining Shield/Ring of Destruction, the ATK will be only 400, not 3400! 1500 DEF cannot be broken except by Tributes and D.D. Assailant. Hydrogeddon…well, almost everything gets killed.
Bad thing:: You have to pay 2000 LP each time per battle to gain 3000 ATK. Note that you cannot pay 4000 LP or multiples of 2000 to get let's say, 6000 ATK. That will be awesome though. Five-Headed Dragon? Ouch, one injection and you are extinct. But then, it will be way~~ too good.
Nimble Momonga tends to work fabulously with this lady, since it is also Earth, searchable by Giant Rat. Exiled + Last Will + poke for 3400. Injection will give probably 1 more injection, and think about it this way. Although it's just 1, it's 3000 ATK! How often do you see a monster with more than 3000? Aside from Cyber End Dragon that Cyber-Stein uses…
Now, think about it. People prefer card advantage to LP. Confiscation is a good example. 1000 LP to look at your opponent's hand? Cool. Premature Burial is a valuable 1-for-1 with 800 LP. But then, in a sense, isn't LP advantage also? Aren't you more free to make good plays with more cards? Aren't you also able to make good moves with more LPs, not having to worry about Cyber Dragon dropping and smashing your Spirit Reaper?
Well, if you still don't believe me, I understand. Cyber-Stein is a +1 for 5000 LP. And Injection is…well, not exactly number-wise, but still, 3000 ATK is like…at least 1 United We Stand + 1 Mage Power! Free +2ish!
Conclusion: There is a reason that they ban and limit cards for tourneys. Clearly.
By Paul Yeem – Carrotizer @ paulyeem@gmail.com
P.S: I changed to gmail, as you see. Please send deck stuffs to gmail so I get them, and opinions to hotmail. Thanks y'all =)