Carrotizer on YuGiOh
Anybody Want a Shiny Hand Refresher?
November 3, 2006
First off, I must recognize Masterdramon (Kevin dude that I mentioned) as my savior. He e-mailed me kindly again with correction: you can use Dragon's Mirror/Miracle Fusion with Hex Fusions. Also, my friend (sigh, yes, you Vincent) told me that although Level Modulation says "ignore the summoning conditions," LV monsters such as Horus LV 8 must be properly summoned (just like Fusion/Ritual in a sense). We learn from our mistakes, you see…=)
Anyway…
I realized that my mom's car seriously needed an air refresher. It was not horrible, but it was pretty darn unpleasant. At the same time, I realized everyone needs "hand refresher." With all those "stinking" "discard randomly" cards, we also must have a counter.
As new sets increase the limit of the card pool, Yu-Gi-Oh TCG (No, this isn't THAT TCG…) is becoming more and more versatile. With the release of the newest structure deck, Dinosaur's Rage, the theme that literally seemed "extinct" came back with more supports than Harpies possibly, although Icarus Attack is a really nice card. Nevertheless, these cards require certain key cards to function and overcome powerful decks such as Monarchs and Warriors.
Spirit Reaper, Thestalos the Firestorm Monarch, and Don Zaloog disrupt the opponent's key cards that he/she was saving up for a game-e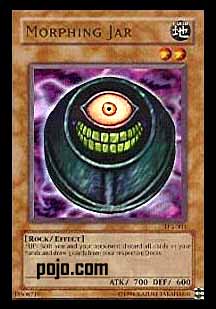 nding attack, thus intercepting the control of the duel. Morphing Jar did the same, but it also wiped out your hand and replaced both players' hands with 5 cards. That's a lot. Still, unlike Card Destruction, you don't lose anything…or is that so?

Morphing Jar is a Flip Effect Monster, and often it will go often or fail when what you really need is the exact opposite. On the other hand, Card Destruction is YOUR Normal Spell. Yes, you are more or less guaranteed to lose if your opponent runs full Dark World Monsters, but how often do you see that? Card Destruction is one of the most versatile spells ever made. It is hard to use, but more rewarding than Confiscation.
To fully utilize Card Destruction with your deck, you must first have big synergies. Any deck can use "dumping" stratagems with Treeborn Frog, Night Assailant, and Tribute Monsters. What they can't do is to have a backup plan or even better, a critical strike!
Thestalos the Firestorm Monarch is used because unlike Don Zaloog, the Monarch's effect cannot be stopped except by Skill Drain or Counter-Traps. Card Destruction is the same. It wipes out the hand fresh and well, while you can do something more.
Hydrogeddon and Nimble Momonga are seeing more play. Once, I almost had a mirror match against Monarch-ish Tribute deck; we both used Hydrogeddons and with Pot of Avarice, the name "Nimble Momonga" literally showed up on the log window at least 15 times! However, these two Monsters have something in common; as you draw more than 1, their potentials exponentially decrease. If you have 1 Hydrogeddon on the field, 1 in Graveyard, and 1 in your hand, Hydrogeddon is nothing more than a Normal 1600 ATK. Same with Nimble Momonga. 1000LP is nothing if you can't pull off the other two friends! Even worse if you have both in your hand, and you used your Graceful Charity early in the game. Your opponent laughs at you after using Confiscation. Now you are stuck with 2 Momongas and 1 Hydrogeddon. Do you "scoop?"
Fear not, my friends! As you topdeck into Card Destruction, you Special Summon that Treeborn Frog, and guess what! After dumping those useless weenies, you just got yourself Heavy Storm, Dark Magician of Chaos, and Premature Burial! There is your game! Well, yes, this is quite unlikely, but being stuck with multiple "I bring my friends from deck," which also includes Thunder Dragon, Hero Kids, Giant Germ, and whatsoever, isn't so uncommon.
Albeit you use Card Destruction well to gain a higher ground with a better hand, your opponent's hand might improve. This is where Graveyard, RFG zone, and deck checks come in. Knowing what your opponent might draw or dump is important, especially if opponent's hand is "crap." You just gave your opponent Monarchs, Enemy Controller and other cards when he had weenie monsters in his hand before and Nimble Momongas on the field. Ouch.
On the other hand, if you can prevent those big Monarchs from popping up to the field, you are so in control =). There is such a proverb: know your opponent, and know yourself, then you will win all the battles. Man, ancestors were so smart. I'm working on my Beast deck…quite fun!
By Carrotizer – Paul Yeem @ paulyeem@hotmail.com
P.S. I'm still working on other Deck Analyses, so send 'em in if you have yours ready! Be patient though…