First off, I would hope you guys don't perceive this as a tournament report, because it really isn't necessarily supposed to be that way. First off, I have a lot of shoutouts, just like in my featured match, to Jerome for the first insight to any type of Stardust Dragon/Assault Mode deck, to Jeff Jones for his main deck in which really pushed me to side Skill Drain even more because of the control factor, and another huge one to Anthony Gospel, Charlie Powell, and Jake Johnson for putting up with me and my indecisiveness when it came to my deck every night for 2 weeks before Shonen Jump Championship Anaheim; and to all my friends who were there and supported me throughout the tournament. Marc Glass for having extra paper for me and being so cool in person as well as online, and to my team for taking care of me during the weekend, you're all awesome! Of course, lastly to Bianca, because you're the best. =]

For those of you who don't know what Stardust Dragon/Assault Mode is, it's:
Stardust Dragon/Assault Mode
Wing
Level 10
[Dragon/Effect]
This card cannot be Normal Summoned or Set. This card cannot be Special Summoned except with its own effect or with "Assault Mode Activate". You can Tribute this card to negate the activation of a Spell Card, Trap Card, or Effect Monster's effect, and destroy that card. If you negate an effect this way, you can Special Summon this card from your Graveyard during the End Phase. When this card on the field is destroyed, you can Special Summon 1 "Stardust Dragon" from your graveyard.

Onto the deck I used at Shonen Jump Championship Anaheim, in which I placed 20th.

Monsters: 20
2 Assault Beast
2 Krebons
2 Stardust Dragon / Assault Mode
2 Summoner Monk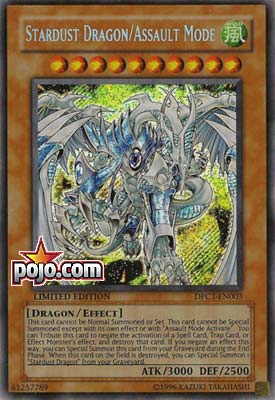 2 Destiny Hero Diamond Dude
2 Destiny Hero – Malicious
2 Rose, Warrior of Revenge
1 Armageddon Knight
1 Dark Armed Dragon
1 Gorz the Emissary of Darkness
1 Elemental Hero Stratos
1 Plaguespreader Zombie
1 Sangan
Spells: 14
2 Upstart Goblin
2 Allure of Darkness
2 Destiny Draw
1 Brain Control
1 Emergency Teleport
1 Giant Trunade
1 Heavy Storm
1 Magical Mallet
1 Mind Control
1 Monster Reborn
1 Reinforcement of the Army
Traps: 6
3 Threatening Roar
2 Assault Mode Activate
1 Crush Card Virus

Side Deck:
3 Skill Drain
2 Beast King Barbaros
2 Destiny Hero – Defender
2 Hanewata
2 Legendary Jujistu Master
2 Lightning Vortex
1 Mystical Space Typhoon
1 Mirror Force
The major focus here is obviously to bring out Stardust Dragon/Assault Mode whenever possible. I used a lot of math to help this deck and to get it to the point where the deck can be consistent, so even if then numbers of some combos that I will outline are lower than people would want to have, it still was enough to push the deck. Speed is also the issue when it comes to this version of Stardust Dragon/Assault Mode.

We can really break this deck down in many ways, so I'll start with the monsters and why each card is important to have the deck run the way is supposed to.
Monsters: 20
2 Assault Beast
2 Krebons
2 Stardust Dragon / Assault Mode
2 Summoner Monk
2 Destiny Hero Diamond Dude
2 Destiny Hero – Malicious
2 Rose, Warrior of Revenge
1 Armageddon Knight
1 Dark Armed Dragon
1 Gorz the Emissary of Darkness
1 Elemental Hero Stratos
1 Plaguespreader Zombie
1 Sangan
We have 20 monsters, a perfect half of the deck and we start with the basics here, Summoner Monk and Rose, Warrior of Revenge. That combo alone fuels and speeds up the deck so much. I felt that overall (and with the input of friends) that 3 Rose, Warrior or Revenge would end up being just a bit too inconsistent. It's not bad to draw, but it's a lot better to get out through Summoner Monk. 2 Assault Beast in this deck is the best number. There shouldn't be more Assault Beast than Assault Mode Activate, plus being a 1900 beatstick doesn't hurt either. The fact that I can just discard it to get Assault Mode Activate faster by either Assault Beast or hard drawing it helps with the speed of the deck. Speaking of the combo, we have 2 Stardust Dragon/Assault Mode. 2 is the perfect number so not only do I have 2 times I can bring it out, it's just overall good to have in case I draw 1 and have no way to put it back into the deck.
Destiny Hero – Malicious and Krebons go hand in hand here. Destiny Hero – Malicious is used for Destiny Draw, to be put in the Graveyard by Armageddon Knight, or even for Crush Card Virus. Krebons is a quick way to Synchro Summon thanks to Emergency Teleport, or just a way to wait out a couple turns with the negate effect it has on attacks. 2 Destiny Hero Diamond Dude helped to give me the 2 to 1 ratio Destiny Draw, but also it helps with the speed of the deck. To be able to accelerate the deck and have the chance to hit cards like Allure of Darkness or Destiny Draw to get those faster draws help as well. Also, it can push monsters away when they are not necessary to draw. Elemental Hero Stratos is mainly there for Reinforcement of the Army and getting a Destiny Hero into my hand.
Armageddon Knight is a one of that is able to send a Dark Monster to the Graveyard from my deck, which would be more or less only used for Destiny Hero – Malicious or Plaguespreader Zombie. Sangan is necessary to have an easy way to get Summoner Monk into my hand and for Crush Card Virus. Dark Armed Dragon is another support card in the deck. It's not meant to be the focus of the deck, even with how great of a card it is. I felt that it was more of a splash for more control on the game. Plaguespreader Zombie was one of the MVPs of my deck at SJC Anaheim. The fact that there were so many uses for it. I was able to use it with Destiny Hero – Malicious to be able to use it after drawing my second copy, I could use it for Crush Card Virus, I used it quite often for a Synchro Summon with Destiny Hero – Malicious, it was easily accessible in the Graveyard through Armageddon Knight, and most importantly, it was able to get a dead Stardust Dragon/Assault Mode in my hand, back into the deck. Many times I could just put it on top and get the deck shuffled with another effect; I could use Armageddon Knight, Magical Mallet, Reinforcement of the Army, etc. to get things mixed up in my deck again.
Debate Time!
There are three main arguments that have come up with my monster Lineup.
1. Gorz the Emissary of Darkness vs. Necro Gardna.
The night before SJC Anaheim I had this problem still. Necro Gardna (even 1) could be gamebreaking against Gladiator Beasts and sometimes even against Lightsworn. The fact that it was easy to be utilized through Armageddon Knight, and it would also be another card I could use for Crush Card Virus. Yet, I thought there would be more Lightsworn at SJC Anaheim because of the popularity and the explosiveness compared to Gladiator Beasts and how Lightsworn can have a really easy time against Gladiator Beasts. The thing that really pushed me to think about Gorz the Emissary of Darkness would be Anthony Gospel. We talked about our decks to each other quite a bit (well more me than him) and he said against Lightsworn, the real chance people have to stop the One Turn Kill that Lightsworns potentially have (under cold wave or in any situation against them) would only be Gorz. I really wanted to make sure my matchup against what I thought would be the most popular deck would be that much better. The fact that also, Gorz stops decks from overextending, and you can be aggressive back with Gorz and the token it provides. The only other negative to it would be against Gladiator Beasts if they had Gladiator Beast War Chariot.
2. Armageddon Knight vs. Dark Grepher
Both of these Monsters are easily accessible by Reinforcement of the Army. Dark Grepher is a card that overall is a good card. The fact that if I had Gorz or Destiny Hero – Malicious I could Special Summon it, then Normal Summone Rose, the Warrior of Revenge to have a quick 8-Star Synchro Summon. I felt though that many times, it's just too dependent on having another dark in hand. I didn't think playing Dark Grepher, and the discarding a card, to get another in the Graveyard was going to help my deck in the long run. That I didn't want to have less cards to work with. Plus I didn't want to have another monster that would fall to the mercy of Crush Card Virus. Armageddon Knight was perfect for the deck. 1400 monster that would get under Crush Card Virus and can send key cards like Destiny Hero – Malicious or even more key, Plaguespreader Zombie to the graveyard without losing another card would be better overall. Also, as Anthony Gospel said to me when we debated this with Charlie and others, that when a deck isn't based off being fast to get Dark Monsters in the Graveyard for Dark Armed Dragon, Armageddon Knight is better than Dark Grepher.
3. Where is Mystic Tomato?
I tried really hard to find a space for just 1 Mystic Tomato. Mystic Tomato would be an easy way to get Summoner Monk to the field. I could get so much from my deck with Mystic Tomato like: Sangan, Armageddon Knight, Destiny Hero- Malicious or Diamond Dude, and Plaguespreader Zombie. I just felt that if I were to play it, I was just too afraid overall of Gladiator Beasts and how its just too easy for Gladiator Beasts to take total control by attacking Tomato and the other monster I would bring out. It would be good against Lightsworn, but with the Celestia, Lightsworn Angel and Judgment Dragon threat, I felt it wouldn't be necessary.
Onto the Spells!
Spells: 14
2 Upstart Goblin
2 Allure of Darkness
2 Destiny Draw
1 Brain Control
1 Emergency Teleport
1 Giant Trunade
1 Heavy Storm
1 Magical Mallet
1 Mind Control
1 Monster Reborn
1 Reinforcement of the Army

14 Spells I have and first I'll just state the cards that I feel don't really need explanation: Brain Control, Giant Trunade, Heavy Storm, Mind Control, and Monster Reborn. Destiny Draw is for use with the Destiny Heroes and could be a discard for Summoner Monk if it's necessary. Emergency Teleport is used because of the 2 Krebons. Reinforcement of the Army could get me 6 of the monsters in my deck: Elemental Hero Stratos, one of 2 Destiny Hero Diamond Dude, Armageddon Knight, and if necessary, one of two Rose, Warrior of Revenge. Allure of Darkness is just overall too good with the deck. With so many Dark Monsters and the fact it can accelerate through my deck even faster helps so much, and it doesn't hurt to get it when Destiny Hero Diamond Dude's effect goes off and sends Allure of Darkness away. Upstart Goblin was just for a more turbo feel to the deck, to make the deck faster overall and help change the numbers mathematically to give me a better chance to have a way to get Stardust Dragon/Assault Mode turn 1. Magical Mallet is also one of those tech cards in here to really help bad hands here, meaning hands with Stardust Dragon/Assault Mode or even two if you're that unlucky. Sure there are chances you could draw Stardust Dragon/Assault Mode after you send it back (like in my Round 2 Featured Match), but it's worth it to help reset your hand.
More Debate!
4. Only 2 Upstart Goblin?!?!?!?!?!
The fact of the matter here is that, Upstart Goblin has no reason to be played in 3's if the deck isn't 40 cards. I couldn't drop any other cards to play a 3rd Upstart Goblin. That was the biggest factor. I really wanted to fit a 3rd one in, but to keep it at 40, but at this point even to now is and was impossible. Too many other cards were just better overall that I just couldn't get that 3rd copy in.
Finally Traps! (Or Lack Thereof)
Traps: 6
3 Threatening Roar
2 Assault Mode Activate
1 Crush Card Virus

I'll start here with Assault Mode Activate. I don't and won't ever agree with more Assault Mode Activates than actual /Assault Mode Monsters in the deck. The same goes with Assault Beast. So the balance of 2 of everything when it came to the Stardust Dragon/Assault Mode part of the deck was perfect. Crush Card Virus is not, and I repeat, not necessary. I just felt it was too good not to play in the deck. With what I could hit with it was just too much to not play and could be gamebreaking. Speaking of gamebreaking, Threatening Roar was just too good at SJC Anaheim. The fact that it gives you outs to the onslaught of Lightsworn and Gladiator Beasts was amazing. To save key monsters and to just keep yourself alive and afloat as well was very key. The thing about this format is how Cold Wave was and still does dictate many decks. To have a way to have an answer when Cold Wave is used is key to stop a big turn (especially for Gladiator Beasts).
Can We Just All Stop Fighting and Get Along?!?!?!
5. Where is Solemn Judgment?!?!??!!
The honest truth behind Solemn Judgment and this deck is that, it's not necessary. I will explain more of this when I go more into the deck in the end, but really, a deck that already has a Solemn Judgment on legs doesn't need more. I feel that it would end up being a dead draw and could end up being the demise of my own deck if I took the blows of half my life points to stop 1 card.
6. No Mirror Force? No Torrential Tribute? No Problem!
Out of the two, I really only considered using Torrential Tribute. I say this for one reason, Lightsworn. In the end though, I didn't feel it was necessary because once the deck takes control, drawing Torrential Tribute is going to be dead. I wanted to make sure that overall I could have the deck be as consistent as possible. Mirror Force is a good card, but it's not really chainable and I just didn't see it fir for game 1. So it went into the side deck (last minute anyways).
Side Decks Win Matches!
Side Deck: 15
3 Skill Drain
2 Beast King Barbaros
2 Destiny Hero – Defender
2 Hanewata
2 Legendary Jujistu Master
2 Lightning Vortex
1 Mystical Space Typhoon
1 Mirror Force
I seem to do well with a lot of transitional side decks. That means when you side out a lot of cards and side in the same amount for a new deck, or seemingly new deck. The best thing about this side deck I used, is that it caught a lot of people by surprise. Before I move into the Skill Drain focus in my side, I want people to understand some key things in the side deck and things I wish I changed.

Hanewata is where I will start. Out of all honesty, I felt that with a new meta, and first SJC in a long time, there could be a lot of burn variants and especially with all the talk of the new versions of Magical Explosion and Blasting the Ruins first turn kills, I didn't want that deck to be the reason behind why I lost a match. Yet, it retrospect, I wish I would have kept in Zombie World instead seeing that I lost to Little City siding into Monarchs in Round 5 against Mario Mathieu. Lightning Vortex is another major card. Lightning Vortex I knew ahead of time would be key in games 2 and 3 for when my opponent would take total control. Against Lightsworn, there is nothing they can really do against Lightning Vortex. Against Gladiator Beasts, it would either force them to play Solemn Judgment, or it would make a 2 for 2 or even 2 for 3 trade in the end. Lightning Vortex ended up being a key card as the tournament went on.
Mystical Space Typhoon was my only answer to Burn decks or any deck with Royal Oppression, I know it was limited, but overall I felt it would be adequate enough, plus to destroy Royal Decree if Lightsworn was able to get it in the early game would be important to work myself to have a chance to win. Legendary Jujistu Master would be my other answers to Gladiator Beasts, beatdown decks and other Anti-Meta decks.
Onto the workings of Skill Drain and the support I had in my side deck. 3 Skill Drain is where we start. Skill Drain would end up being such a force against so many decks I played. Gladiator Beasts and Lightsworn had a lot of problems when it came out against them. For Lightsworn, they didn't really side in Royal Decree because I played such little traps, so they could only have a hard draw Heavy Storm to stop it. Against Gladiator Beasts, a GB player has to have the experience against Skill Drain to really make a huge difference. A lot of people aren't too familiar of Skill Drain and the cards the deck has. There are ways to play around things, and I feel it would take a lot more skill and challenge my opponent to play around it.
2 Destiny Hero – Defender was great because it's still a Destiny Draw target, Elemental Hero Stratos target and also Reinforcement of the Army target. The fact that I could easily side deck out Destiny Hero Diamond Dude made it perfect, and with a 2700 Defense, with Skill Drain out, it's really hard to get around. Beast King Barbaros is an amazing card with Skill Drain. That even without Skill Drain it can be a field-wrecking card, or even a 1900 beatstick. With Skill Drain it's a 3000 ATK Monster. With Skill Drain out, there isn't really too much out there to stop it. That also is the best thing about Skill Drain. It puts a lot of pressure on your opponent to do something to take it down or get around it. The last card on the list would be Mirror Force. This was a VERY last minute choice. I chose to take out the 3rd Beast King Barbaros for Mirror Force because I felt that it would be key with Skill Drain out. I guess I noticed that I didn't have enough removal when it came down to it, and I felt Mirror Force would be a better card overall than Torrential Tribute. Even until now, I wouldn't change the side deck except Hanewata. With 2 Lighting Vortex and 1 Mirror Force, I feel that can be adequate enough. Plus Lightning Vortex would help against any deck that would swarm.

The thing I want to stress about a deck that has Stardust Dragon/Assault Mode or any /Assault Mode cards in general, is that you don't make the whole deck dependant on just that monster. The problem with having a single Boss Monster is that what are you going to do if they find a way around it? You want to make sure the deck is good enough without them to win. I didn't always get out Stardust Dragon/Assault Mode and I was able to win the majority of my matches. The thing that really helped to make that all happen was the deck itself.
When it comes to the deck, I felt speed and consistency would be the key to victory. I felt that a lot of people didn't really understand how fast and also how slow this format has been. Gladiator Beasts usually can't OTK you and Lightsworn can. Anti-Meta decks and Monarch decks would all tend to be slow. Many people would think that Solemn Judgment is very important and necessary for the deck to run well but it's not. I felt that Solemn Judgment would be taking too much life from me and the fact is that I don't want to draw it at just the wrong times. I felt that Solemn Judgments didn't really help overall. I didn't think it would be fast enough and that I didn't want to slow my deck down because I wanted to go off fast with the deck. I know Solemn Judgment may look good to help protect Skill Drain and stop other cards, but just overall I feel Solemn Judgment wouldn't accomplish everything I would need it to. Sure it keeps control and can stop anything pretty much, but the focus of the deck made it so that it wasn't needed for the deck's success.

One last note I will stress to people is that you should explore new deck ideas. That constructive criticism is okay, but don't let people put you or your ideas down. The idea you have may not be accepted by the "best" in the game or even the best in your area, but that doesn't automatically mean it's bad. One thing that can throw people off are combos that they have never seen before or they are not very comfortable playing against. If you can rattle your opponent with what you're playing and keep the pressure on, your opponent can feel it. Some people make different plays under that pressure. Sure, not all of the "pros" feel that way, but even they can make mistakes against decks they aren't ready against or fully understand the inner workings of. I feel that I play a lot of different decks like I do because I want to show people that there are other options out there, and to not be scared to play them at a major tournament. SJCs to me are a hit of miss type of thing, why go there being like everyone else?

Remember, it's a game, have some fun! The mindset of just having fun can really change how good you do and just your overall attitude. Stay focused when playing, and remember, it's never over, until your life points are at 0.

- Tomas Mijares