Mark Howard on Yu-Gi-Oh
Meet the Shoguns
Welcome back to my next installment of my Karakuri series. I'm sure you were counting the minutes until it would appear on your screen. This time, it's about the Boss Synchros.
Being able to Synchro Summon a boss monster adds all kinds of versatility to a deck, including the option to not have to deal with the boss. Except that's what you do with crappy boss monsters, and not good ones like Karakuri Shogun mdl 00 "Burei" and Karakuri Steel Shogun mdl 00X "Bureido".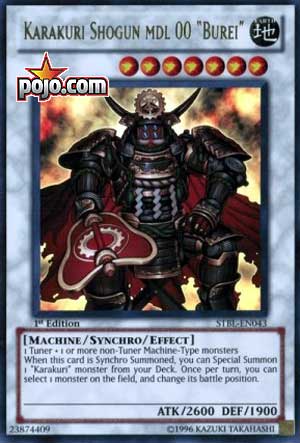 Having a level 7 Synchro option right away gives Karakuri an advantage over other decks... which probably don't have a good level 7 that isn't Black Rose Dragon. 2600 ATK and a position-changing effect on Shogun 00 "Burei" means he can tear down any Synchro monster, and just about any other boss monster, even if you don't have the Showdown Castle. Alternatively, he can stop your other Karakuris from attacking. Steel Shogun boasts 2800 ATK and draws one card per turn when a Karakuri switches. That's more like one card every turn.
If you still have a leftover Karakuri on the field when you summon one Shogun, you can use the instant summoning effect to pull out the other one! Then, when you use Shogun's changing effect with Steel Shogun's draw power, that's another free draw, right there. That's turning nearly any 3 Karakuris into two huge Shoguns, any Karakuri, and a free draw.
These Synchro chains are a big part of the Karakuri rush. Even when you don't have the resources to summon one of the Shoguns, just one automatically summons Karakuri Ninja "Kuik", which is capable of summoning the other ones. Using two Karakuri Watchdog "Saizan" means you're more likely to have one waiting in the deck and another in the grave.
Additionally, if you use three Strategists (level 3 Tuner) or the Salvo engine, you can run Machine Duplication for extra Synchro power.
Karakuris survive off of this strength, and even one Shogun can change the game around. Even if you're afraid of Black Rose Dragon, tossing Karakuri Showdown Castle onto the field means you can beat anything in battle (and use Kuik to get a Stardust), or if the field is nuked (or you have extra Castles in-hand!) you get a Karakuri back.
By knocking down stronger monsters, pulling any Karakuri out of the deck, and maintaining presence on the field, Karakuris can dominate the battlefield. Try experimenting with the Karakuri Shoguns to see how much devastation they can really bring out.