Card Game
Card of the Day
TCG Fan Tips
Top 10 Lists
Banned/Restricted List
Yu-Gi-Oh News
Tourney Reports
Duelist Interviews

Featured Writers
Baneful's Column
Anteaus on YGO
General Zorpa
Dark Paladin's Dimension
Retired Writers

Releases + Spoilers
Booster Sets (Original Series)
LOB | MRD | MRL | PSV
LON | LOD | PGD | MFC
DCR | IOC | AST | SOD
RDS | FET
Booster Sets (GX Series)
TLM | CRV | EEN | SOI
EOJ | POTD | CDIP | STON
FOTB | TAEV | GLAS | PTDN
LODT
Booster Sets (5D Series)
TDGS | CSOC | CRMS | RBGT
ANPR | SOVR | ABPF | TSHD
STBL | STOR | EXVC
Booster Sets (Zexal Series)
GENF | PHSW | ORCS | GAOV
REDU | ABYR | CBLZ | LTGY
NUMH | JOTL | SHSP | LVAL
PRIO

Starter Decks
Yugi | Kaiba
Joey | Pegasus
Yugi 2004 | Kaiba 2004
GX: 2006 | Jaden | Syrus
5D: 1 | 2 | Toolbox
Zexal: 2011 | 2012 | 2013
Yugi 2013 | Kaiba 2013

Structure Decks
Dragons Roar &
Zombie Madness
Blaze of Destruction &
Fury from the Deep
Warrior's Triumph
Spellcaster's Judgment
Lord of the Storm
Invincible Fortress
Dinosaurs Rage
Machine Revolt
Rise of Dragon Lords
Dark Emperor
Zombie World
Spellcaster Command
Warrior Strike
Machina Mayhem
Marik
Dragunity Legion
Lost Sanctuary
Underworld Gates
Samurai Warlord
Sea Emperor
Fire Kings
Saga of Blue-Eyes
Cyber Dragon

Promo Cards:
Promos Spoiler
Coll. Tins Spoiler
MP1 Spoiler
EP1 Spoiler

Tournament Packs:
TP1 / TP2 / TP3 / TP4
TP5 / TP6 / TP7 / TP8
Duelist Packs
Jaden | Chazz
Jaden #2 | Zane
Aster | Jaden #3
Jesse | Yusei
Yugi | Yusei #2
Kaiba | Yusei #3
Crow

Reprint Sets
Dark Beginnings
1 | 2
Dark Revelations
1 | 2 | 3 | 4
Gold Series
1 | 2 | 3 | 4 | 5
Dark Legends
DLG1
Retro Pack
1 | 2
Champion Pack
1 | 2 | 3 | 4
5 | 6 | 7 | 8
Turbo Pack
1 | 2 | 3 | 4
5 | 6 | 7

Hidden Arsenal:
1 | 2 | 3 | 4
5 | 6 | 7

Checklists
Brawlermatrix 08
Evan T 08
X-Ref List
X-Ref List w/ Passcodes


Anime
Episode Guide
Character Bios
GX Character Bios
Video Games
Millennium Duels (2014)
Nighmare Troubadour (2005)
Destiny Board Traveler (2004)
Power of Chaos (2004)
Worldwide Edition (2003)
Dungeon Dice Monsters (2003)
Falsebound Kingdom (2003)
Eternal Duelist Soul (2002)
Forbidden Memories (2002)
Dark Duel Stories (2002)
Other
About Yu-Gi-Oh
Yu-Gi-Oh! Timeline
Pojo's YuGiOh Books
Apprentice Stuff
Life Point Calculators
DDM Starter Spoiler
DDM Dragonflame Spoiler
The DungeonMaster
Millennium Board Game
Magic
DBZ
Pokemon
Yu Yu Hakusho
NeoPets
HeroClix
Harry Potter
Anime
Vs. System
Megaman
This Space
For Rent



GeneralZorpa on Yugioh
Gimme-A-Card Contest Results!
July 23, 2009
A little while ago I started up a contest on the forums to get a card picked from the Pojo veterans as to what card they would most like a deck to be made around. The early leader was Deep Sea Diva, but picking up steam at the end was Dark Dust Spirit. For those of you who do not know what DDS does, here is the effect text:
DB2-EN217 Dark Dust Spirit
Common - Dark Beginning 2
Stats: Zombie/Spirit Level 6 ATK2200 DEF/1800
Card #: DB2-EN217
Found In: Dark Beginning 2
Description: This card cannot be Special Summoned. This card returns to the owner's hand during the End Phase of the turn that this card is Normal Summoned or flipped face-up. If this card is Normal Summoned or flipped face-up, destroy all face-up monsters on the field except this card.

As was the agreement in the site, here is a list of the people that voted
for the card:

blue_yami-91
dkates
25Strat
Godzilla_Magnum
PurpleSwan
thatisstupid1212
King_Atlantis
Lexaeus
Kurosaki_Kun

Now the deal was that I would go ahead and make a deck that is based off of this card. As it is a Zombie, it seemed appropriate to put it into a Zombie deck, which is somehwere where it can also get some fodder for tributing. So without further ado, I present to you the DustSpirit Devastator!

Constructocons Unite!

DustSpirt Devastator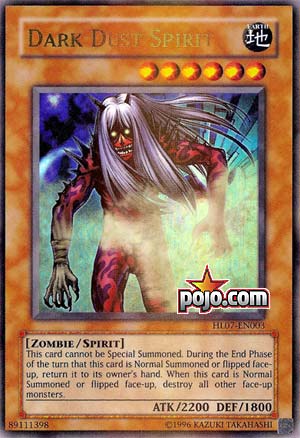 Monsters-18

3x Dark Dust Spirit
1x Ryu Kokki
1x Gorz-Emissary of Darkness
1x Dark Armed Dragon

3x Zombie Master
3x Pyramid Turtle
2x Goblin Zombie
1x Mezuki
1x Sangan
1x Spirit Reaper
1x Plaguspreader Zombie

Spells-13

3x Book of Life
2x Creature Swap
2x Gold Sarcophogus
1x Card of Safe Return
1x Monster Reborn
1x Heavy Storm
1x Giant Trunade
1x Brain Control
1x Mystical Space Typhoon

Traps-9

3x Divine Wrath
3x Solemn Judgment
1x Mirror Force
1x Torrential Tribute
1x Crush Card Virus

I'm the Best There Is

Well, the deck is certainly interesting to say the least. The zombie engine allows you to have constant monsters on the field as well as develop hand presence to make up for the tributes of DDS. Zombie Master, Pyramid Turtle, Goblin Zombie and Mezuki are all monsters that provide a little extra oomph when you absolutely need to play DDS for the win.

Book of Life and Creature Swap are amazing at ruining your opponent's strategy as they both take away cards from your opponent and allow you to grow your own army. Card of Safe Return and Gold Sarcophagus get you to the cards that you need asap so that you can go off befor eyour opponent can react.

Divine Wrath is mainly to stop Stardust, but also works against Summoner Monk and any other monster effect and is rather costless considering that the deck is all about gaining back cards from Special Summoning Zombies. The standard slew of traps is here, even CCV as I can abuse Plaguspreader and Reaper to pretty much get off CCV whenever I want to.

This is by no means a perfect deck, but the experimentation with Zombies is definitely something to work into with the new format coming up and maybe some of their stuff getting unlimited. The purpose of this article was to stretch my, and your, imagination to think outside of the top 4 decks right now.

That is all for this article, you can reach me at raptor1k@hotmail.com for any questions or ideas. Be sure to put YGO in the title so that I don't miss it.

Stay thirsty my friends!
GZ

Copyrightę 1998-2008 pojo.com
This site is not sponsored, endorsed, or otherwise affiliated with any of the companies or products featured on this site. This is not an Official Site.