Yu-Gi-Oh! JMP-EN005 Image
and SD6 Preview/Image
11.28.05, by GSAttack
Just received the January 2006 issue of Shonen Jump (largest ever). Included was the long
awaited JMP-EN005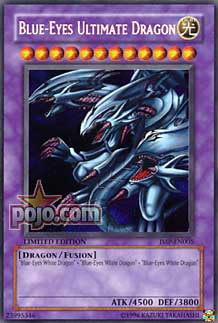 "Blue-Eyes Ultimate Dragon". Additional information regarding the Yu-Gi-
Oh! TCG included the release of SP1-EN004 "Exchange of the Spirit" in the February 2006
issue and a preview of the upcoming "Spellcaster's Judgment" Structure Deck to be released
in January 2006. The cards in this deck with no current English names appear in this preview
as well:

SD6-EN001 Dark Eradicator Warlock
SD6-EN002 Mythical Beast Cerberus
SD6-EN017 Magical Blast
SD6-EN029 Magical Dimension
SD6-EN030 Mystic Box
SD6-EN031 Nightmare's Steelcage

This issue should be available in stores on December 6th, 2005. I recommend picking up a
copy of this issue if you are not already a subscriber.

GSAttack!