Dark Paladin's Yu-Gi-Oh! Dimension
Magician's Unite
05.02.07
Hello again to Pojo and Yugioh fans one and all! I am finally done with this year of college, and that means summer is here! Hopefully, that means I can spend a little more time for you all here at Pojo giving you articles! Today, I'm going to talk about the pending release in Champion Pack: Game Three, of a Spellcaster support card called Magician's Unite.
Magician's Unite
Normal Magic
Effect: You can only activate this card when you have two or more Spellcaster type monsters on your side of the field in face up attack position. Select one of them, and the selected monsters attack is increased to 3000 until the End Phase. No other Spellcaster type monsters can attack in the turn you activate this card.
Now, at first glance, this seems like an awesome card. You get to increase the attack of a Spellcaster to 3000 until the End Phase.
However, you must have at least two Spellcasters in attack position, and only the monster you select to have its attack increased can attack this turn.
However, if you have other non-Spellcaster monsters, they are also free to attack. Is it worth the trouble to play this just for a one turn 3000 at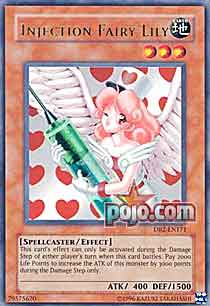 tack? Well, one monster comes to mind that this card could work incredibly well with...
Injection Fairy Lily. Imagine, her attack is increased to 3000 and then she attacks, and if you have the Lifepoints to pay for her effect, you have a 6400 attack! Now, that could mean serious trouble for your opponent. If they haven't lost any Lifepoints, they will be reduced to 1400. If you have one other non-Spellcaster monster on the field with 1400 attack or more, that's a OTK right there.
That's pure evil. This card definitely powers up the Spellcaster deck a little, obviously, and it doesn't really work anywhere else, but it shouldn't since it specifically states "two face up attack position Spellcasters."
Konami seems to be doing a good job filling in the voids we have in the Spellcaster department. We got Magical Dimension a little while back, and this helps too. The only real power card we're lacking in that department now is Dark Magic Curtain, which allows you to summon a Dark Magician from your Deck at the cost of half of your Lifepoints.
Well, that does it for today, and I hope you enjoyed it! I'll try as I said to check in more regularly now that I'm done with school. Please, as always, feel free to contact me with anything @ tsearcy@lssu.edu
You stay classy, Planet Earth :)
~Dark Paladin~