DM7FGD's Look Into the Future
Article # 2 - The Troublesome Monster Trio
For my second article here, I thought we'd take a look at 3 of the most powerful Monsters that will be released in the next English set; Magician's Force. These 3 Monsters are Exclusivity Virus, Magic Warrior-Breaker, and the Magical Scientist. Let's begin with E-Virus, shall we?


* ALL card translations in this article thanks to Edo's Yu-Gi-Oh Page - http://www.stormpages.com/edhrzic/Yugioh.htm *

Exclusivity Virus
Water/Aqua, Level 4 - 1600/1000
Effect: Discard 1 card from your hand and name a Sub-Type. Destroy all face-up Monsters on the Field of that Sub-Type.


E-Virus is a card that's been showing up in more and more Japanese (and English) decks everyday. It's got a great Monster destruction Effect, that can be used multiple times per turn, during your own turn. Great card, especially w/ Sinister Serpent.

E-Virus can get rid of virtually any Monster your opponent might have. Jinzo? No problem. As long as the opposing Monster is face up, if you have an E-Virus, that Monster won't be there much longer. It's sort of like a Monster version of Tribute to the Doomed. Plus, with an Effect like that, 1600 ATK strength, and the ability to be searched out by Black Forest Witch is simply great.

Also, since E-Virus is a Water/Aqua type, you'll rarely run into a time where you'll have to name Aqua sub-type to destroy an opponent's Monster that's troublesome to you, which means you'll rarely have to destroy your own E-Virus from using its Effect.

There's really not too many downsides to this card at all, except perhaps the fact that it's restricted to 1 in Japanese, just as it will be in English, but this Monster is still as destructive and powerful as ever. There's not too much else to say about this Monster. The Effect should pretty much explain it all. I'd rate E-Virus an 8.2/10. Some see it as the best card that will be released in Magician's Force, but I beg to differ. I consider the following card the "best" of the set, if I were to just pick one. Let's now take a look at Magic Warrior-Breaker..


Magic Warrior-Breaker
Dark/Magic User - Level 4 - 1600/1000
Effect: When this card is Normal Summoned, put 1 Magic Counter on this card (to maximum of 1). For each Magic Counter on this card, increase this card's attack strength by 300. Also, you may remove 1 Magic Counter from this card to destroy 1 Magic or Trap card on the Field.


Let's start of by saying Magic Counters can be anything. They aren't any specific cards or items. They can be anything from paper clips to donuts, or whatever you want them to be. You just use anything to keep track of what cards have Magic Counters and how many they have. Magic Counters do NOT fill up your M/T zone, nor can they be chained to anything, as they are only Spell Speed 1. Cards like MST, Feather Duster or Heavy Storm do NOT affect Magic counters, and Magic Counters would not be affected by such things as an Imperial Order, and with Breaker's Magic Counter, it could be removed to destroy an opponent's face up Imperial Order.

Breaker, as it is in Japanese, will be restricted to 1 when it's released in English.

Breaker's simply a great Monster. No doubt about it. Just Summon Breaker to the Field, and it not only gets an ATK boost of 300, putting it at 1900 ATK, but it receives a Magic Counter that acts as an MST when you remove it, only that Breaker's ATK is then reverted back down to 1600. If your opponent has a pesky M/T on the Field such as Imperial Order, or if you just wanna get rid of one of the opponent's face down M/T cards, simply remove Breaker's Magic Counter, lowering his ATK back down to 1600, and destroy that M/T card.

If the opponent has no M/T cards to destroy, oh well, you have a 1900 ATK Monster ready to do some damage, then whenever your opponent has a M/T that you're not liking, just remove the Magic Counter to destroy it. The Effect can be used at any time during your turn (Though it is not a multi-trigger Effect. It can't be used during your opponent's turn), but it can only be used once, unless you get Breaker's Magic Counter back by way of something such as Black Power Stone.

(BLACK POWER STONE
Permanent Trap
After activation, put 3 Magic counters on this card. Once during each of your turns, you may move 1 Magic counter from this card to another of your cards that [Can Use Magic counters]. If there are no Magic counters on this card, destroy it.
*Also coming in Magician's Force*)

Also, what makes Breaker even more powerful is that it can be searched by Black Forest Witch.

Also, the Effect can only be used when Breaker is Normal Summoned. Not Special Summoned, nor anything else, which is Breaker's main weakness. Say if you were to play Monster Reborn on Breaker, even if it was destroyed without using the Magic Counter, it will NOT come into play with 1900 ATK and a Magic Counter. It will come into play with 1600 ATK and no Magic Counter. Though 1600 ATK is not all that bad, especially after using an Effect like Breaker has. Draw Breaker from a Cyber Pod? Too bad.. Instead of a 1900 ATK Monster w/ an MST-like Effect, you have a 1600 ATK Monster with no Effect.


Breaker, if in a Magician/Spellcaster theme deck, can also work with Dimension Magic (Which will not be released in Magician's Force, but at an unknown time of release, sorry English duelists) to bring out another of your Spellcaster-type Monsters.
Dimension Magic
Type: Instant Magic
You can activate this card if you have a face-up Magic User Sub-Type Monster on your Field. Sacrifice 1 Monster on your Field, and Special Summon 1 Magic User Sub-Type Monster from your hand. Afterward, you can destroy 1 Monster on the Field.)

Let's take a look at one other thing.. Breaker vs. Ring of Destruction. Well, here's the ruling on that. When Breaker is summoned, adding the Magic Counter to it is automatically triggered, and it can be chained. If your opponent activates a Ring of Destruction when you Summon Breaker, it is in response to Breaker actually receiving its Magic Counter, and therefore it has not been "put" on Breaker yet. So if RoD is activated in response to this, each player would receive 1600 damage, and not 1900. Same goes for if RoD is activated in response to Breaker actually removing the Magic Counter to destroy a M/T card. If that is the case, each player would also take 1600 damage each.

Breaker can fit into practically any deck. There's really not much else to say about such a great Monster, and besides what I've mentioned, there's really not too many confusing things about the card. But if you have something else to ask about it, just go ahead and e-mail me about it.

Breaker's a powerful Monster that also acts as M/T removal. What more could you ask for in a card that wouldn't be considered "broken?" (Though Breaker pretty much can be considered "broken", or "overpowered") I give Magic Warrior-Breaker a well-deserved 8.5 / 10. Moving on to the final card of this article.. The Magical Scientist.


Magical Scientist
Dark/Spellcaster - Level 1 - 300/300
Effect: You may pay 1000 Life Points to Special Summon a Level 6 or less Fusion Monster from your Fusion Deck. That Fusion Monster cannot attack your opponent directly, and is returned to the Fusion Deck at the end of the turn.


Ok, let's get right to it..How is this Monster so good, you ask? Well, this Monster can win you the duel in the very first turn of the duel, whether you go first or second, seemingly easily. All you need to do is get Magical Scientist and Catapult Turtle out onto the Field when you have more than 7000 LP, and you've won the duel as long as your opponent can't counter. Keep bringing out the Fusion Monsters w/ the Scientist and launching them off with the Turtle. In Japanese, the Fusion Monsters most used with the Scientist in this combo are Crimson Sunbird, Black Flare Knight, and Brachioreidos. Not sure if the Bird or Brachioreidos are/will be released by the time of Scientist's release, but even if they're not, the combo can still be pulled off with simply 3 Roaring Ocean Snakes, 3 Empress Judges, and 1 Punished Eagle (Or a mix of those 3). Total Turtle launch damage would equal 7350, then 650 from Turtle and Scientist themselves. In other words, to pull off the total annihilation combo, you'd need at least 3 copies of 1 Fusion Monster of Level 6 or less with 2100 ATK or more, and 3 copies of another w/ 2100 ATK or more, along w/ 1 other Level 6 Fusion w/ 2100+ ATK strength.

Let me elaborate a bit more on the combo.. The one turn win combo is possible in English even now, w/ Punished Eagle, Empress Judge, and Roaring Ocean Snake all having 2100 ATK. Use 3 of each of those and 1 of the other, and you'll have the win. 1050 x 3 = 3150 x 2 = 6300 + 1050 = 7350 + 150 from Scientist = 7500 + Turtle itself = 8000.

The Scientist is great even without all the 1 turn win mumbo-jumbo. It's an extremely fun card, and the only real downside is that the Fusion Monsters can't attack directly. It's great with Thousand Eyes Rest, Balter, Ryu-Senshi, and Fiend Skull Dragon in many situations. The card's extremely effective as well, and is very fast in decks.

Not to mention it's a Dark Monster so it can fit even in a Messengers of Chaos Deck, and it's searchable by the Witch, Sangan, and even the Mystic Tomato. It's a very good card, and it's seen in many, many Japanese decks these days, including a couple of my own.

Surprisingly to most people, the Scientist is yet to be restricted. (In English. It has been restricted in Japanese)

Now, here's an example of a first turn win Scientist deck..

Monsters: 10

3x Catapult Turtle
3x Magical Scientist
3x Cannon Soldier
1x Sangan

Magic Cards: 21

3x MST
3x Last Will
3x Reasoning (From PGD)
1x Raigeki
1x Dark Hole
1x Pot of Greed
1x Graceful Charity
1x Mirage of Nightmare
1x Harpie's Feather Duster
1x Heavy Storm
1x Monster Reborn
1x Premature Burial
1x Nobleman of Crossout
1x Change of Heart
1x Snatch Steal
1x Poison of the Old Man
1x Limiter Removal

Traps: 4

2x Waboku
1x Imperial Order
1x Call of the Haunted

Fusion Deck: 18

3x Roaring Ocean Snake
3x Empress Judge
2x Punished Eagle
2x Metal Dragon
2x Dark Baltar
2x Ryu-Senshi
2x Fiend Skull Dragon
2x Thousand Eyes Restrict

Total: 40 + 18 Fusion

I myself ran a similar Magical Scientist 1 turn win deck, pulled off the first turn win in my second duel with it, then retired the deck as I found the combo to be too "cheap" for my taste. I now just find room for the Scientist in a couple fun decks of mine as well as a couple others. Very evil Monster, and it works very well. When it comes out in English, you may want to try finding room for it in your deck once every so often. You may like and be surprised at how it works so effectively.

Bringing out your strong/good-Effect Fusion Monsters so easily is pretty great. As I said, besides the fact that the Fusion Monsters can't attack directly, the only other downside to the Scientist is that the Fusion Monsters can only be Level 6 or lower, but that's really not too much of a problem. The Scientist's powerful combo abilities are almost endless. Which is a reason why the Scientist is one of the most abused cards in the Japanese game today, especially since it's not restricted whatsoever.
Scientist was recently restricted to 1 in Japanese, as it will be sooner or later in English.

I give the Scientist a 7.8 / 10. And that'll do it for my 2nd article. Hope you enjoyed it.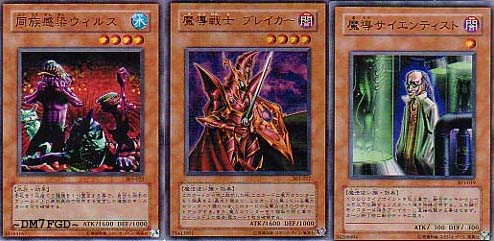 E-mail me with any questions and/or comments at dm7fgd32@hotmail.com
Until next time..
~DM7~