Beb's at Toywiz on Yu-Gi-Oh!
December 13, 2011
Hey y'all, this is Bebs from ToyWiz.com, stepping in to say hi and start sharing some information with everyone at Pojo. I've been reading the forums here for a long time, and we're one of the sponsors here, so it's about time I joined in the fray.
I guess the first place to start though is with a little about me: I've been working with ToyWiz for a little over a year, and I utterly love my job. The store's in New York, but in case you can't "read" my accent, I'm a Southern girl, heading straight for NY from New Orleans. I'm no card-playing pro, but I learn something new every day. Luckily, working with the YuGiOh and Pokemon cards, I do know what's hot, what's not, and what's coming in soon. So for now I'll focus on that and give you the rundown on the latest items coming in from Konami, Nintendo/gameFREAKS, Jakks Pacific and all the other licensed merchandise we carry.
Bill suggested that I start off with last-minute gift ideas for YuGiOh and Pokemon, and I'm totally on-board with that idea. Since everyone's on a budget, I'll break it down by price range - the bargains and the big stuff too.
---
YuGiOh Stocking Stuffers (Under $10)
YuGiOh 5D's Storm of Ragnarok Special Edition Pack (3 Booster Packs & 1 Random Promo) on sale for $7.99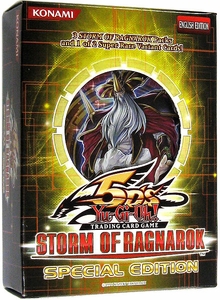 Three booster packs of Storm of Ragnarok plus either Light and Darkness Dragon OR Hand of the Six Samurai! (Storm of Ragnarok Special Edition at ToyWiz.com)
YuGiOh 5D's Duelist Pack Collection Tin (4 Packs w/4 Synchro Monsters) on sale for $8.99
Commemorates Yusei's battles against the villainous Dark Signers. Each Tin includes 3 packs of Duelist Pack: Yusei 3 and 1 pack of Duelist Revolution and 4 Synchro Monsters used by Yusei's adversaries, the Dark Signers. Three of these are Super Rare reprints of hard-to-find Synchro Monsters release previously. The fourth is a brand new, Secret Rare Synchro Monster never seen before. (Duelist Pack Collection Tin at ToyWiz.com)
Single cards, some of them selling for no more than pocket change! You can fill out your deck with exactly what you need instead of taking your chances with booster packs. (Single Yu-Gi-Oh! Cards at ToyWiz.com)
---
Friendly Gifts (Under $25)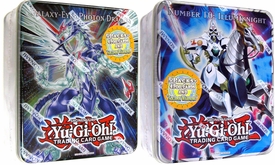 ZEXAL Collectible Holiday Tin sets - Choose from Galaxy-Eyes Photon Dragon, Illumiknight, Leviath Dragon, and Wind-Up Zenmeister. Each tin contains 5 booster packs, 4 Super Rare cards & 1 Secret Rare. (ZEXAL Tin Sets at ToyWiz.com)
---
Biggest Value at $35!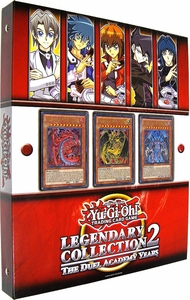 YuGiOh GX Legendary Collection 2: The Duel Academy Years
Each box contains a mix of fixed and random content totaling 58 cards, including 28 foil cards. 5 Mega Packs, 1 Promo Card Pack containing 10 Ultra Rares and 3 additional Ultra Rares: Uria, Lord of Searing Flames, Hamon, Lord of Striking Thunder, and Raviel, Lord of Phantasms. (Legendary Collection 2 at ToyWiz.com)
---
BIG GIFT Hidden Arsenal 5: Steelswarm Invasion or ZEXAL Photon Shockwave Booster Box Full, sealed cases of 24 packs $69.99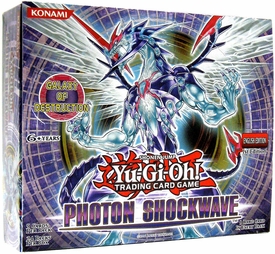 Over the last year you've gotten a glimpse of the power of the Steelswarm, Vylon, Gishki, Gusto, Laval, and Gem-Knight Decks, but now they're here for real. This 60-card all-foil booster set gives you full command of all these monster groups. And for the first time since the original Hidden Arsenal booster set, Hidden Arsenal 5 includes Spell and Trap Cards to go with them. Each pack contains 5 foil cards: 1 Secret Rare and 4 Super Rares. 5 cards per pack, 24 packs per box Includes 60 cards: * 20 Secret Rares (1:1) * 40 Super Rares (4:1) (Hidden Arsenal 5 Sealed Box at ToyWiz.com)
Duelists who bought Lost Sanctuary Structure Deck will be thrilled to find more than 10 new LIGHT monsters, Spells, and Trap Cards to power up their LIGHT monsters. Fans of Generation Force, Hidden Arsenal 5: Steelswarm Invasion, and the Gates of the Underworld Structure Deck will also be glad to find all new card that work together nicely with cards from any of those releases. 100-card complete set: 48 Common Cards, 20 Rare Cards, 14 Super Rare Cards, 10 Ultra Rare Cards, 8 Secret Rare Cards (Photon Shockwave Sealed Box at ToyWiz.com)
---
Of course, you might agree or disagree with those choices - I'd love to hear input on what you think the best values are in YuGiOh right now. The list I gave is what's selling fastest in our online store, but I know that there are some pretty pro players here at Pojo who've got different ideas on what's good in the current lineup! Prices current as of 12/12/2011.