August 25, 2017
Yu-Gi-Oh! 2017 Mega-Tin Box Opening
The 2017 YGO Mega-Tins came out today, and we got our hands on the Yugi Muto/Yami Yugi one. We figured we'd do a simple box opening to give you an idea what you'll find inside.
Here's what's inside the tins:
The Yugi Muto & Yami Yugi, and Seto Kaiba Mega-Tins

will include 3 x 16-card Mega-packs; 1 Secret Rare signature monster; 2 Ultra Rare variant cards; 2 Super Rare variant cards; and 1 Ultra Rare Token Card

The

Seto Kaiba Mega-Tin includes a Secret Rare Blue-Eyes White Dragon plus Super Rare copies of the Fusion Monster Elder Entity N'tss and the Graveyard-dominating Xyz Monster Number 68: Sanaphond the Sky Prison

The Yugi Muto & Yami Yugi Mega-Tin

boasts a Secret Rare Dark Magician as well as Super Rares of the Field Spell Dreamland and the Rank 3 Xyz-reviving powerhouse Number 71: Rebarian Shark

The cards are all packed into a metal store case with unique, brand-new art featuring Yugi Muto & Yami Yugi, and Seto Kaiba, respectively

MSRP: $19.99 (each Tin sold separately)
Here are some photos our Tin Opening: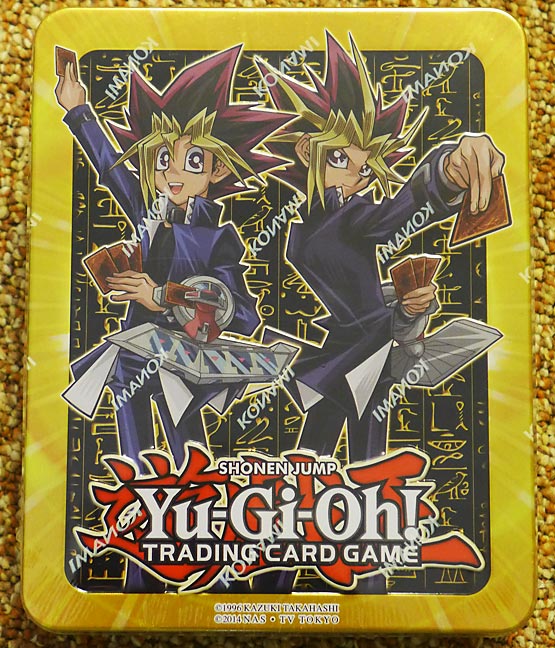 The tins are sealed, and shrink-wrapped with special Konami shrink-wrap. The Tin Cover is stamped so that the characters are slightly raised from the rest of the tin.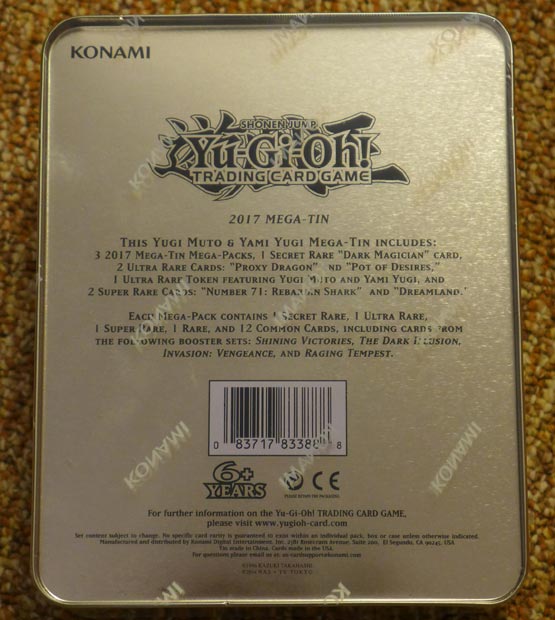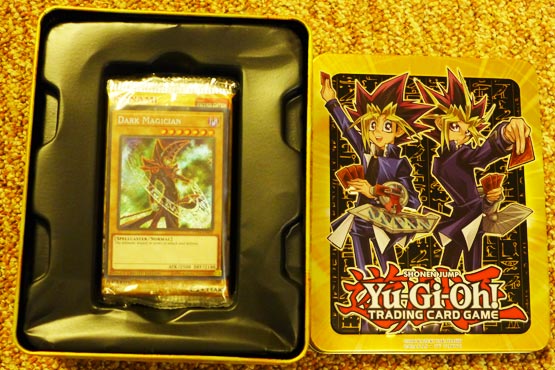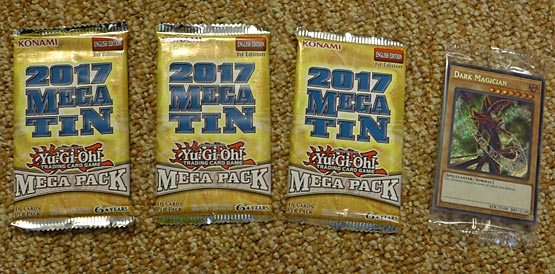 You'll be get your 6 guaranteed Promos and three 2017 Mega Tin Booster Packs. The Boosters contain 16 cards per pack: 1 Secret Rare Card, 1 Ultra Rare Card, 1 Super Rare Card, 1 Rare Card and 12 common cards. There are 239 cards in the Mega Tin Booster Set.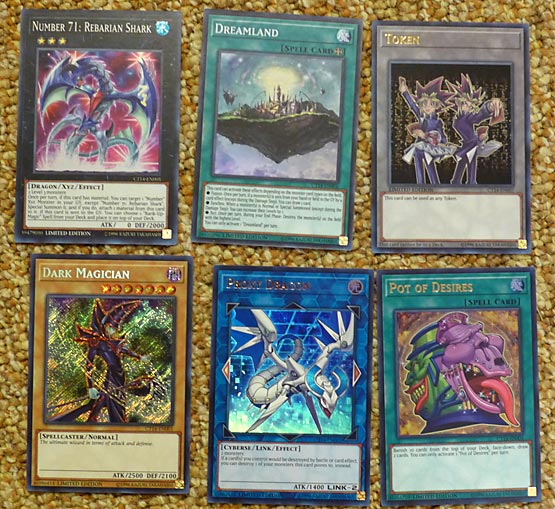 Here's a look at the cards that are unique to the Yugi Mega-Tin.
We feel these tins are a good value at $19.99! You'll get at least 3 rare, 3 super rares, 3 ultra rares, and 3 secret rares from Shining Victories, The Dark Illusion, Invasion: Vengeance and/or Raging Tempest.