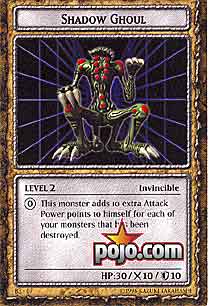 Name: Shadow Ghoul
Set: Series 3 (Ultimate Wrath)
ID: B3-07
Level: 2
Tribe: Invincible
HP: 30 ATK: 10 DEF: 10
Special Ability: This monster adds 10 extra Attack Power points to himself for each of your monsters that has been destroyed.
Stats: Shadow Ghoul is a Level 2 Monster, making it fairly easy to Summon: 50% likelihood when rolling 3 Level 2 dice, and that's before factoring in the Double Dice Roll rule of the Advanced format (which makes it roughly a 75% chance). Shadow Ghoul is part of the "Invincible" tribe… better known to you and me as Zombies. We haven't covered them a lot, and there aren't exactly a lot of them to cover: only seven Zombies (calling them Invincible is so misleading) exist in the English game.
Shadow Ghoul has 30 HP. This is tops for Zombies (again, at least for the English game), but is shared by Dragon Zombie. It is a good score: middle of the road for DDM… but as good as it gets for Level 2 Monsters. Shadow Ghoul's stellar HP is offset by the second lowest ATK and lowest DEF in the game: 10. So just going by stats, Shadow Ghoul would be an iffy meat-shield. Fortunately, it has a Special Ability.
Special Abilities: Like its TCG counterpart, Shadow Ghoul receives an ATK bonus for each of your Monsters that are destroyed (since there isn't a "Graveyard" in DDM). Unlike its TCG counterpart, the boost this version of Shadow Ghoul receives is substantial: +10 ATK per Monster. It only takes a single Monster having died before Shadow Ghoul to let it tie the top ATK for Level 2 Monsters (20). As we progress, we see that once we hit five Monsters destroyed, Shadow Ghoul surpasses Blue-Eyes Ultimate Dragon. This is just fantastic.
Uses and
Combinations: Shadow Ghoul should be the ultimate "cleaner", that is, the Monster you summon late game after all major threats are gone. By this time, Shadow Ghoul will likely be strong enough to handle whatever is left. The exception being if you have lost no Monsters, in which case you don't really need a cleaner, or if you are getting slaughtered, in which case it might be your last hope. Shadow Ghoul's immense potential ATK strength means that it only fears what pretty much every other Monster fears: effects like Blast Lizard's and Knight of Twin Swords', Flying Monsters and others that can't be attacked, and anything that can hit for 40 damage in one shot (which would OHKO Shadow Ghoul).
Ratings
Basic: 2/5-Not so good here, though to be fair it isn't supposed to be used here (only Monsters in the Starter Set). Still, for the sake of argument, if you try and use it here, it's pretty disappointing, as it tops out at 30 ATK, and an opposing Buster Blader can take it down with one normal attack.
Advanced: 4/5-Here I consider it to be one of the "Power Pieces". The simplest definition of a Power Piece is something that has a high return for what goes into it, and that you basically have to look hard for reasons not to use it. The only time to consider not using it is if you're Dice Pool goes for almost total control, since it will be short on space and likely won't lose a lot of Monsters if it works.
Summary
Shadow Ghoul is a very well made piece: the actual sculpt is pretty good (who knew it has 5 legs?), but more importantly, it has all around good stats and a brilliant effect… but at the same time is not so powerful that you're guaranteed the win if you get it out or guaranteed to lose if you don't have it.
-Otaku