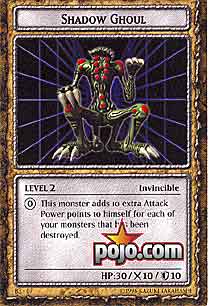 Dungeon Dice Monster of the Week: Shadow Ghoul
Set: Ultimate Wrath
Review:
Lets see … Shadow Ghoul. His stats aren't wonderful, HP: 30/ATK: 10/DEF: 10, but he may get through. He would really stay in the back on the Dungeon, and then we do what we all just love to do. We play the waiting game. He'll get 10 extra Attack Power points for each one of your monsters that's been destroyed. Now that's pretty good. Just summon him later in the game, and that's pure destruction. Plus he also a level 2 Summoning, so he won't be too hard to get out. I use this guy sometimes to beet my opponents down, and then come back to win the game. Although I don't use him in my current team, if my opponent gets nasty, I'll switch him in. He's JUST that cool.
Ratings:
Traditional: 4/5 – He does have some good play here, maybe not as much as you think, but he does have play.
Advanced: 3/5 – Maybe not the best choice here, but it really all depends on how fast your opponent beets your monsters.
Questions?: DBZreviewer@yahoo.com
Visit my site: www.freewebs.com/dbcenteral
(Need reviewers…)
Until next time,
Keep the Dice Rollin'