Name: Mighty Mage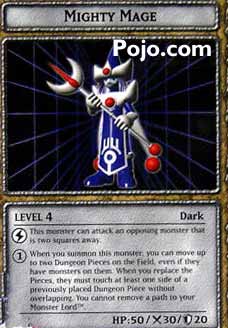 Set: Series 2 (Forbidden powers)
ID: B2-02
Level: 4
Tribe: Dark
HP: 50 ATK: 30 DEF: 20
Special Abilities:
(M) This monster can attack an opposing monster that is two squares away.
(1) When you summon this monster, you can move up to 2 Dungeon Pieces on the field, even if they have monsters on them. When you replace the Pieces, they must touch at least one side of a previously placed Dungeon Piece without overlapping. You cannot remove a path to your Monster LordTM.
Stats: As a Level 4 Monster, Mighty Mage must indeed be strong: he is the equivalent of Monster that requires two tributes to Normal Summon in the TCG. He (just guessing the gender) is part of the Dark tribe, which consists mostly of what would be Machines or Spellcasters in the TCG. They might technically be the best off Tribe in the English game: some support, but no counters, and a reasonable amount of figures, including those with brute force and cool effects. Mighty Mage has the second highest HP score in the American version of Dungeon Dice Monsters: 50. It is surpassed only by Blue-Eyes Ultimate Dragon's 60 HP, and tied by only four other pieces (who are not members of the Dark Tribe). He has a solid 30 ATK, which is the third highest with respect to the American version of the game, which is shared by four others, and exceeded by only seven other Monsters. More over, one of those is Blue-Eyes Ultimate Dragon again, with its unmatched base ATK score of 50. Again, this is solid, at best being matched by the top Level 3s. The same goes for his DEF of 20; of those that exceed it, one is Blue-Eyes Ultimate Dragon, with the top score in the American game of 40, and eight others who have 30, but the bulk of Monsters in this game have 20 or less. Of course, this is proportionately worse, since more beat or match him and some of those 30 DEF Monsters are Level 2, but what have I repeatedly mentioned? DEF is the least important/used Stat, so it is forgivable. Still, while the Tribe and HP are impressive and the remaining stats solid, most of its level mates either have better stats or killer abilities. In other words, this is a good foundation, but the Special Abilities will make or break it.
Special Abilities: The first ability is the option of increasing Mighty Mage's attack range for a turn at the cost of a Magic Crest. This seems well worth it to me: combined with his good HP and decent DEF, being able to attack from a little farther away than most creatures means that Mighty Mage will be hard to kill. An added benefit is attacking over gaps or obstacles in the Dungeon Path. Just remember that the Rules Book explicitly states that since Special Abilities do not affect the Monster Lord, you cannot use this to hit him from a safe distance.
The second ability appears to be fairly unique in all versions of Dungeon Dice Monsters. When summoned, you may spend a crest (of any type), move up to two Dungeon Pieces (either player's) in play. There are some restrictions that basically match the normal rules of playing a Dungeon Piece; it must not overlap another Dungeon Piece or hang off the board, it must still touch a previously placed Dungeon Piece (though I don't know if it has to be the owner's or if it can be either player's), and you can't remove a path to your Monster Lord (I believe they mean the only path). Since I know of no official rulings, I'd err on the side of caution and assume you more or less follow the normal rules: they must touch part of the owner's pre-existing Dungeon Path, and that you can remove "a path" to you Monster Lord so long as it is not the only one. So if you have two, one could be moved so that it no longer lead to your Monster Lord, but one would have to stay. Finally, on the subject of rulings, I believe pieces are just moved along with the path.
Given these assumptions, the second ability is very, very potent: you can move a Monster or Item in play (via the Dungeon Piece it is on) to where it is needed. That can mean moving your attacker into position, their defender out of the way, etc.
Uses and Combinations: Mighty Mage appears best suited as the focus of a Dark-themed dice pool. Its competition consists of Dark Magician, Exodia the Forbidden One, and Sanga of the Thunder. It can possibly work with Exodia in a field control dice pool: get Exodia out with Crawling Dragon#1 (and usually Dark Magician Girl too) and lay a bunch of "Shelled Ground" counters on the field to block progress. Although hard to summon, Mighty Mage can help if your opponent had a quick start, moving their pieces back farther to keep the lock, and if your Blast Lizard was lost early, the ability to attack from farther away could also help. Still, that is pretty complicated. As the focus of a "Dark" Dice Pool, without Exodia, you'd just summon Mighty Mage when you had a decent field presence to mow down the competition. Rock Ogre Grotto#1 can help since it boosts the DEF of Dark Monsters by 10, and there are some other strong Dark Pieces (like Dark Magician Girl and Thunder Ball).
Ratings
Basic: 4.5/5-Remember that you aren't supposed to actually be using it here, but if you play the "Basic" game using some of the non-Starter figures, Mighty Mage is indeed an imposing force. I assume you'd swap it in for one of the default pieces and just be using three figures as your total Dice Pool, so large combos are out… which helps this figure immensely, as it is rather impressive on its own, but gains little from complex combos.
Advanced: 3.75/5-This is a general rating; it is a solid Monster if you wanted to use it as just a token Level 4 figure for your deck. If you are running a Dark Theme, however, it is much, much more valuable. So that score is something of a composite of the scores I'd give for in general (a little lower) and in a Dark-themed dice pool (much higher).
Summary
He may not be "The ultimate magician in terms of attack and defense" like Dark Magician's TCG card claims to be, but for this game, Mighty Mage is the ultimate Level 4 Dark Monster in terms of Stats and Special Abilities.
-Otaku