Ok, so I decided to look at this Insect type monster today, just to see what kind of play-a-bility it has.
Really, it has none. I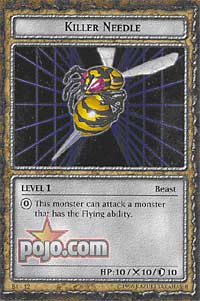 t has 10 HP/ATK/DEF, which won't do good at all in Dungeon Dice Monsters. He should have never really been created at all. Sure, it can attack a Monster with the Flying Ability, but what kind of damage can it really do? It'll do 10, but then there is a possibility it well be destroyed.
Traditional/Advanced: 1/5
Yah… not good at all.
Questions? DDMreviewer@yahoo.com
Pojo.com Message Board Name: TheMagicianDuelist12
Make sure you check out my YGO TCG Articles too:
http://pojo.com/yu-gi-oh/FeaturedWriters/TheDungeonMaster/index.shtml
Until next time,
Keep the Dice Rollin'