Card Game
Card of the Day
TCG Fan Tips
Top 10 Lists
Banned/Restricted List
Yu-Gi-Oh News
Tourney Reports
Duelist Interviews

Featured Writers
Baneful's Column
Anteaus on YGO
General Zorpa
Dark Paladin's Dimension
Retired Writers

Releases + Spoilers
Booster Sets (Original Series)
LOB | MRD | MRL | PSV
LON | LOD | PGD | MFC
DCR | IOC | AST | SOD
RDS | FET
Booster Sets (GX Series)
TLM | CRV | EEN | SOI
EOJ | POTD | CDIP | STON
FOTB | TAEV | GLAS | PTDN
LODT
Booster Sets (5D Series)
TDGS | CSOC | CRMS | RBGT
ANPR | SOVR | ABPF | TSHD
STBL | STOR | EXVC
Booster Sets (Zexal Series)
GENF | PHSW | ORCS | GAOV
REDU | ABYR | CBLZ | LTGY
NUMH | JOTL | SHSP | LVAL
PRIO

Starter Decks
Yugi | Kaiba
Joey | Pegasus
Yugi 2004 | Kaiba 2004
GX: 2006 | Jaden | Syrus
5D: 1 | 2 | Toolbox
Zexal: 2011 | 2012 | 2013
Yugi 2013 | Kaiba 2013

Structure Decks
Dragons Roar &
Zombie Madness
Blaze of Destruction &
Fury from the Deep
Warrior's Triumph
Spellcaster's Judgment
Lord of the Storm
Invincible Fortress
Dinosaurs Rage
Machine Revolt
Rise of Dragon Lords
Dark Emperor
Zombie World
Spellcaster Command
Warrior Strike
Machina Mayhem
Marik
Dragunity Legion
Lost Sanctuary
Underworld Gates
Samurai Warlord
Sea Emperor
Fire Kings
Saga of Blue-Eyes
Cyber Dragon

Promo Cards:
Promos Spoiler
Coll. Tins Spoiler
MP1 Spoiler
EP1 Spoiler

Tournament Packs:
TP1 / TP2 / TP3 / TP4
TP5 / TP6 / TP7 / TP8
Duelist Packs
Jaden | Chazz
Jaden #2 | Zane
Aster | Jaden #3
Jesse | Yusei
Yugi | Yusei #2
Kaiba | Yusei #3
Crow

Reprint Sets
Dark Beginnings
1 | 2
Dark Revelations
1 | 2 | 3 | 4
Gold Series
1 | 2 | 3 | 4 | 5
Dark Legends
DLG1
Retro Pack
1 | 2
Champion Pack
1 | 2 | 3 | 4
5 | 6 | 7 | 8
Turbo Pack
1 | 2 | 3 | 4
5 | 6 | 7

Hidden Arsenal:
1 | 2 | 3 | 4
5 | 6 | 7

Checklists
Brawlermatrix 08
Evan T 08
X-Ref List
X-Ref List w/ Passcodes


Anime
Episode Guide
Character Bios
GX Character Bios
Video Games
Millennium Duels (2014)
Nighmare Troubadour (2005)
Destiny Board Traveler (2004)
Power of Chaos (2004)
Worldwide Edition (2003)
Dungeon Dice Monsters (2003)
Falsebound Kingdom (2003)
Eternal Duelist Soul (2002)
Forbidden Memories (2002)
Dark Duel Stories (2002)
Other
About Yu-Gi-Oh
Yu-Gi-Oh! Timeline
Pojo's YuGiOh Books
Apprentice Stuff
Life Point Calculators
DDM Starter Spoiler
DDM Dragonflame Spoiler
The DungeonMaster
Millennium Board Game
Magic
Yu-Gi-Oh!
DBZ
Pokemon
Yu Yu Hakusho
NeoPets
HeroClix
Harry Potter
Anime
Vs. System
Megaman
This Space
For Rent



Dungeon Dice Masters Talk
Coming out of the Dungeon PT 2
by TheDungeonMaster
04.04.05
Hey guys, I'm back with another article. Like I said in my first article, this one is going to be about the Items in the game.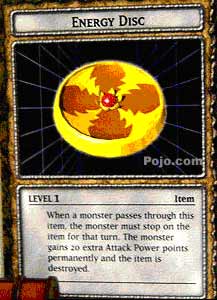 This might not be a long article, because there are only 2 actual American Items in the American DDM game. The first one is in Series One of DDM. It's called Energy Disc.

Effect: When a monster passes through this item, the monster must stop on the item for that turn. The monster gains 20 extra Attack Power Points permanently and the item is destroyed.

What this piece does is give a monster who stops on it 20 extra Attack Points, like it says in the effect. What it means when it says "The monster must stop on this item" it means that if you move a monster 5 spaces, and this item is 4 spaces, you stop on the space that it is in. It's really good to play it near one of your monsters so your monster can get the power bonus, and not your opponent. Duh. Also good to power up the faithful Exodia. It's also pretty good for a LV 1 Summoning.

The next Item is called Exploding Disc.

Effect: When a monster passes through this item, the monster receives 2 Damage Markers (20 points of damage) and the item is destroyed.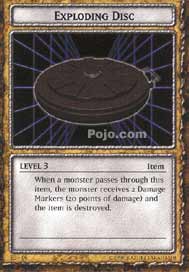 This is a good piece. It can be useful to slow don your opponent, just put them closer to their side of the Dungeon, but leave a space open where you can move in. Even if the monster isn't destroyed by this piece, it still gets them down 20 points of damage.


Well, that's all for this article. Like I said before, there isn't a lot of items in the game.

If you want to email me about DDM or YuGiOh, you can at DBZreviewer@yahoo.com

(Please note: I will not rate/fix YuGiOh decks, I WILL help with card problems. I WILL rate/fix your DDM Team if you have any.)

Until next time, Keep the Dice Rollin'.

(Remember, I'm on the Message Board under TheMagicianDuelist12).



Copyrightę 1998-2005 pojo.com
This site is not sponsored, endorsed, or otherwise affiliated with any of the companies or products featured on this site. This is not an Official Site.