Dungeon (Advanced)- 4/5 (It takes longer to get to your opponent, but still a good destroyer of other monsters).
Trade Bait- 10/5 (It's really that good.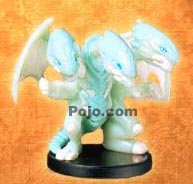 Name: Blue-Eyes Ultimate Dragon
Set: Series 3 (Ultimate Wrath)
ID: B3-01
Level: 4
Tribe: Dragon
HP: 60 ATK: 50 DEF: 40
Special Ability: (0) This monster only moves one square per turn (it doesn't matter how many Progress Crests you spend).
Stats: Blue-Eyes Ultimate Dragon is a Level 4 Monster. This means it has rather abysmal odds for being summoned; even if you roll three Level 4 dice, you have a little less than a 7.5% chance of Summoning it on the first roll, and of course technically the same odds on the next roll if you didn't Summon it on the first roll, but overall about a 15% chance. This is a very crude estimate, and I know that it isn't 100% accurate, but it should be close. It has been a few years since I took a Stat course, so any statisticians out there want to send me the proper numbers, the formula(e) used, and an explanation of how the formula(e) work, please do. Contact information is at the end of the review.
So Blue-Eyes Ultimate Dragon is hard to summon. Still it isn't impossible, and you can always go with the less likely but much safer attempt at a Triple Summon (rolling three Summon crests of the same level) using Level 3 dice, which would allow you to then Summon this piece. What do you get for all this effort? It is part of the Dragon Tribe. Dragons have a little support, and some of the strongest pieces in terms of stats. Dragons do suffer from two easy to run counters: Lord of D and Buster Blader. Buster Blader is immune to attacks and effects that originate from Dragons, and Lord of D can take him for a ride.
There is one thing that makes Blue-Eyes Ultimate Dragon shine: it has the highest HP (60), ATK (50) and DEF (40). Nothing in the English game matches the HP. A few Japanese pieces do: Obelisk the Tormentor* and Slifer the Sky Dragon* – yes, the Japanese got two of the three "Egyptian god Monsters" – and they are legal for general play, as they have some nasty draw backs. The ATK again is the highest base ATK score in the game (certain Monsters, like Shadow Ghoul have effects which can give them a higher ATK score). Likewise, outside of Magician Dragon's DEF boosting effect, nothing touches its DEF in English. In the Japanese game, Obelisk the Tormentor* and Slifer the Sky Dragon each have straight 60s. In the English game though, Blue-Eyes Ultimate Dragon is a veritable tank: shrugging off the attacks of most Monsters with ease and slaying them in a single hit. Even if they can hurt it, it usually requires a specific "power attacker" whose effect aides them, or else it will just take a long time to whittle away at that gargantuan HP score.
Special Abilities: Blue-Eyes Ultimate Dragon has one Special Ability. It restricts it to moving one space per turn. This adds more to the tank-like feel: it is slow and somewhat pondering when compared to your other Monsters, but this balances out its incredible strength.
Uses and Combinations: Two main uses for this Monster: token Level 4 in Dragon decks or any deck using Lord of D. Why? Level 4 Monsters are immensely hard to summon, so while this doesn't seem like much, it is actually one more than most other Level 4 Monsters. As such, you either want Parrot Dragon (+10 to all Dragons' DEF scores) or Lord of D, whose it's first effect allows you to Sacrifice it and pay 6 crests in order to move a Dragon to the square Lord of D was on when it was Sacrificed. As stated, Lord of D is also anti-Dragon thanks to its second effect, and as a Level 2, it becomes easy to fit into multiple dice pools.
Ratings
Basic: N/A-You technically aren't supposed to use anything. If you do fudge the rules here, consider it a 5/5. Yes, it is big and slow, but the arena is smaller here and most sick combos become too delicate to rely on.
Advanced: 4/5-Please remember this is relative to other Level 4 pieces. I do recommend one per dice pool, but only one. Still, this one can work in most dice pools that can also fit in a Lord of D.
Summary
Blue-Eyes Ultimate Dragon is a Monster for the "Timmy" in all of us: it has the best stats in the English game, and is featured pretty extensively in the animé/manga.
*As the pieces are Japanese, they use the Japanese names; I just used the English translations since that's what most readers will be familiar with.
-------------
(PLEASE JOIN! If you want to be a reviewer, email me at the above email).