Dungeon Dice Masters Talk
Dungeon Dice Monster of the Week: Giant Soldier of Stone
by TheDungeonMaster
02.09.06

Effect:
Spell x2: Remove one "Shelled Ground" counter from the Dungeon.
HP: 20/ATK: 10/DEF: 30
Level 2 Summoning

Ok, so, I lied. I wanted to at least give you a Dungeon Dice Piece of the week before my articles hit next week. But lets gets on to the review.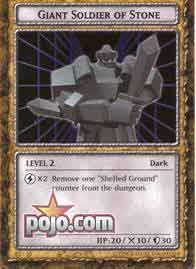 He's not really great at all. He has 10 attack and 20 HP. Not all the best states, but his defense is a little better then normal. He might be around a lot longer. His effect is … ok, costing 2 spell counters to use. Who knows… maybe you can use them for something better, but if he is the ONLY guy on your side of the Dungeon, (lets hope he isn't), but if he is… use his effect as many times as you want to.

Traditional: 2/5 – Not great, probably higher then I should have given it.
Advanced: 1/5 – Useless… just… useless…

Ok, so you got the DDM Piece of the Week this week. Monday is the big day, so make sure you check out those articles!

Questions: DBZreviewer@yahoo.com
Pojo.com Message Board Name: TheMagicianDuelist12

You know what I always say…

Keep the Dice Rollin'