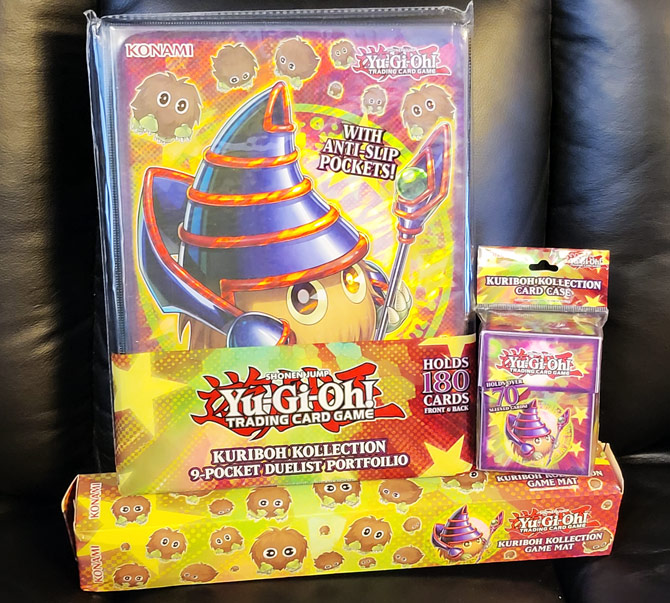 The "Yu-Gi-Oh! Kuriboh Kollection" Trading Card Game Accessories are in stores now. 
Yesterday we took a look at the Kuriboh Game Mat, and today we have a quick review of the Kuriboh Kollection Portfolio (Binder).
Product Details from Konami – Fact Sheet:
Kuriboh Kollection 9-Pocket Duelist Portfolio (see above for image)
Keep your collection safe with the all-new Yu-Gi-Oh! TRADING CARD GAME (TCG) Kuriboh Kollection 9-Pocket Duelist Portfolio (MSRP: $9.99) featuring Magikuriboh, a new addition to the Kuriboh family, found in the booster set, Battle of Chaos! 
The all-new 9-Pocket Duelist Portfolio has some serious flare, featuring different Kuriboh monsters of the Yu-Gi-Oh! TCG. Designed with a secure side-loading design, this 10-page portfolio has 9 pockets per page – by placing cards front-to-back, you can stage up to 180 of your most cared for cards. The 9-Pocket Duelist Portfolio also utilizes an anti-slip feature to keep cards secure and your collection safe at all times.
---
This Kuriboh binder is in stores now.  Here is the official preview image from Konami: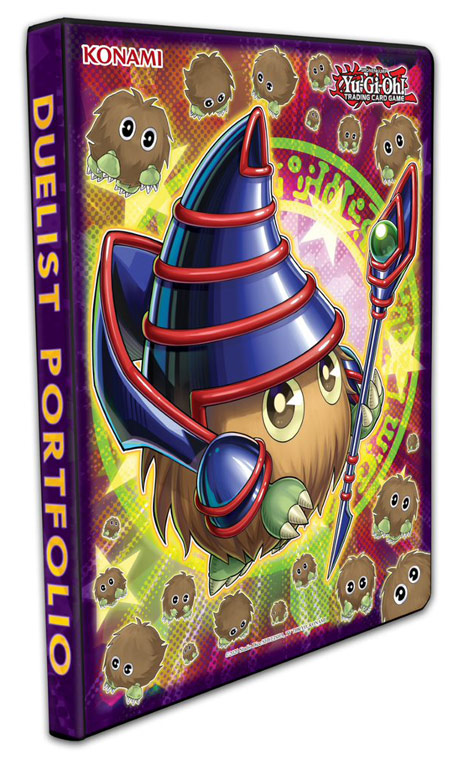 And here is what the binder looks like in real life: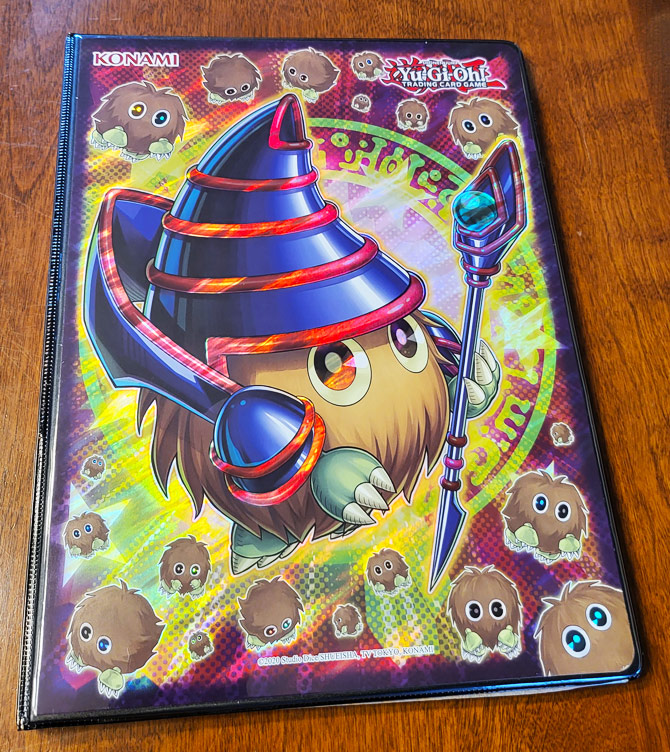 It is really difficult to get a good photo of the portfolio because it is highly reflective, with a lot of foil designed into the cover.  Trust me, it looks great in person.  I tried to catch some of the foil color in the photo.  
Here is the back cover of the portfolio.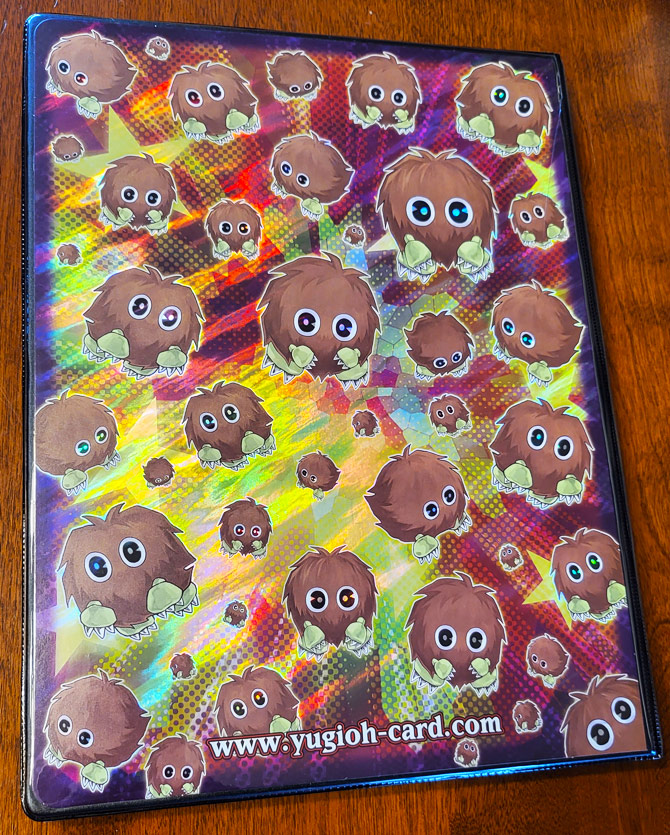 The back cover has that same type of holofoil shimmer designed into the image.  It looks great.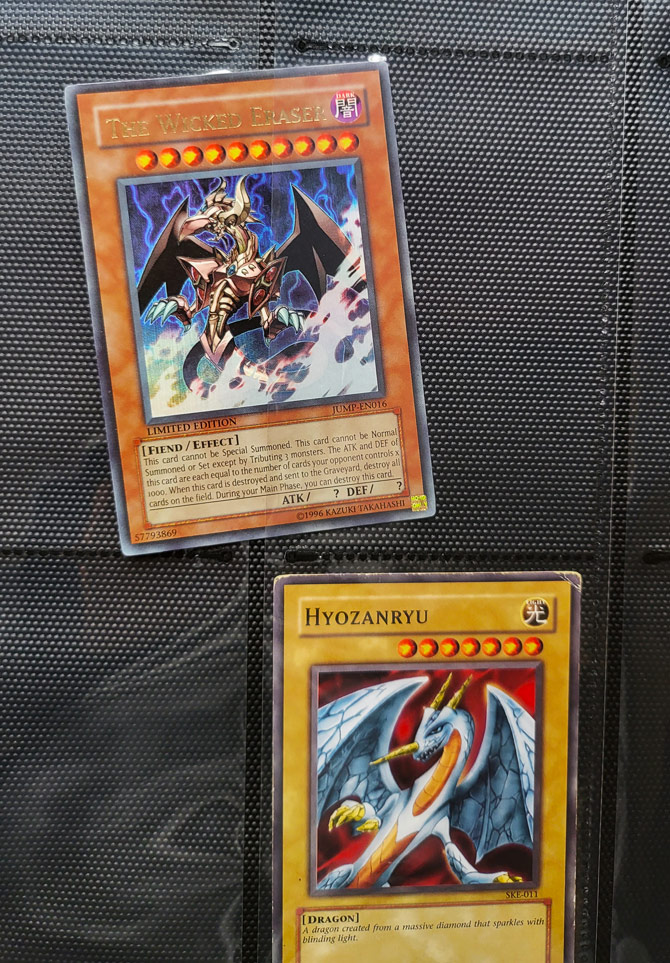 This card binder retails for $9.99 and seems solid and well-made.  It has 10 pages, and thus slots for 180 sleeved cards – front & back.  There is a black anti-slip meshy material behind each slot that keeps cards in place, and prevents the YGO cards from touching each other back to back.  The black background also makes your cards visually "pop" in the binder for a nice look.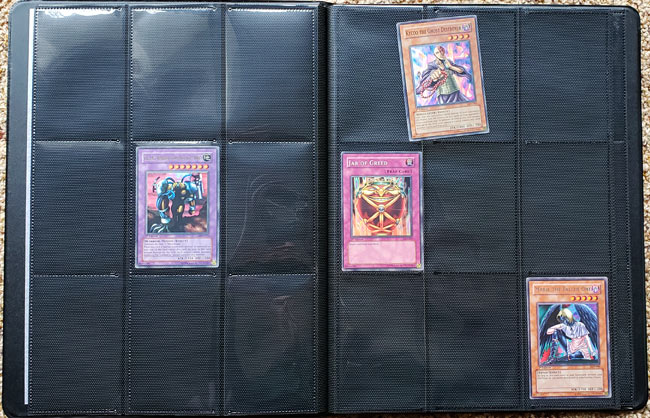 Cards are also side-loaded.  This keeps cards from accidentally flying out the top.  And there are no rings to that will dent your cards.  We like this a lot.  This portfolio is about 3/4″ thick, 11.75″ tall and 9″ wide.  All in all, for $10, it's easy to recommend this binder to YGO players.