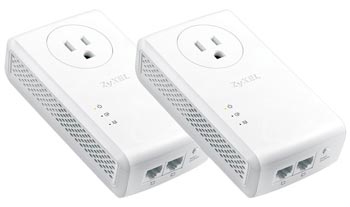 A powerline adapter is a small unit that is plugged into two outlets within the home, each with an ethernet cable connected (to the router and your PC).  It uses the electrical circuits in your home as an ethernet cable instead of requiring a 100-foot cable or drilling any holes in the walls.
For those that want very fast HD/4K streaming and download speed, powerline adapters offer no guarantee of higher MB per second than wifi.  Ideally, they do allow more data per second.  However, homes with less efficient electrical circuitry (i.e. older homes) may not see any improvement.  Your mileage will vary.
A powerline adapter, however, does provide a more stable connection.  This can be used in addition to the wifi to add some layer of security in case the wifi signal is interrupted. This is helpful, particularly with gaming and most internet browsing, in which the consistent sending of information matters more than sending a large amount of information at a time.
Lastly, there's probably no difference in performance between a 200 MBps powerline adapter and a Gigabit one.  Most people's electrical circuitry won't accommodate Gigabit speeds even if their internet service does offer it.