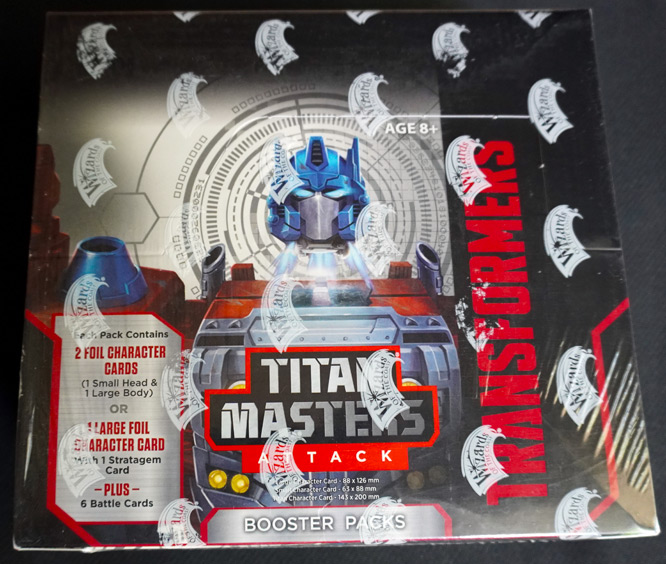 Titan Masters Attack just hit stores on May 29th, and we have a new booster box opening for you.  Titan Masters Attack is Wave 5 for the Transformers TCG.  Wave 5 cards can be added to previous Transformers TCG installments to make all-new decks!
All Wizards of the Coast TCG Booster Boxes are packed in a tight, plastic overwrap that displays Wizards of Coast logos. This helps ward off counterfeiters.  If you are going to buy a Booster box, make sure it has this feature.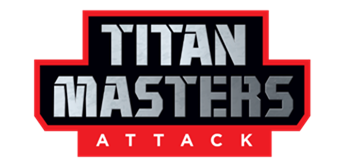 What are Titan Masters?
From the Transformers Wiki: "Titan Masters are a diminutive breed of Transformer. Long ago, this ancient and mysterious group of Transformers worked within the gigantic bodies of the Titans, maintaining their complicated systems as the Titans journeyed across the galaxy. The Titan Masters were created as gifts, intended to be shared with other civilizations that the Titans might meet in their journeys. Each Titan Master possesses a unique Spark that allows them to transfer their innate powers into the bodies of other Cybertronians by forming their head, not unlike the Headmasters."
Titan Masters Attack TCG Details
"Collect heads and bodies of TRANSFORMERS characters and customize them to fit your play style.
Titan Master Characters: Mix and match heads and bodies to customize Titan Masters to fit your playstyle. Head characters give bonuses to the body, and when the body is KOed, the head deploys as a separate bot mode character.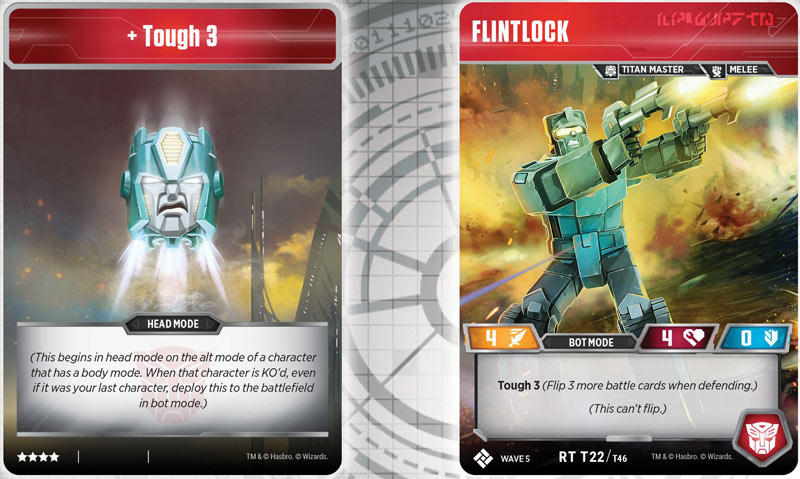 The Wreckers: The fan-favorite Autobot special-forces team make their debut in Titan Masters Attack. Led by Sergeant Kup, the Wreckers get the toughest jobs done, no matter what the cost.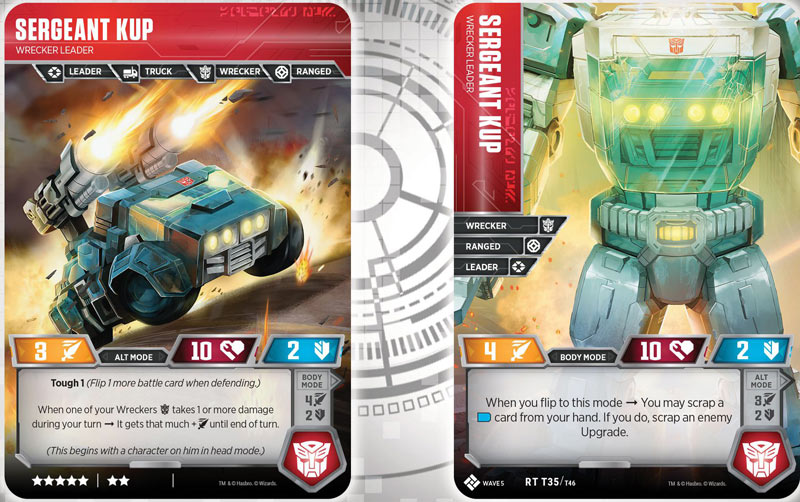 Stratagem cards: This completely new card type lets players customize characters on their team. Stratagems in Titan Masters Attack can modify characters from this booster release or from previous releases.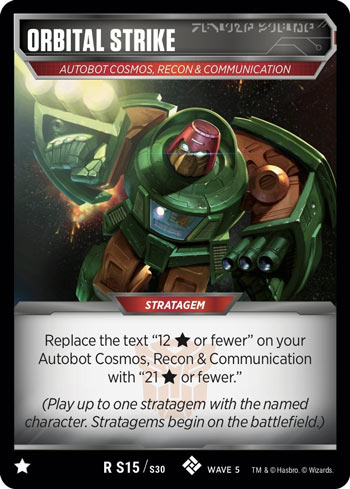 Fortress Maximus: Every sealed Titan Masters Attack booster display includes a Fortress Maximus Titan pack. This pack contains the titan-sized Fortress Maximus character (~ 5.6″ x 8″), his head character Cerebros, and Cerebros' head character, Emissary."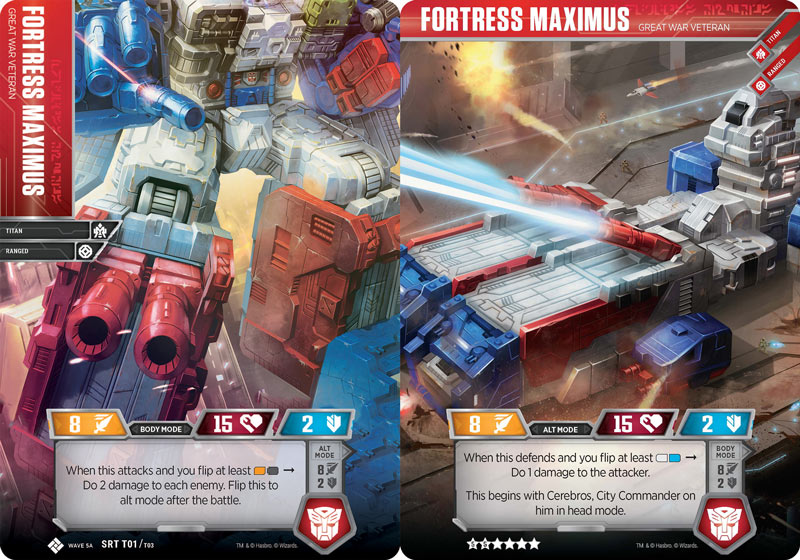 Each Booster Pack in Titan Masters Attack contains 2 Foil Character Cards.  Either:
1 Small Head & 1 Large Body
or 1 Large Foil Character Card with 1 Small Stratagem Card
The Small cards are 2.4″ x 3.5″ – The same size as a typical Pokemon/MTG card.  The Large Character cards are 3.5″ x 5″ character cards.  Each pack also contains 6 Battle Cards.  
There are:
46 Character Cards in this expansion (43 of these characters never-before-seen in Transformers TCG)
64 Battle Cards in this expansion
and 30 Stratagem cards in this expansion.

The Odds:
There are 30 Booster Packs in a Booster Box. Each Booster Pack contains 2 Foil Character Cards (1 Small Head & 1 Large Body or 1 Large Foil Character Card with 1 Small Stratagem Card).   You have a 50% chance to get either one of those combinations in one booster pack.  
The side of the Booster Box details the approximate odds on getting certain card rarities:
Chances of a Rare Large Character Card needed to form a Combiner Character are 1 in 24.5 packs (about 4% chance)
Chance of Super Rare Large Character Card are 1 in 30 packs (about a 3% chance)
Chance of Rare Large Body Character Card are 1 in 10 packs (10% chance)
Chance of a Rare Small Titan Master Head are 1 in 8.3 packs (12% chance)
Chance of a Rare Stratagem Card are 1 in 12.5 packs (8% chance)
Each Booster Pack contains 1 Rare Battle Card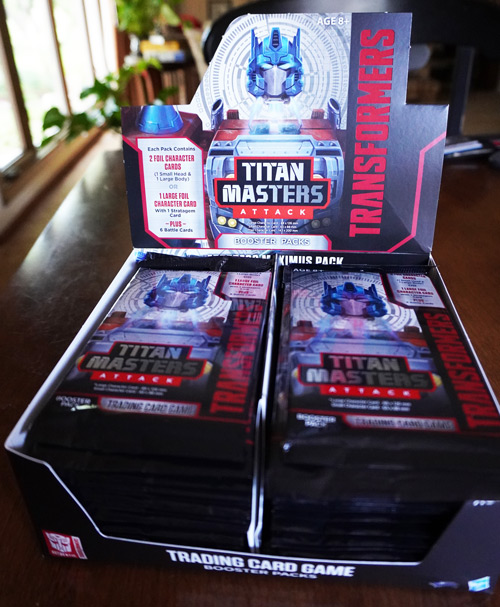 The Booster Box Opening
The Titan Masters Attack Booster Box contains 30 Booster Packs, plus the Fortress Maximus Titan pack (at the bottom of the box).  There are a total of 8 cards in each standard pack.  Booster Packs are huge.  The packs are 7.5″ tall and 3.5″ wide.  That is considerably larger than a typical pack of MTG / Pokemon / Yu-Gi-Oh!   When you open the Booster packs, you notice that all the cards inside are nicely sandwiched between two solid pieces of white cardboard – similar to comic book backer boards.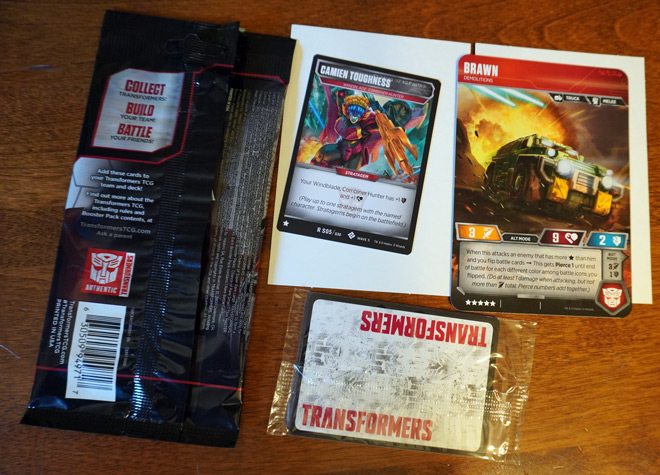 The white backer cards also serve as advertising on one side (this time around it's for Magic: the Gathering).  Gotta get everyone hooked on Magic!  The backer boards do a good job of protecting the cards inside from getting dinged up.  Wizards of the Coast packages Transformers cards very nicely!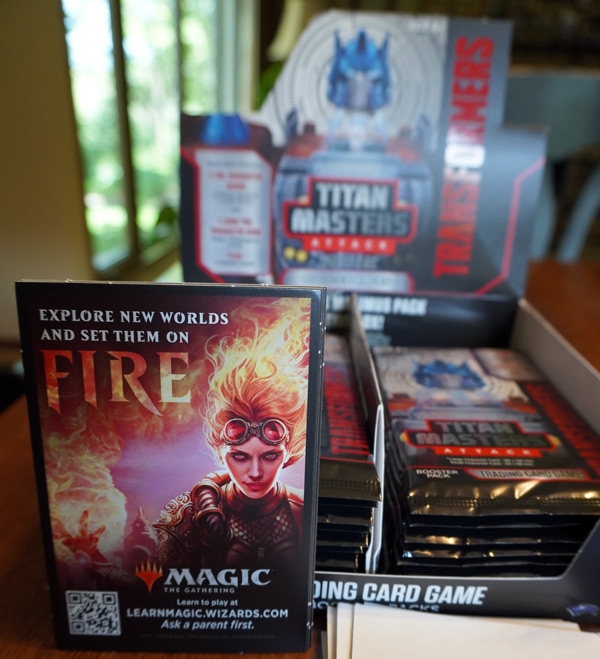 Inside the Backer Boards you get 1 Large Foil Character Card, 1 Small Foil Character Card and a sealed pack of 6 Battle Cards.  The Transformer Character Cards are two-sided for gameplay.  The Battle Cards are one-sided, with a Transformer Logo Backing for gameplay.  Stratagem cards are one sided as well.  
Character Card Pulls
All Character cards in the Transformers TCG get the Foil Treatment – even the commons.  So the Character cards all look gorgeous.
What Character Cards did we get in our box?  All images were previously released to the public, and you can see them all on our Titan Masters Attack – Wave 5 Characters page.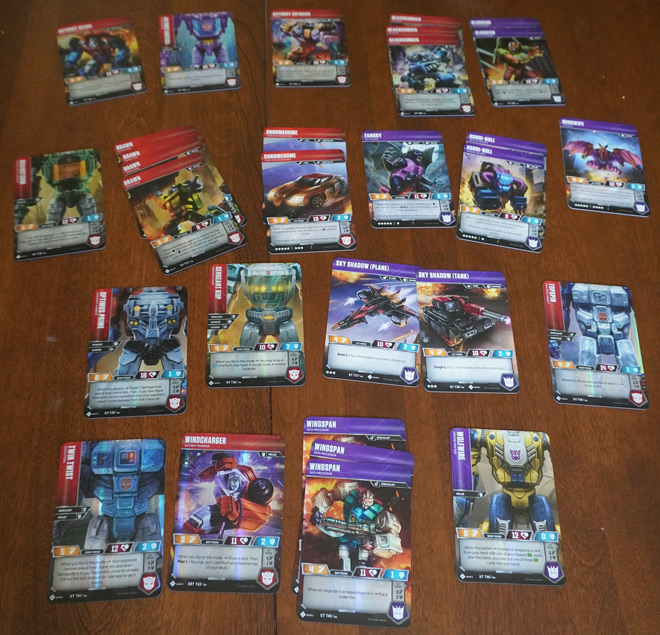 Here are the 30 Large Character Cards we pulled in our Booster Box:
Autobot Gears
Autobot Nautica
Autobot Outback
Beachcomber x 3
Bludgeon x 2
Brainstorm
Brawn x 4
Chromedome x 2
Fangry
Horri-Bull x 2
Mindwipe
Sergeant Kup
Sky Shadow Plane
Sky Shadow Tank
Topspin
Twin Twist
Windcharger
Wingspan x 3
Wolfwire
That's 14 Common, 9 uncommon, 6 Rare and 1 Super Rare Large Character Cards
Of the smaller (non-battle cards), we received 15 Small Character cards and 15 Stratagem cards.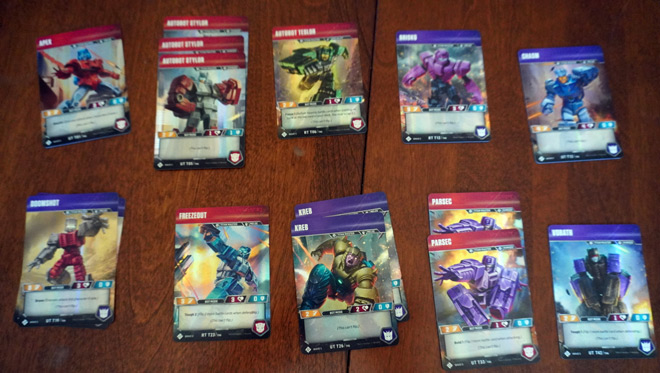 Small Character Card Pulls:
Apex
Autobot Stylor x 3
Autobot Teslor 
Brisko
Chasm
Doomshot x 2
Freezeout
Kreb x 2
Parsec x 2
Vorath
Thats 12 uncommon and 3 rare Small Character Cards.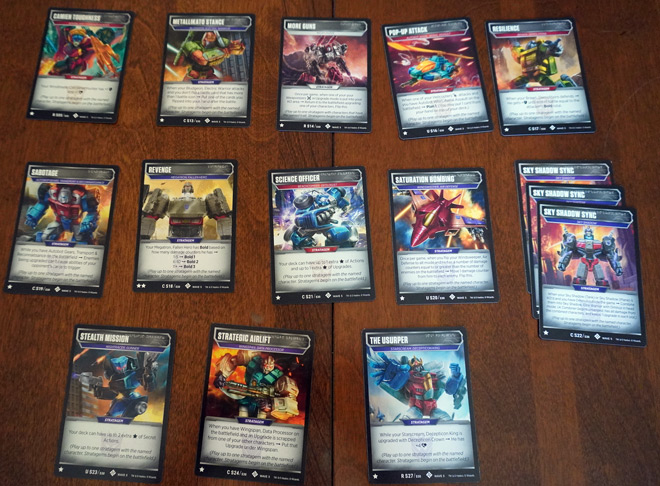 Stratagem Card Pulls:
Camien Toughness
Metallikato Stance
More Guns
Pop-Up Attack
Resilience
Sabotage
Revenge
Science Officer
Saturated Bombing
Sky Shadow Sync  x 3
The Usurper
Strategic Airlift
Stealth Mission
That is 9 Common, and 3 Uncommon and 3 Rare Stratagem Cards.  
You can see all 30 Stratagem Cards on our Wave 5 Stratagem Card Page.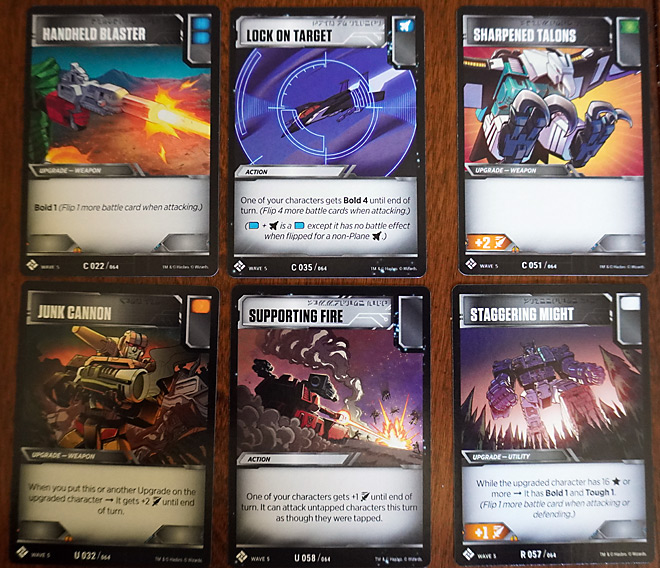 Battle Cards
We love the way that Wizards of the Coast packages the Battle cards in each booster pack.  Inside each Battle Card sealed pack you get: 3 Commons, 2 Uncommons and 1 Rare. You can only see 1 common card through the clear packaging.  The rare is always the 6th card down.  And the 4th and 5th cards down are the uncommons.  If you are new to the game, you might need more Battle cards for your deck.  And, if you run across someone selling sealed Battle card packs, you know there will always be a rare in there, and the seller has no idea which rare it is.  
We're not going to list the 180 cards we pulled from the Battle packs.  You can see all the Battle Cards on our "Titan Masters Attacks – Wave 5 Battle Cards" page.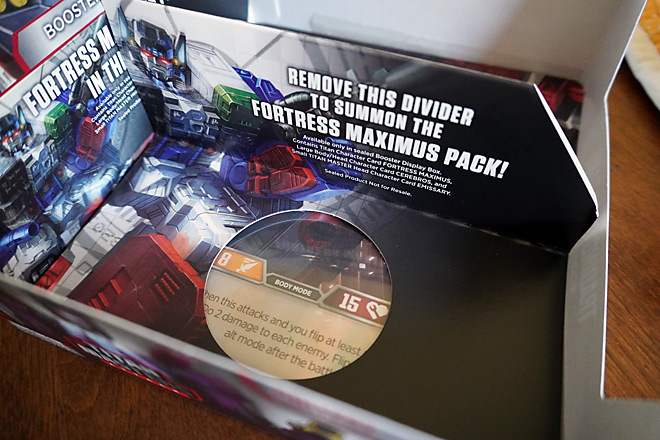 Final Thoughts on Wave 5
Our overall impression of Wave 5 / Titan Masters Attack booster box is pretty darn good!  Fortress Maximus is the "buy-a-box-promo" for wave 5.  The only way to get Fortress Maximus really is to buy a Wave 5 booster box – or wait and buy it from a reseller.  As for Titan Cards: we had Trypticon in Wave 4 in 2019, and Metroplex in a deck box in 2018.  Omega Supreme was available in a Loot Box in 2019.  Man, I love these big titan cards! 
One cool thing here is that you can make a Fortress Maximus Deck right out of the box.  This Titan plays a little differently than other Character Cards.  Fortress Maximus starts off in play with Cerebros as a head.  Like so: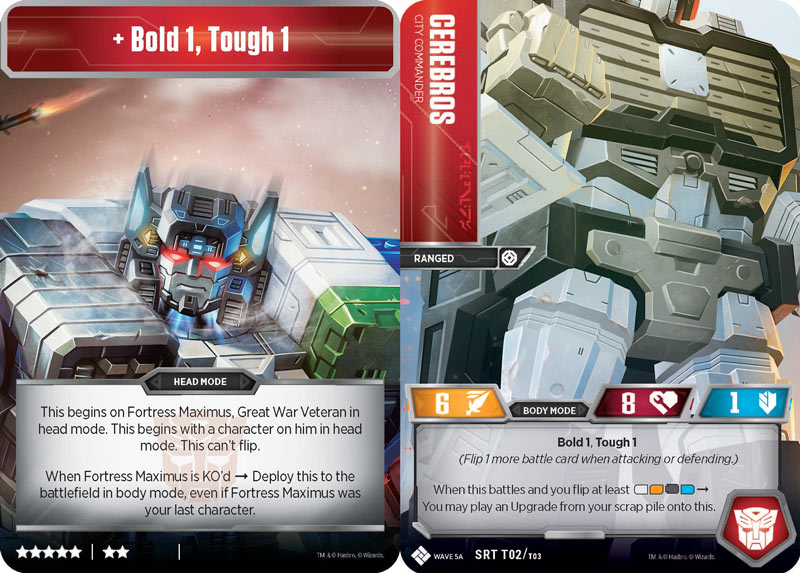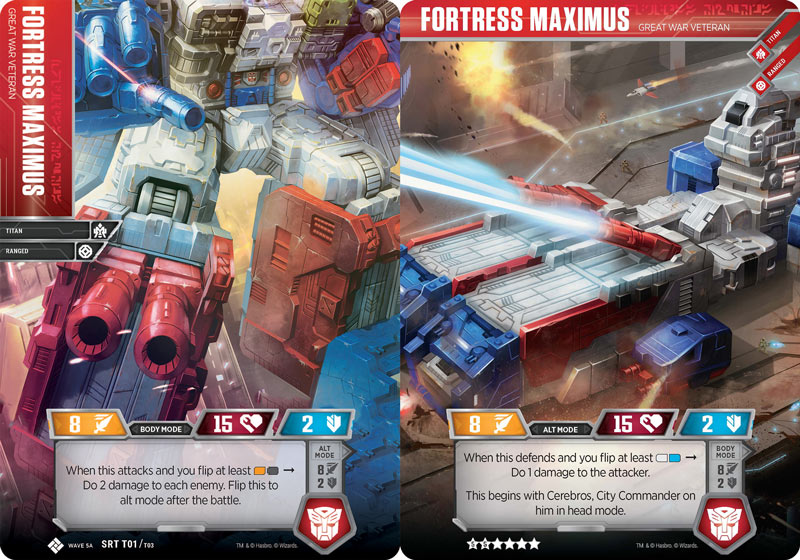 And when Fortress Maximus is KO'd, you flip the Cerebros headmode over into botmode.  Now you have a body without a head, so you get to bring in Emissary in Headmode.  And when Cerebros is defeated, you flip over the headmode of Emissary to Botmode.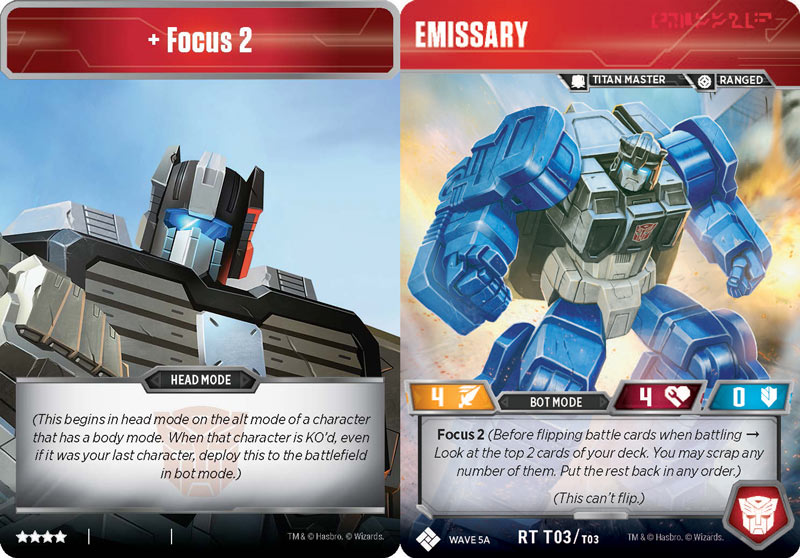 Fortress Maximus is 14 stars, Cerebros is 7 stars, and Emissary is 4 stars.  So you kind of get 3 characters in 1!  
With the 180 Battle Cards you get in to the Booster Box, you should be able to scrape together enough cards to make a semi-decent Fortress Maximus Deck.  And you can tweak your deck with cards from older sets, and improve it even more by trading with friends.
And then we have one more weird set of cards – "Sky Shadow Plane" & 
"Sky Shadow Tank". They don't flip. They are a Titan Master and a Combiner!  The common "Sky Shadow Sync" allows you to combine them with Ominus!  This is a confusing, but utterly cool Combiner.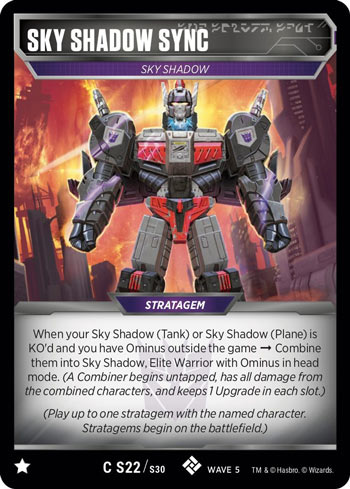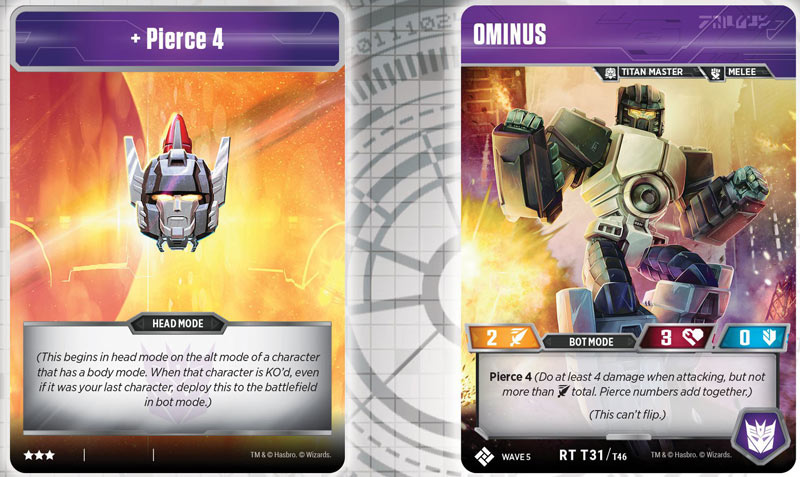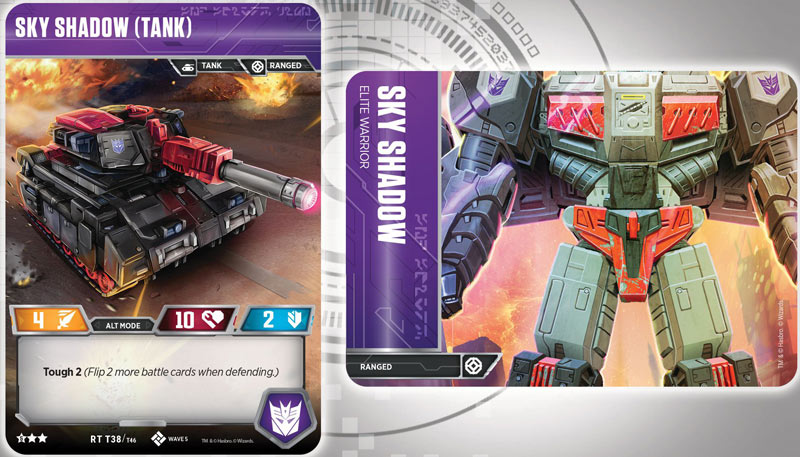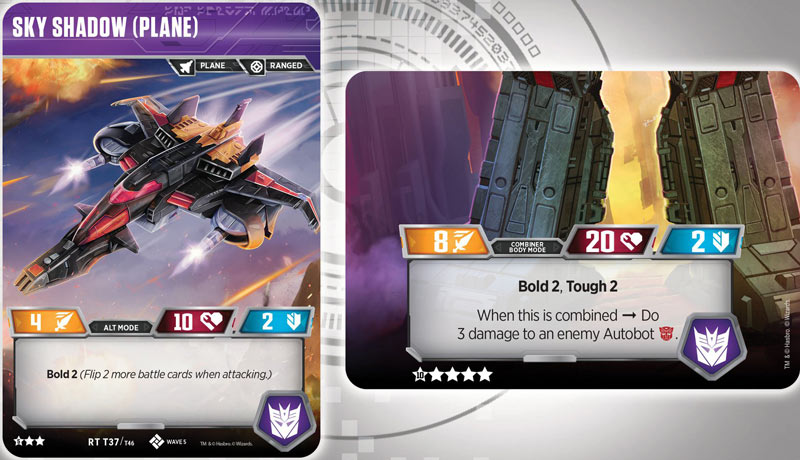 I also like it when manufacturers include some playable common & uncommon cards in their TCG sets.  And there are some nice Transformers Character commons & uncommons in this set like: Beachcomber (C); Topspin (U); Optimus Prime (U); Twin Twist (U); and Apex (U).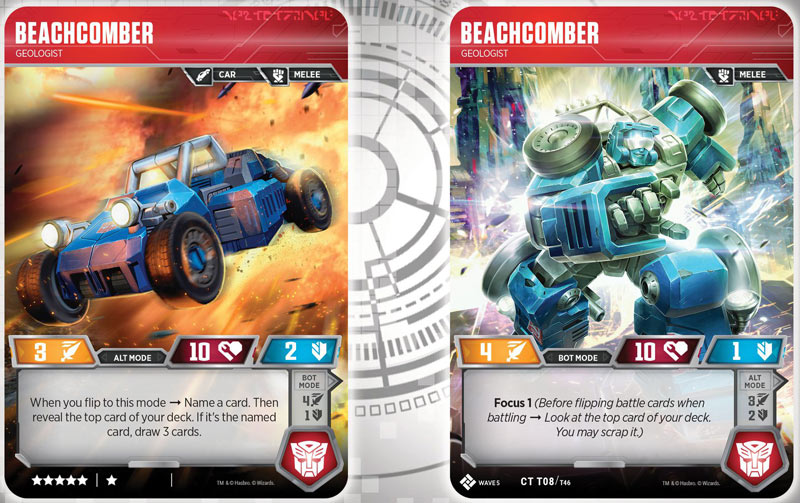 I am not sure how gimmicky the heads are going to be?  They are going to need some playtesting by everyone to see how they pan out.
Roll Out Everybody!