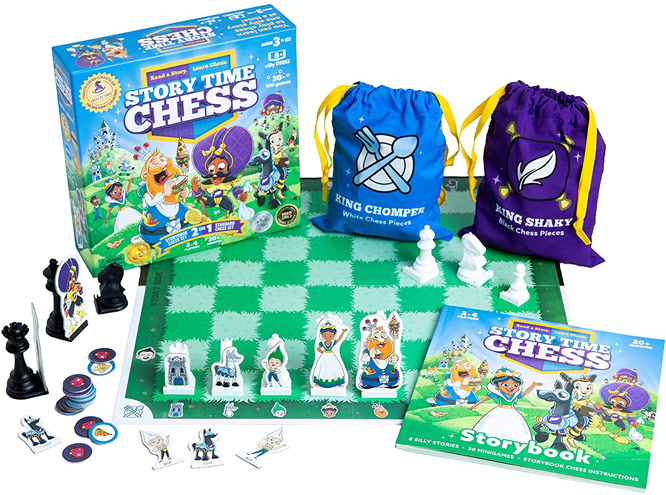 I did not grow up playing chess. Board games were not much of a thing in my family, especially not a strategic thinking game…not a chance. Now that I have 3 children of my own, I'd say we spend an average of 3-5 hours a week playing board games, more in the winter. Chess was always one of those games that I wanted my kids to learn at an early age. I thought maybe I'd teach them the game and I'd have a genius on my hands. Well, my children are 14, 12, and 10 and not one genius do I have. While we did play chess when they were younger, it didn't really catch on with them. They saw it as a boring game for parents. And let's be honest, to most young children chess is boring, takes too long, etc. Story Time Chess aims to change that, and for a younger audience it does just that.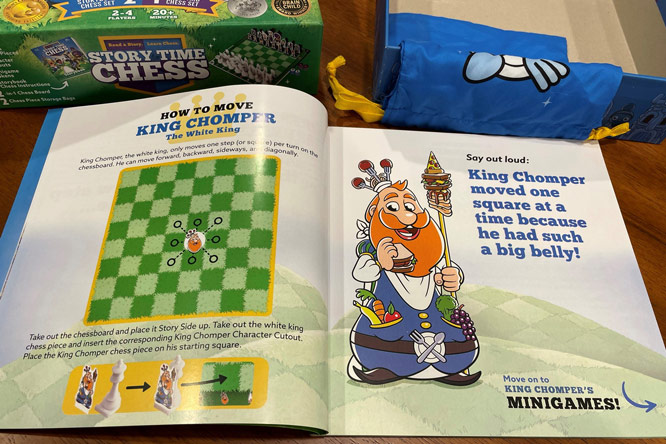 I played Story Time Chess with each of my children individually, and while at their ages the book might be a little too childish, we all enjoyed it. Each chess piece has a story followed by a page on "how to move" with multiple minigames. These mini games involve the chess piece and the supplied tokens.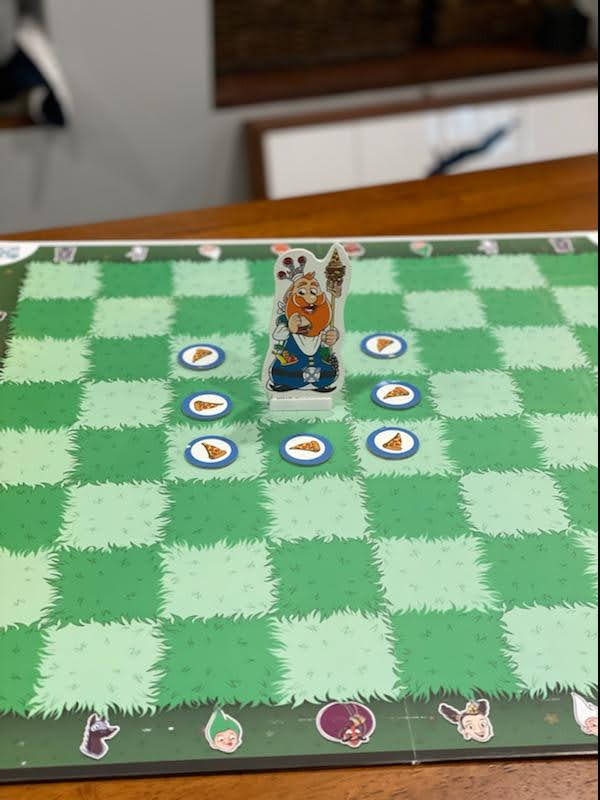 King Chomper loves food, this dude eats 30 pizzas every evening for dinner, woah! In the story, his love for food and big belly is why he can only move one space at a time, haha. The book illustrates this and then prompts you to place him on the board and practice moving him. By the way, around the house my new nickname is King Chompy, because of the pizza…not my belly…or maybe both. In King Chomper's minigames you are directed to place pizza tokens on the board, moving King Chomper around the board gobbling up the pizza.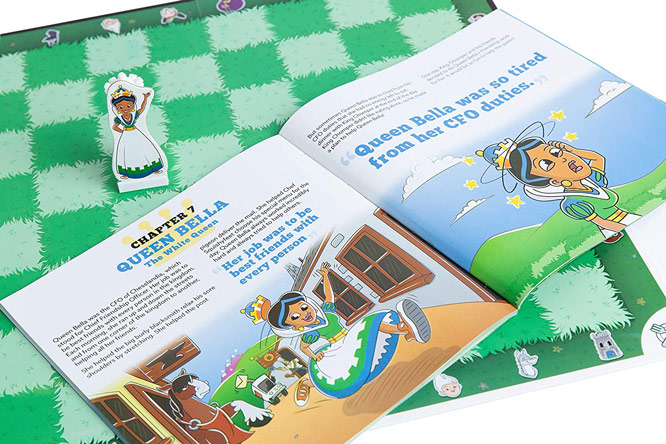 As you continue reading the storybook, each piece has their own unique name, story and minigames. As you progress though the story and minigames, you learn how each piece moves. These moves are reinforced during the minigames which is great for new players. Eventually you'll be playing with multiple pieces and tokens on the board during these minigames and at the end you'll be playing a real game of chess.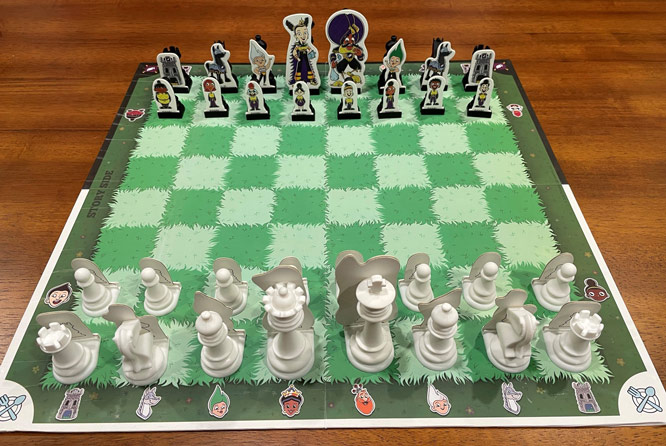 While you or your children might not be a future grand champion, Story Time Chess is a great game to get them started. It's like wax on, wax off…at first you might be thinking why is King Chompy gobbling up these pizzas so slowly? Or why do Clip and Clop (the knights) only move in an L shape? But at the end when you put it all together, you'll be kicking Johhny Lawrence's butt.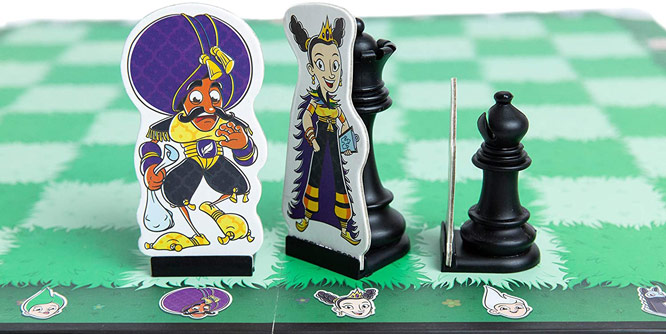 What's in the Box:
Beautifully Designed Storybook
Exercises For Each Piece
32 Standard Sized Chess Pieces
32 Custom Character Cutouts for each chess piece
Standard Chess Instructions & Double Sided Board
Chess Storage Bags
Minigame Tokens
Check out the Official Story Time Chess Site if you would like to learn even more about this game.