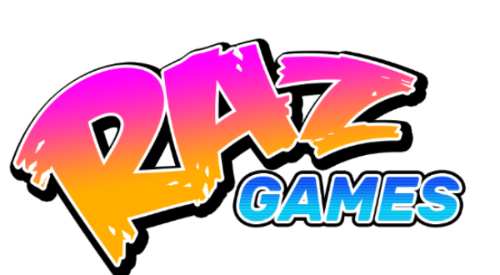 Raz Games' top-down boxing game Boxing Champs is now on Nintendo Switch!
Originally released on Steam, the game deftly mixes arcade gameplay with more traditional boxing mechanics – delivering some solid Punch-Out!!-inspired boxing action to Switch owners playing on their own or with a friend.
Nintendo Switch trailer:
LET'S GET READY TO RUMBLE!
Boxing Champs features full player control over punch selection, combinations, and knockouts. The game also allows players to challenge friends in local multiplayer (online is in the works) or in a full-blown Career mode with 30 preset characters and short three-round bouts. Custom boxers are supported as well – thanks to a robust customization system packed with 70+ hairstyles, hair color, body color, body type, gloves, shorts, and boxer stats. Finally, Boxing Champs features multiple arenas (including Las Vegas, New York, and Los Angeles) and four different champions that stand between players and the unified title.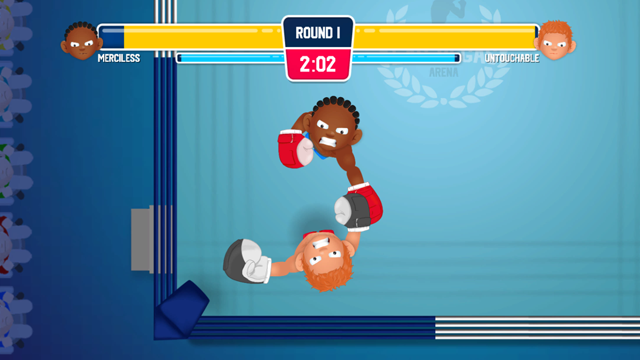 To win, boxers need to snap the jab from the outside and throw combinations – or get inside with hooks and uppercuts to deliver the winning blow. At the end of the road, the goal is to unify the titles and become the undisputed World Champion.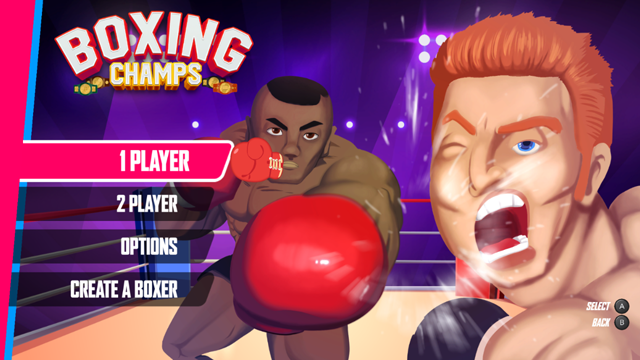 DEVELOPER QUOTE
"Like most of us who grew up in the '80s with an NES, I always dreamed of becoming a game developer. It won't come as a surprise that Nintendo's Punch-Out!! was my first boxing game as a young boy. I now get to return the favor with Boxing Champs!"
– Chris Razmovski, Founder, Raz Games
KEY FEATURES
• Boxer customization: Choose from 30 preset boxers – or create your own, with 70+ hairstyles, hair color, body color, body type, gloves, shorts, and boxer stats.
• Four champions to defeat: Win all four belts and unify the title!
• Full punch control: Use a traditional button-driven control scheme or feel every punch as you move the analog stick in the direction you want to hit!
• Multiple arenas: Fight in Las Vegas, New York, Los Angeles, the Downtown Gym – or the Boxing Champs Arena.
• Career mode: Create your boxer, train, and move up in the world rankings.
• Single-player and multiplayer: Take on the AI or challenge friends for all the title belts. (Online multiplayer coming soon!)
• Cartoon-like graphics and sound: Nostalgic without having to resort to pixel art 🙂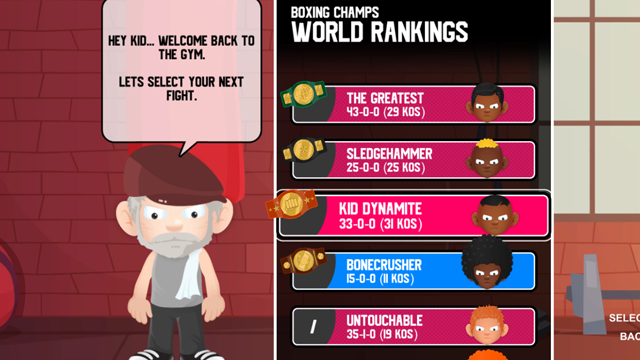 PRICING & AVAILABILITY
Boxing Champs can now be purchased on the Nintendo eShop for $14.50. The game is also available on Steam.
Nintendo eShop:
https://www.nintendo.com/games/detail/boxing-champs-switch 
Steam:
https://store.steampowered.com/app/1073410/Boxing_Champs
ABOUT THE DEVELOPER
Founded in Sydney, Australia in 2012 by Chris Razmovski, Raz Games is an experienced indie studio with several high-quality titles under its belt. With a large mobile portfolio – highlighted by hits Monster Trucks Game for Kids 2 and Fun Kids Cars – Raz Games is now transitioning to PC and console development with Boxing Champs. To learn more about Raz Games and Boxing Champs, please visit http://razgames.com and http://www.boxingchampsgame.com.