El Segundo, Calif. (August 27, 2018) – No matter the era, and no matter the story, one creature has stood to define the Yu-Gi-Oh! TRADING CARD GAME (TCG) throughout the ages: Dragons. This August, Konami Digital Entertainment, Inc. (KONAMI) celebrates the scaled and cybernetic heritage of these mythical beasts with three booster releases and two stunning new accessories, reaching through every generation of Dueling action to deliver second chances, new opportunities, and a whole 'lotta style to boot.
Light's, camera, action! The Yu-Gi-Oh! Dark Side of Dimensions Movie Pack returns in Movie Pack Special Edition. Get another chance to collect some of your favorite cards from the Yu-Gi-Oh! Dark Side of Dimensions including one of Kaiba's most powerful monsters, the mighty Blue-Eyes White Alternative Dragon!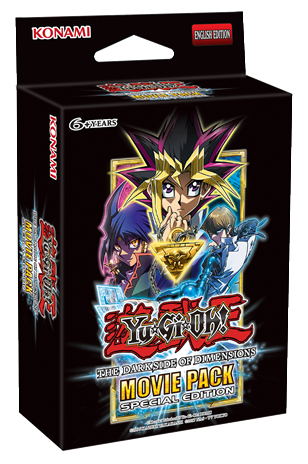 Hero, rival, or villain, you decide your role! Relive the film and build your Deck like you're ready to Duel on the big screen. Yugi's Dark Magician is armed with a posse of Magician Girls in every flavor imaginable. Blue-Eyes White Dragon makes a triumphant return with cards to bolster Kaiba's fierce Dragon strategy. Dimensional Dueling has never looked as good as Aigami's "Cubic" theme, reinventing reality as you know it.
Movie Pack Special Edition debuts September 9 with three Yu-Gi-Oh! Dark Side of Dimension Movie Packs, 2 of 4 Ultra Rares, either Dark Magician or Blue-Eyes White Dragon, and either Krystal Dragon or Duza the Meteor Cubic. MSRP: $9.99 per box.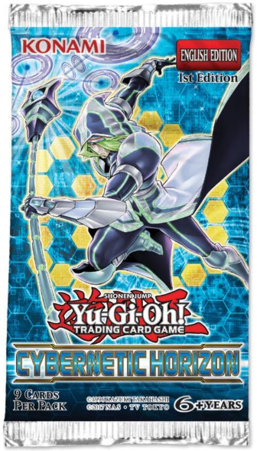 Upgrade! The Cybernetic Horizon Booster Pack elevated fan-favorite Decks to new levels of awesome, overclocking the "Cyber Dragon" theme, reinventing Ritual Summons, and introducing new cards for strategies ranging from Noble Knights, to Neo-Spacians, to Performapals. Duelists on the hunt for something new delved deep into the cryptid world of the all-new Danger! monsters, while the Crusadias put a fresh spin on Link Summoning. Now it's time for Round 2: Cybernetic Horizon is back, packed with powerful variant cards in Cybernetic Horizon Special Edition.
Still on the hunt for Danger! Bigfoot!, and Borrelsword Dragon? Each Cybernetic Horizon Special Edition box starts with three Booster Packs, so you'll have a chance to open some of the hottest cards of the year. Then you'll find one of two Super Rare preview cards from October's Soul Fusion booster: the polymerizing Necro Fusion or Rank-ascending Eternal Galaxy, plus one of two Super Rare reprints: the Spell-negating behemoth Number 38: Hope Harbinger Dragon Titanic Galaxy, a must for your Extra Deck arsenal; or SPYRAL Super Agent, the centerpiece of the Championship-winning SPYRAL strategy.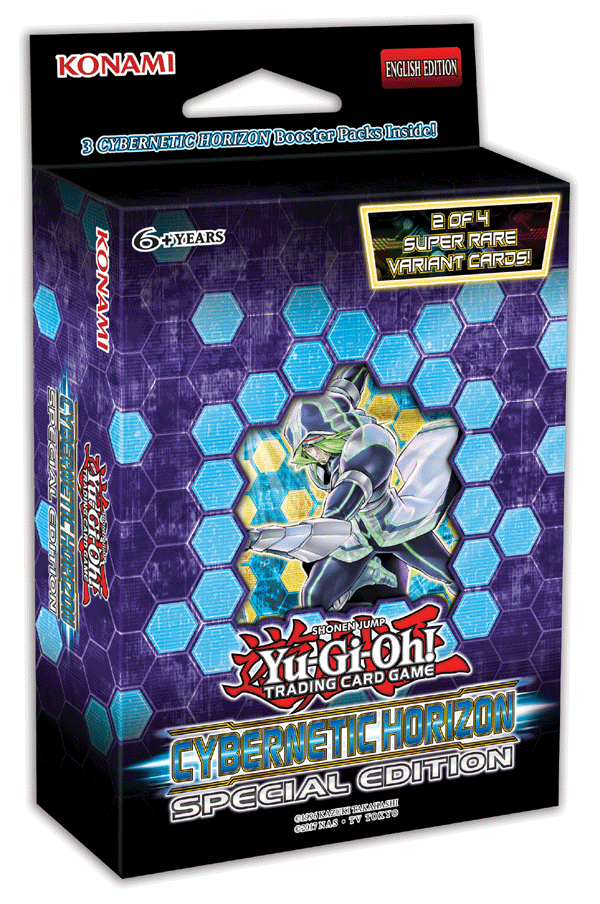 Cybernetic Horizon Special Edition arrives September 14 with 3 Cybernetic Horizon Booster Packs, 1 of 2 Super Rare preview cards, and 1 of 2 Super Rare variant cards. MSRP: $9.99 per box.
Here come the anti-heroes! The greatest rivals from five generations of the Yu-Gi-Oh! manga and animated series return with incredible new cards in Legendary Duelists: White Dragon Abyss. Fans of Legendary Collection: Kaiba and Cybernetic Horizon will find new ways to power up signature strategies from some of history's greatest Duelists, and those long-awaited releases are just the beginning.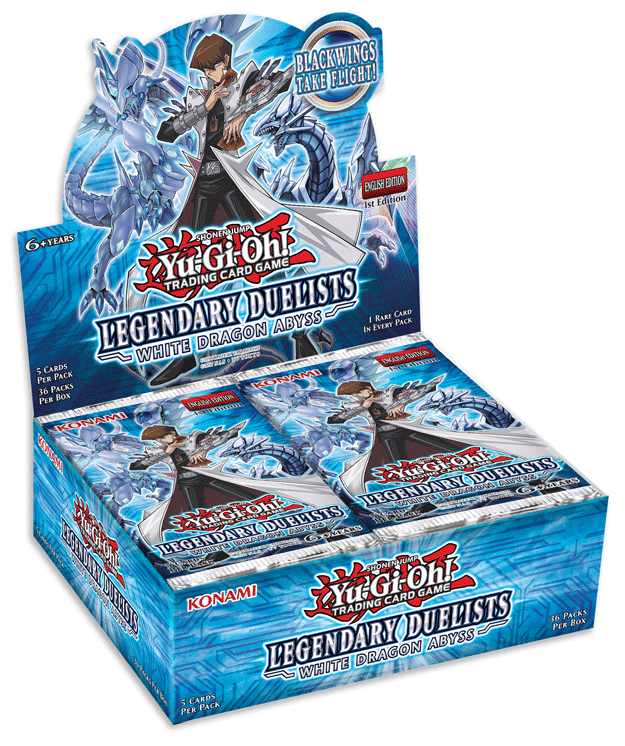 The invincible! The unbeatable! Blue-Eyes White Dragon explodes back onto the scene in two new forms: you can wield the original engine of destruction on its own, or harness the power of Ritual Summoning and build your Deck around the new Blue-Eyes Chaos Dragon! The new Ritual Monster cannot be destroyed by your opponent's card effects, and if you Tribute Blue-Eyes White Dragon to Summon it, it gains abilities to change the Battle Positions of your opponent's monsters, drop their ATK and DEF to 0, and pierce through defenses with its 3000 Attack Points. Want to go all in? Rage with Eyes of Blue is a stunning new Quick-Play Spell that banishes all of your cards, then Special Summons up to 3 copies of the original Blue-Eyes White Dragon straight from your Deck!
Zane Truesdale fans, get ready to unlock the true power of cyber style! A new Spell Card brings Cyber End Dragon's signature attack to your table, locking down your opponent's cards and letting your Machine-type monster attack again and again. A new Quick-Play Spell lets you Fusion Summon the Kaiser's mightiest monsters with materials you banished. And a devious Trap Card lets you exchange your Cyber Dragon for a Fusion Monster upgrade any time, even on your opponent's turn or in the middle of your Battle Phase! Combine them with the new Cyber Eternity Dragon for ultimate domination – a new Fusion Monster that's indestructible and can't be targeted. If your opponent somehow sends it to the Graveyard, Cyber Eternity Dragon Special Summons Cyber Dragon to your field and it protects your Fusion Monsters from the nether.
With new "Blackwing", "Photon", and "Galaxy" monsters, Crow and Kite make their returns too! Legendary Duelists: White Dragon Abyss releases on September 28 with 56 cards: 29 Commons, 10 Rares, 8 Super Rares, and 9 Ultra Rares. MSRP: $1.99 per 5-card pack.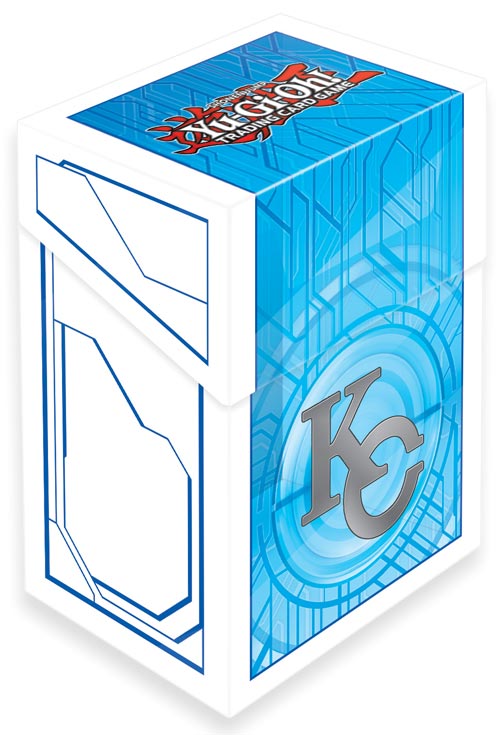 Kaiba Corporation is the industry leader in Dueling system technology, and now you can join the elite! Yu-Gi-Oh! Kaiba Corporation Card Sleeves feature the KC Logo and the signature Kaiba Corporation circuitry design, presented on a pearl white base with a holographic frame. Pair them with the Yu-Gi-Oh! Kaiba Corporation Card Case for the ultimate in protection and portability with a clean look. Featuring a holographic KC Logo and the Kaiba Corporation circuitry with a pearl white frame, the Card Case features a new slimmer design that's easier to pack, but still holds your entire Main, Side, and Extra Deck in sleeves. A matching Deck Divider keeps everything organized.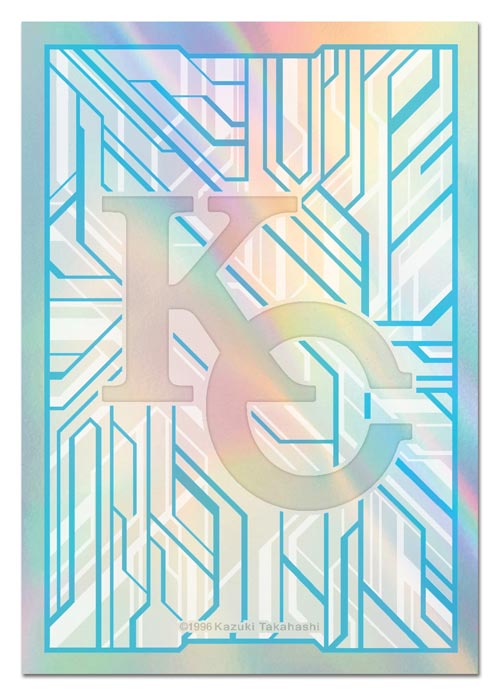 Both accessories are available September 28, alongside Legendary Duelists: White Dragon Abyss. The Yu-Gi-Oh! Kaiba Corporation Card Sleeves are 50 sleeves per pack. MSRP: $3.99 per pack. The Yu-Gi-Oh! Kaiba Corporation Card Case comes with 1 Deck Divider. MSRP: $4.99 per Card Case.