MORE POKÉMON SWORD AND POKÉMON SHIELD DETAILS REVEALED INCLUDING MAX RAID BATTLES AND THE WILD AREA 
New Gym Leader and Poké Ball Plus Compatibility Also Announced ​​​​​​​
London, UK —June 11, 2019— More details were revealed today about Max Raid Battles and the Wild Area, new features in the highly anticipated games, Pokémon Sword and Pokémon Shield. A new Gym Leader and Poké Ball Plus compatibility with the games were also announced. The newest additions to the main series of the Pokémon role-playing video game franchise, Pokémon Sword and Pokémon Shield will be launching November 15, 2019 exclusively on the Nintendo Switch™ system.
 
Pokémon in the Wild Area
The Wild Area, a vast expanse of land in the Galar region, is home to a wide variety of Pokémon. When exploring the Wild Area for the first time, Trainers will encounter powerful wild Pokémon who are constantly on guard. The types of Pokémon that appear as well as battlefield conditions can be affected by the weather in the Wild Area. For example, a Trainer who enters a battle during a thunderstorm will find the power of their Water- and Electric-type moves increased.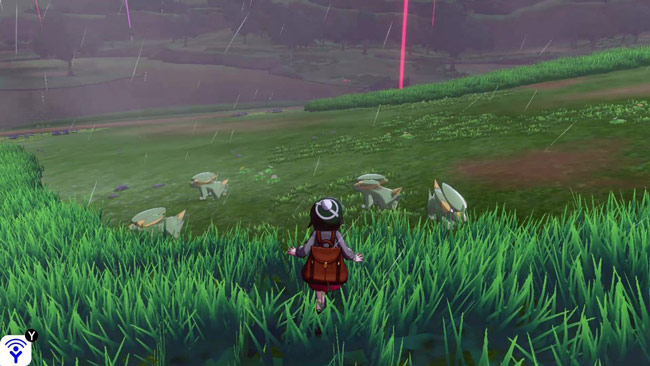 Max Raid Battles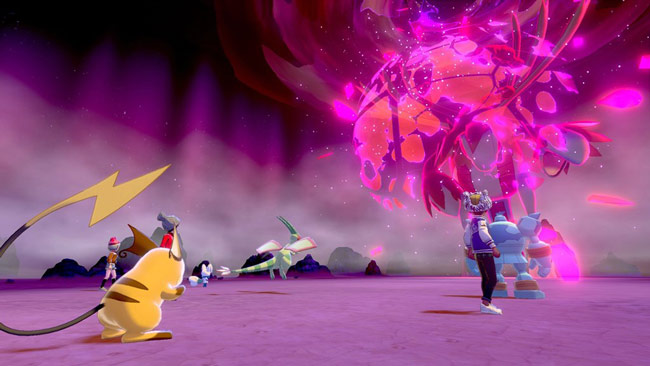 Max Raid Battles occur in Pokémon Sword and Pokémon Shield when four players join forces to take on a wild Dynamax Pokémon in the Wild Area. Trainers can find other players who want to participate in a Max Raid Battle through a notification on their Y-Comm, a new feature in Pokémon Sword and Pokémon Shield. On the Y-Comm screen, players can also trade Pokémon and have Link Battle via the internet or local WiFi connection.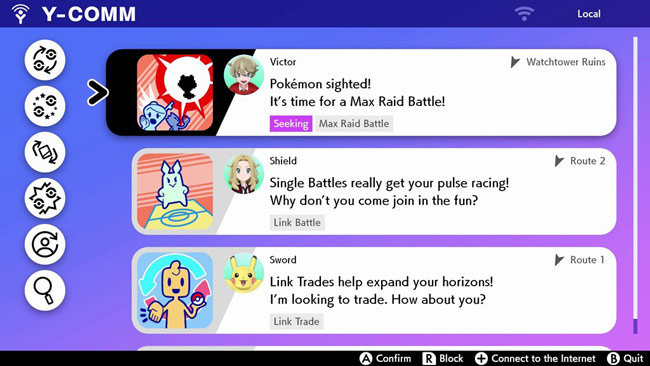 When Pokémon Dynamax, a phenomenon unique to the Galar region, they grow to gigantic proportions and gain tremendous power. Trainers can encounter different species of Dynamax Pokémon with varying strengths when they explore Pokémon Dens located throughout the Wild Area. In battle, wild Dynamax Pokémon might use multiple moves in one turn, neutralize the challenging Pokémon's Ability, or even remove all stat changes that have been put in place. Wild Dynamax Pokémon can also create mysterious barriers that prevent almost all damage. To damage a Pokémon behind one of these barriers, Trainers will need to break it down by repeatedly attacking it. When a player's Pokémon are knocked out in the Max Raid Battles, they can still assist other Trainers by cheering them on. If a Trainer emerges victorious from a Max Raid Battle, not only will all participating Trainers have an opportunity to catch the defeated Dynamax Pokémon, they will also be rewarded with many useful items.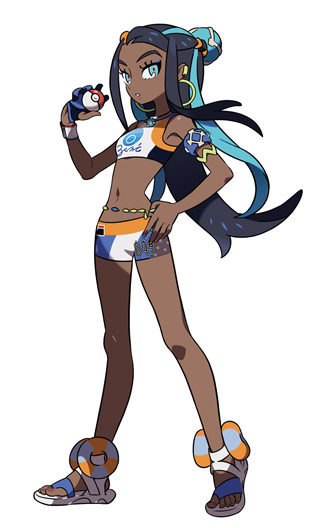 Nessa, A Water-type Gym Leader 
Pokémon Gyms are found in stadiums throughout the Galar region and attract Trainers that are experts in specific types of Pokémon. To become Champion, players will need to defeat the top Trainer in each Pokémon Gym, also known as the Gym Leader. In Pokémon Sword and Pokémon Shield, Trainers will encounter Nessa, a Gym Leader who is an expert on Water-type Pokémon. Her calm and collected attitude hide a competitive spirit and indomitable will that becomes apparent when she overwhelms opponents in battle with powerful Water-type moves.
 
Poké Ball Plus Compatibility 
When a Trainer syncs their Poké Ball Plus with Pokémon Sword or Pokémon Shield, they will be able to transfer their favorite Pokémon to the Poké Ball Plus and take them for a stroll in the real world. The Poké Ball Plus will light up and vibrate and even the Pokémon's cry can be heard occasionally. Newly purchased Poké Ball Plus' will contain the Mythical Pokémon Mew. If players link a new Poké Ball Plus to Pokémon Sword or Pokémon Shield they will be able to receive this Mew in their linked game. Unlike in Pokémon: Let's Go, Pikachu! and Pokémon: Let's Go, Eevee!, the Poké Ball Plus cannot be used as a controller in Pokémon Sword or Pokémon Shield. 
 
For more information about Pokémon Sword and Pokémon Shield, please visit: Pokemon.com/SwordShield.