Marvel Puzzle Quest celebrates 6 years of match-3 puzzle battles with an entirely new Anniversary Season that starts tomorrow (October 1).  Highlighting the 6 year Anniversary will be an all-new event titled Lost in Time, a nine day daily unlock event titled Best in Class, a new Spider-Man 2099 character, free in-game gifts, and more!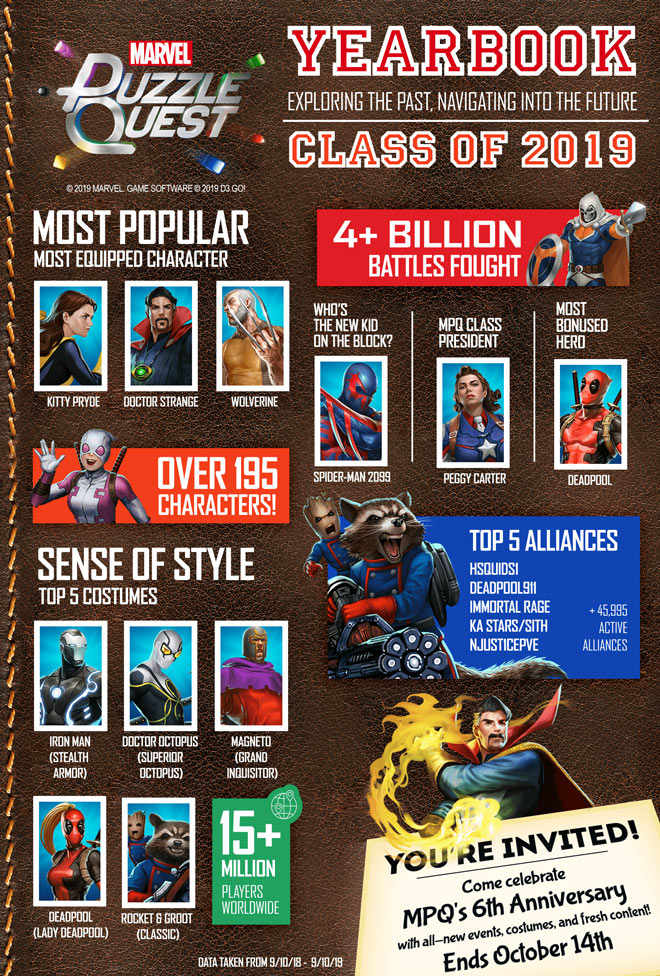 Learn more about the Anniversary in an interview with D3 Go! Producer, Joe Fletcher at Marvel.com and  get the key anniversary dates and details below.
Key Anniversary Dates
October 1

Anniversary Season starts at 5PM PST.
All players that log into Marvel Puzzle Quest will receive a free Anniversary Vault Token.
A new event titled Best in Class starts!

A 9 day daily unlock event featuring various encounters with Marvel characters.

New Medusa (Best Hair) Costume is available.
October 7

New Devil Dinosaur (Dapper Dino) Costume is available
October 10

A brand new 4-star Spider-Man 2099 arrives!
A new event titled Lost in Time starts!

Event features Doctor Doom attempting his escape from the clutches of Spider-Man 2099 and others using his Time Platform.
October 13

Future Shock Tournament featuring Spider-Man 2099 starts!
All PVE, Boss, Lightning, and PVP events during the Anniversary will receive double iso-8 resources.
Stay tuned for additional offers and free gifts throughout the Anniversary Season!
The complete Anniversary schedule will be updated daily and can be found in our FAQs. 
For those headed to New York Comic Con this weekend, visit us at the D3 Go! booth (#445) for demos of Marvel Puzzle Quest.  Visitors to the booth can play the game, meet the team, and receive free in-game gifts.  Please email m.cerven@d3go.com for more information or to book an appointment at the D3 Go! booth.
Marvel Puzzle Quest is published by D3 Go! and developed by Demiurge Studios and available for free on the App Store, Google Play, Amazon Appstore, and Steam. For more information on Marvel Puzzle Quest, please visit www.marvelpuzzlequest.com and follow us on Twitter @MarvelPuzzle or like us on Facebook.