Greetings, Pojo,
BOO! Is it scary that Hot Topic is offering the new Wicked Cool Halloween Pikachu plush for $10.00 more than Walmart? Er, maybe, but I guess that goes along with the high rent territory of mall residency. This spooky yellow Pocket Monster comes dressed to get better-than-Charlie's-rocks treats with either a pumpkin shaped treat bag, witch's hat or pumpkin costume which was my favorite and selected for purchase at Walmart. Brand new and in stock at Walmart and Hot Topic, catch 'em while you can! I love how super-soft the plush feels!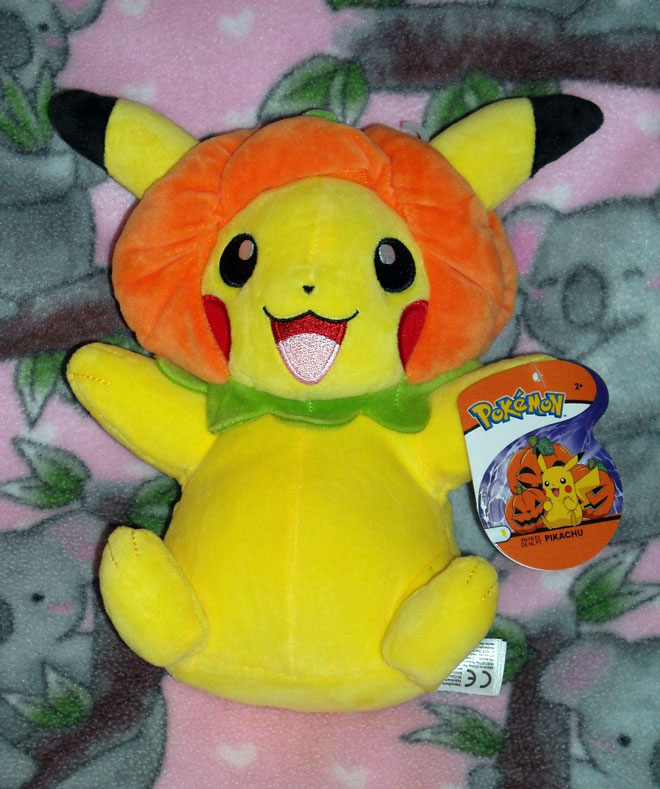 In other autumn shopping news, GameStop is apparently getting very limited quantities of Funko's A Day with Pikachu figures, as I was able to snare the Charged Up for Game Day figure at a local shop. The surprised employee (manager?) said they were somehow able to get two of the figures to sell. Speaking with an online acquaintance who picked one up, I discovered another GameStop in a different part of my state also had this available for purchase. I'm definitely not a big ball fan unless it's Poké Ball, but Pikachu's outfit's colors were very suspiciously similar to my alma mater, so it was a no-brainer to buy. Additionally, GameStop has received Squirtle Pop! figures in-store, not exactly sure if this was a restock since I don't follow release dates too closely. When the Pikachu Pop! was released last year, the initial release date stated was a few days later than the actual date Target put their exclusive out for sale. I generally monitor e-Bay to get a feel for when to shop, but I also spend way too much time in stores browsing (so I definitely couldn't fault "Rocketman" for his shopping addiction, LOL!).
Without Toys 'R' Us, I've had to sniff out other venues for Pika-purchases. One local gaming store, The Soldiery, has been stocking Pokémon Center plush; I was able to see a nice selection of the Sitting Cuties plush while there, but I ended up taking home a Meltan because it was just so weirdly lovable! Walmart just got another shipment of Pokémon Center plush, I spotted Marshadow, Plusle, Minun, Celebi, Pichu and Sylveon on the TCG shelves near the Halloween Wicked Cool plush display. GameStop had an assortment of Pokémon Center plush; I snared a Dutch girl Pikachu over my staycation week. I'm going to visit my local Learning Express later this week; they generally have a small selection of Pokémon products—but it's my go-to for Calico Critters, as they stock the best selection year round including the limited editions!
This year marks my 20th anniversary in the Pokémon fandom. I fell in love with Pikachu watching the anime in 1999 and bought my first Hasbro Pikachu plush at Discount Paperback which sadly is no more (RIP Chaz Goodman). My love for Pikachu blossomed because it reminded me so much of my houserabbits (those ears, it doesn't look like any mouse to me!), especially the best buddy dynamic between Pikachu and Ash. Therefore, I am thrilled that finally we are getting a rabbit Pokémon starter this year! I want to give a big shout out to The House Rabbit Society  https://rabbit.org/ because "everything rabbit" and I wouldn't be a big Pokémon fan had it not been for that connection. The House Rabbit Society is dedicated to disseminating accurate information about the proper care of houserabbits and advocates to protect these vulnerable creatures who have no voice of their own (well, bunnies do make a goodly number of sounds, as any houserabbit human knows, but unfortunately rabbits are one of the most discarded pets, so The House Rabbit Society does their best to ensure rabbits are properly attended and/or rescued, supported by your donations and volunteers).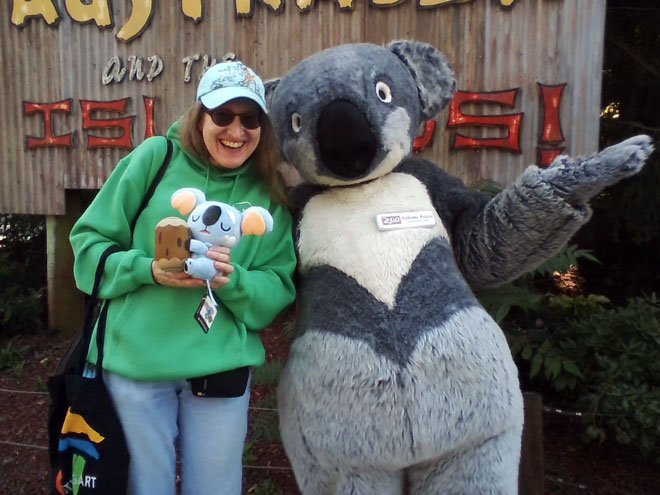 Finally, Pojo's Unofficial Team Komala wants to BELLOW that September is Save the Koala month! Visit The Australian Koala Foundation's website https://www.savethekoala.com/ to find out how you can help, but what's really scary is just how in trouble koalas are in Australia. Last year I attended our local zoo's Save the Koala Day (unpaid blog, photo not for commercial use); another way you can help locally is by visiting your closest AZA Species Survival Plan supporting zoo. US AZA SSP zoos maintain a breeding population of koalas to ensure they do not go extinct—but that's in captivity. Australia is ultimately the custodian of wild koalas, so please make your voice heard and BELLOW to Australia (you can obtain letter templates via the AKF's website and e-mail addresses to send to Australian government ministers/officials). If you can afford to donate, you can buy trees (option to dedicate or name in memoriam) that will be planted in Quinlan's nature preserve as food sources for the resident koalas. You can shop for koala swag in the AKF's gift shop including awesome tees and hoodies. I love the plush I've purchased from them, especially the rare white koala and Santa dressed koala! You can adopt a koala via the AKF and/or your local AZA SSP zoo. I'll close with this YouTube:  https://www.youtube.com/watch?v=kOWM40o_Dic from the late 1960's, as the Qantas Airline ads were how I originally fell in love with koalas. The irony about the koala complaining about tourists is that tourists may ultimately save the koala, our voices, our tourism dollars, may be the only thing Australia hears as currently deforestation/habitat loss is decimating the population at a tremendously steep rate. Apparently US President Hoover saved the koala from extinction in 1929 by banning the import of the very utilitarian pelts. Whatever it takes, Save the Koala we must!
PIKA!!!
Loretta