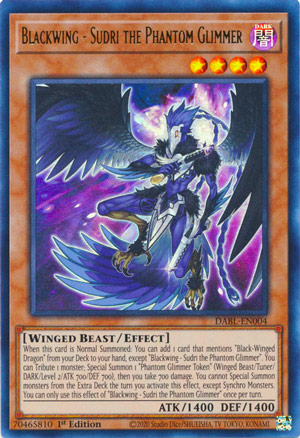 Blackwing – Sudri the Phantom Glimmer – #DABL-EN004
When this card is Normal Summoned: You can add 1 card that mentions "Black-Winged Dragon" from your Deck to your hand, except "Blackwing – Sudri the Phantom Glimmer". You can Tribute 1 monster; Special Summon 1 "Phantom Glimmer Token" (Winged Beast/Tuner/DARK/Level 2/ATK 700/DEF 700), then you take 700 damage. You cannot Special Summon monsters from the Extra Deck the turn you activate this effect, except Synchro Monsters. You can only use this effect of "Blackwing – Sudri the Phantom Glimmer" once per turn.
Date Reviewed:  January 24th, 2023
Rating: 3.19
Ratings are based on a 1 to 5 scale. 1 is awful. 3 is average. 5 is excellent.
Reviews Below:
---


King of
Lullaby
Hello Pojo Fans,
Blackwing – Sudri the Phantom Glimmer is our first Level 4 Blackwing we'll look at this week and a bit more impactful than yesterday's card.
1400/1400 stats on a Level 4 Winged Beast DARK isn't bad at all. Normal Summon searcher for anything that mentions "Black-Winged Dragon" in the card text. There are 8 other cards that contain "Black-Winged Dragon" in their text that can be in the Main Deck, so Sudri had good range for search. Sudri can pop a monster to Special Summon a "Phantom Glimmer Token" as a way to get another Tuner on the field. The token has half the stats Sudri has (Level 2, 700/700) and will inflict 700 damage to you upon being summoned. The LP damage is like a getting flicked in the arm, but the token being a Tuner opens up more Synchro Summoning if you are in a rough spot and only have Sudri. You get locked into Synchro Summoning from the Extra Deck for the rest of the turn, which isn't too consequential, but if you happen to need an Xyz or Link Summon make sure to do that first.
Sudri and another Blackwing of any level on the field can equal a Blackwing Level 6 Synchro through Sudri alone and can search something out that can help. Blackwing – Twin Shadow, Blackbird Close, and Black Feather Whirlwind are the best Spell/Trap choices with Sudri as each will help your current situation on the field without actually needing "Black-Winged Dragon" on the field. Whirlwind gets you a Special Summon from the grave off a Blackwing Synchro Summon, Close negates a monster effect then is a 1-for-1 Blackwing tribute for a Black-Winged Dragon, and Twin Shadow is a trap Blackwing or Black-Winged Dragon Synchro Summon that shuffles back two targets from anywhere to make that Synchro Summon.
That was a lot of typing to say that Sudri can do a lot and all it needs is another Blackwing on the field to make it very useful. Normal Summon searcher, while not searching all the Blackwing support it can get to a few decent cards and can make a Tuner for itself by popping any monster you have on the field. Pretty good if you don't happen to have any Tuner monsters available or took control of an opponent's monster. If Sudri could Special Summon itself and get its search from that it would have been even better.
Advanced-3/5     Art-3/5
Until Next Time
KingofLullaby
---


Crunch$G
Since Blackwings could always use more ways to get to their Black-Winged Dragon accessories, we get a card to search them all with Blackwing – Sudri the Phantom Glimmer.
Sudri is a Level 4 DARK Winged Beast with 1400 ATK and DEF. Not the best stats on a Level 4, but again we see DARK and Winged Beast for a plus. Upon this card being Normal Summoned, you can add any card that mentions Black-Winged Dragon from your Deck to your hand, besides another Sudri. It's a solid way to get to the Black-Winged Dragon support cards, especially the one we saw yesterday. Any searching is good, especially for this since otherwise Blackwings don't have a ton of Normal Summons that don't require any current setup, though said setup isn't very hard. The second effect lets you tribute a monster to summon a Phantom Glimmer Token (Winged Beast/Tuner/DARK/Level 2/ATK 700/DEF 700) and then you take 700 damage and also you can only summon Synchros from the Extra Deck the turn you use this effect. It's an alright effect in a more Synchro-oriented version of Blackwings that don't use Xyz and Link Monsters for other combos, especially since Blackwings don't struggle to get bodies on board to tribute anyways. The Token not being a Blackwing itself is kind of a downer, but the Blackwing Level 6 Synchros have generic enough requirements to where it doesn't really need to be a Blackwing by name. The 700 damage is likely for Black-Winged Dragon to try and absorb to get counters on itself to try and decrease the opponent's monsters stats, but if you end up actually taking the damage, it won't hurt that bad. Hard once per turn on this effect, which is really all you might need. Sudri is pretty solid to get to your Black-Winged Dragon support cards that get your combos going as well as ensuring you get a Tuner if you got a hand full of Blackwings you can just slap onto the board. It's pretty good for any variant of Blackwings overall.
Advanced Rating: 3.5/5
Art: 4/5 The colors here really work.
---


Alex
Searcy
Next Blackwing for review is Sudri the Phantom Glimmer.  Level 4, Dark/Winged-Beast, 1400 atk and def, which are awful for a Level 4.  This guy plays into Black-Winged Dragon as his brother did yesterday, but in a much different way.  Tributing a Monster gives you a Token (half Level and stats at Level 2 and 700 atk/def) also dealing you 700 Damage.  That may seem absurd, but it does play well with Black-Winged Dragon, but this still seems a little unnecessary.  You're locked out of non-Synchro Extra Deck Special Summons the Turn you do this, and this is also, Once per Turn.  So it's good you can Special Summon outside the Extra Deck, but there's not much going for this guy.  He's not a Tuner, he doesn't do much to or for your bringing out Black-Winged Dragon, or Blackwings, for that matter.  A bit unimpressive, especially as a follow-up to yesterday.  It's definitely a different spin on Blackwings for what it does (and certainly for what it doesn't do if only based on what you expect Blackwings to do).
Rating:  2.25/5
Art:  5/5  I can't lie, this is a very impressive, sick looking picture.
---


Mighty
Vee
I mentioned this card already when discussing Blackwing – Vata the Emblem of Wandering, but it deserves to be mentioned again! Blackwing – Sudri the Phantom Glimmer is a level 4 DARK Winged Beast monster, like many of the non-Tuner Blackwings, and its properties give it vague synergy with the Raidraptor and Phantom Knights archetypes if you want to mix them for whatever reason. With a less-than-stellar stat spread of 1400 attack and defense, it's not much of a fighter, but fortunately combo pieces usually shouldn't have to fight.
Sudri continues the Blackwing tradition of having a Normal Summon-only effect (oddly, not once per turn), letting you search any card that mentions Black-Winged Dragon except itself. The vast majority of the time, you'll be searching Vata to get your combos off the ground, but if you already have Vata, you can always search Blackwing – Chinook the Snow Blast for a monster negate or any of the quite useful Blackwing Traps. Sudri's other effect is a hard once per turn, letting you tribute any monster to Special Summon a Phantom Glimmer Token, which is a level 2 DARK Winged Beast Tuner monster with 700 attack and defense, dealing 700 damage to you in the process. You'll also be locked into Synchro Summoning the entire turn, so if you play Sudri, you'll lose pretty much all of the very useful Raidraptor cards, specifically Raidraptor – Force Strix and Raidraptor – Wise Strix. Is it worth it? In my experience, yes; Sudri makes Synchro combos so much more efficient so you no longer need to rely on Raidraptor cards. I usually tribute my leftover Blackwing – Simoon the Poison Wind or Blackwing – Zonda the Dusk since their levels are sometimes a little awkward for Synchro climbing, especially with an upcoming level 6 Synchro monster you really want to summon. You'll usually search Sudri off of Simoon then immediately Normal Summon it to get mileage out of Black Whirlwind, so the Normal Summon quirk makes sense. Overall, an excellent combo piece for Blackwing, and unlike Vata, it can function as an emergency starter if need be when you don't have Simoon.
Advanced: 4/5
Art: 3.5/5 Funny looking guns
---
Visit the Card of the Day Archive!  Click here to read over 5,000 more Yu-Gi-Oh! Cards of the Day!
We would love more volunteers to help us with our YuGiOh Card of the Day reviews.  If you want to share your ideas on cards with other fans, feel free to drop us an email.  We would be happy to link back to your blog / YouTube Channel / etc.   😉