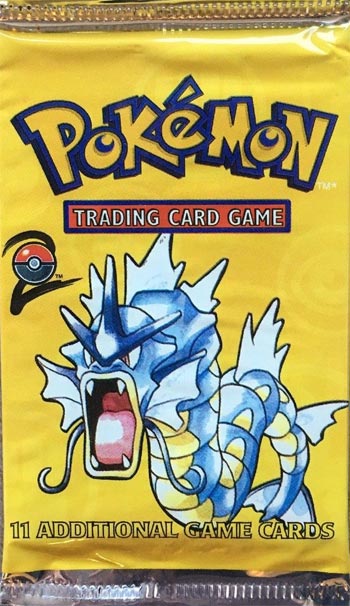 Pokemon Trading Card Game (TCG)
English Set Compositions and Price Guide
c.1999-2021 PoJo — http://www.pojo.com
 U.S. "Base Set 2" 

Updated: March 2021
---
Full Card List Notes
Base Set 2 has no new cards.  Base Set 2 was never issued with "1st Edition" cards.  Only "Unlimited" print run cards were issued.  Base Set 2 is a reprinting of many cards from the original Base Set and Jungle Expansion set. For easy reference, check at the end of the Set List for a listing of Base 1 and Jungle (expansion) cards that were not included in this reprint.
We are NOT selling cards. These are compiled for clarification of relative values and what you might expect to pay at a game store or collectible dealer for these cards.
 
Prices are all based on Near Mint Condition.  PSA Graded Cards are generally more valuable, especially if graded 8 thru 10.  What are graded cards? Click here.  PSA 10 cards are generally worth 3-10 times the values below.
PSA 10 Examples – 1st Edition examples of actual sales on eBay in 2021: Charizard – $20,000; Venusaur $1,200, and Zapdos $500.   Not all cards have been sold in PSA 10 condition.  And some are not worth grading, so there are no prices in the Price Guide for those right now.  
Unlimited 
Card # 
Rarity 
Color 
 
PSA
10 $$
Card Name
$20
1/130 
H 
 
$550
Alakazam
$45
2/130 
H 
 
$1200
Blastoise
$20
3/130 
H 
 
$350
Chansey
$400
4/130 
H 
 
$20,000
Charizard
$12
5/130 
H 
 
$350
Clefable
$11
6/130 
H 
 
$350
Clefairy
$25
7/130 
H 
 
$750
Gyarados
$15
8/130 
H 
 
$350
Hitmonchan
$15
9/130 
H 
 
$300
Magneton
$35
10/130 
H 
 
$385
Mewtwo
$50
11/130 
H 
 
$350
Nidoking
$50 
12/130 
H 
 
$350
Nidoqueen
$50
13/130 
H 
 
$350
Ninetales
$25
14/130 
H 
 
$300
Pidgeot
$25
15/130 
H 
 
$400
Poliwrath
$25
16/130 
H
 

$350

Raichu
$35
17/130 
H 
 
$400
Scyther
$100
18/130 
H 
 
$1200
Venusaur
$25
19/130 
H 
 
$300
Wigglytuff
$25
20/130 
H 
 
$500
Zapdos
$2 
21/130 
R 
 
 
Beedrill
$4
22/130 
R 
 
$400
Dragonair
$3
23/130 
R 
 
$80
Dugtrio
$3
24/130 
R 
 
$90
Electabuzz
$2
25/130 
R 
 
$105
Electrode
$2
26/130 
R 
 
$100
Kangaskhan
$2 
27/130 
R 
 
$70
Mr.Mime
$2 
28/130 
R 
 
 
Pidgeotto
$3 
29/130 
R 
 
 
Pinsir
$11 
30/130 
R 
 
$200
Snorlax
$2 
31/130 
R 
 
 
Venomoth
$2 
32/130 
R 
 
 
Victreebel
$4 
33/130 
U 
 
 
Arcanine
$3
34/130 
U 
 
 
Butterfree
$3
35/130 
U 
 
$75
Charmeleon
$1.50 
36/130 
U 
 
 
Dewgong
$1.50 
37/130 
U 
 
 
Dodrio
$1.50 
38/130 
U 
 
 
Dratini
$1.50 
39/130 
U 
 
 
Exeggutor
$1.50 
40/130 
U 
 
 
Farfetch'd
$1.50 
41/130 
U 
 
 
Fearow
$1.50 
42/130 
U 
 
 
Growlithe
$1.50 
43/130 
U 
 
 
Haunter
$1.50 
44/130 
U 
 
$75
Ivysaur
$1.50 
45/130 
U 
 
 
Jynx
$1.50 
46/130 
U 
 
 
Kadabra
$1.50 
47/130 
U 
 
 
Kakuna
$1.50 
48/130 
U 
 
 
Lickitung
$1.50 
49/130 
U 
 
 
Machoke
$1.50 
50/130 
U 
 
 
Magikarp
$1.50 
51/130 
U 
 
 
Magmar
$1.50 
52/130 
U 
 
 
Marowak
$1.50 
53/130 
U 
 
 
Nidorina
$1.50 
54/130 
U 
 
 
Nidorino
$1.50 
55/130 
U 
 
 
Parasect
$1.50 
56/130 
U 
 
 
Persian
$1.50 
57/130 
U 
 
 
Poliwhirl
$1.50 
58/130 
U 
 
 
Raticate
$1.50 
59/130 
U 
 
 
Rhydon
$1.50 
60/130 
U 
 
 
Seaking
$1.50 
61/130 
U 
 
 
Seel
$1.50 
62/130 
U 
 
 
Tauros
$1.50 
63/130 
U 
 
 
Wartortle
$1.50 
64/130 
U 
 
 
Weepinbell
$1.25 
65/130 
C 
 
 
Abra
$1 
66/130 
C 
 
 
Bellsprout
$0.25 
67/130 
C 
 
 
Bulbasaur
$0.25 
68/130 
C 
 
 
Caterpie
$0.25 
69/130 
C 
 
 
Charmander
$0.25 
70/130 
C 
 
 
Cubone
$0.25 
71/130 
C 
 
 
Diglett
$0.25 
72/130 
C 
 
 
Doduo
$0.25 
73/130 
C 
 
 
Drowzee
$0.25 
74/130 
C 
 
 
Exeggcute
$0.25 
75/130 
C 
 
 
Gastly
$0.25 
76/130 
C 
 
 
Goldeen
$0.25 
77/130 
C 
 
 
Jigglypuff
$0.25 
78/130 
C 
 
 
Machop
$0.25 
79/130 
C 
 
 
Magnemite
$0.25 
80/130 
C 
 
 
Meowth
$0.25 
81/130 
C 
 
 
Metapod
$0.25 
82/130 
C 
 
 
Nidoran(F)
$0.25 
83/130 
C 
 
 
Nidoran(M)
$0.25 
84/130 
C 
 
 
Onix
$0.25 
85/130 
C 
 
 
Paras
$0.25 
86/130 
C 
 
 
Pidgey
$0.25 
87/130 
C 
 
 
Pikachu
$0.25 
88/130 
C 
 
 
Poliwag
$0.25 
89/130 
C 
 
 
Rattata
$0.25 
90/130 
C 
 
 
Rhyhorn
$0.25 
91/130 
C 
 
 
Sandshrew
$0.25 
92/130 
C 
 
 
Spearow
$0.25 
93/130 
C 
 
$150
Squirtle
$0.25 
94/130 
C 
 
 
Starmie
$0.25 
95/130 
C 
 
 
Staryu
$0.25 
96/130 
C 
 
 
Tangela
$0.25 
97/130 
C 
 
 
Venonat
$0.25 
98/130 
C 
 
 
Voltorb
$0.25 
99/130 
C 
 
 
Vulpix
$0.25 
100/130 
C 
 
 
Weedle
$3
101/130 
R 
T 
 
—
Computer Search
$1 
102/130 
R 
T 
 
—
Impostor Professor Oak
$2 
103/130 
R 
T 
 
—
Item Finder
$2 
104/130 
R 
T 
 
—
Lass
$2 
105/130 
R 
T 
 
—
Pokemon Breeder
$2 
106/130 
R 
T 
 
—
Pokemon Trader
$3
107/130 
R 
T 
 
—
Scoop Up
$2 
108/130 
R 
T 
 
—
Super Energy Removal
$1.50 
109/130 
U 
T 
 
—
Defender
$1.50 
110/130 
U 
T 
 
—
Energy Retrieval
$1.50 
111/130 
U 
T 
 
—
Full Heal
$1.50 
112/130 
U 
T 
 
—
Maintenance
$1.50 
113/130 
U 
T 
 
—
PlusPower
$1.50 
114/130 
U 
T 
 
—
Pokemon Center
$1.50 
115/130 
U 
T 
 
—
Pokedex
$1.50 
116/130 
U 
T 
 
—
Professor Oak
$1.50 
117/130 
U 
T 
 
—
Super Potion
$0.99 
118/130 
C 
T 
 
—
Bill
$0.50 
119/130 
C 
T 
 
—
Energy Removal
$0.50 
120/130 
C 
T 
 
—
Gust of Wind
$0.50 
121/130 
C 
T 
 
—
Poke Ball
$0.50 
122/130 
C 
T 
 
—
Potion
$0.50 
123/130 
C 
T 
 
—
Switch
$1 
124/130 
U 
 
—
Double Colorless Energy
$0.10 
125/130 
C 
 
—
Fighting Energy
$0.10 
126/130 
C 
 
—
Fire Energy
$0.10 
127/130 
C 
 
—
Grass Energy
$0.10 
128/130 
C 
 
—
Lightning Energy
$0.10 
129/130 
C 
 
—
Psychic Energy
$0.10 
130/130 
C 
 
—
Water Energy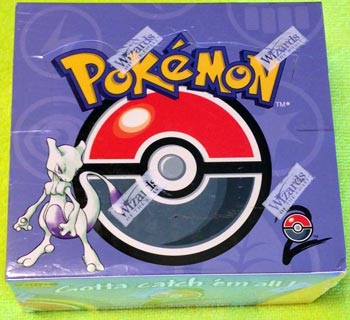 ---
Release date: Feb. 2000 Distributed by "Wizards of the Coast" (U.S.)
Based on the Pocket Monsters Card Game published by "Media Factory" (Japan)
---
Available in :
"Booster" Packs (Expert Level Play)
1 Rare Card   3 Uncommon Cards  5 Common Cards  2 Basic Energy Cards
(1 in 3 chance of rare card being replaced with ultra-rare "holographic" card)
---
Set Size : 130 Total cards
By Rarity:
6 Basic Energy (no rarity)
The following Base Set 1 and Jungle cards were not included in Base Set 2: 
| | |
| --- | --- |
| Base Set 1 | Jungle Expansion |
| Machamp | Electrode |
| Porygon | Flareon |
| Koffing | Jolteon |
| Ponyta | Vaporeon |
| Clefairy Doll | Vileplume |
| Devolution Spray | Gloom |
| Pokemon Flute | Primeape |
| Revive | Rapidash |
| | Eevee |
| | Mankey |
| | Oddish |
| | Pikachu |