Nick Curtis on YuGiOh
The Revival of Old Decks, Part 1
October 1, 2009
Yet another SJC has come and gone, and this time Blackwings have taken the #1 slot. The introduction of Vayu and Grepher together in the deck has increased the decks speed and explosive plays, almost to the point of 3 Gale in the deck. Sure, Blackwings, Lightsworn, and Gladiator Beasts are tier 1 right now, but what happened to originality? This week's article will discuss a forgotten deck, and bring it up to today's standards. And that deck……..is Toons!
2X Toon Summoned Skull
1X Toon Dark Magician Girl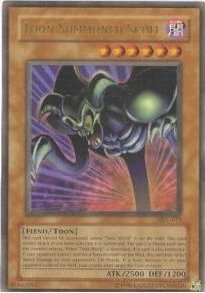 3X Toon Gemini Elf
3X Toon Goblin Attack Force
2X Card Guard
1X Rose, Warrior of Revenge
1X Sangan
3X Necro Gardna
1X Plaguespreader Zombie
1X Dark Grepher
1X Armageddon Knight

2X Vengeful Bog Spirit
2X Book of Moon
2X Allure of Darkness
1X Brain Control
1X Reinforcement of the Army
1X Toon Table of Contents
3X Toon World
1X Giant Trunade
1X Mystical Space Typhoon

3X Dark Bribe
2X Bottomless Trap Hole
1X Torrential Tribute
1X Solemn Judgment
1X Mirror Force
1X Call of the Haunted
A Toon monsters main strategy is to attack your opponents' life points directly, but in order to do so they must have Toon World on the field. All of the Toon monsters have "summoning sickness", with the exception of Toon Dark Magician Girl and Toon Alligator. Since Toon monsters state that they can be special summoned when Toon World is on the field that means you can drop more than one of them per turn! With that in mind, you can special summon a Toon monster, and play Rose, Warrior of Revenge for a quick Stardust Dragon for added protection that your Toon World will need. Also, since Toons can be special summoned you can use cards like Scapegoat and Fires of Doomsday to help bring them out as well. However, any Toon that is level 5 or higher is required to be tribute summoned to initially bring them out.
One of the major problems Toon monsters face, is their heavy reliance on Toon World. When Toon World is destroyed, so are all Toons on your field. In order to protect Toon World, this deck plays 3 copies of Dark Bribe, Solemn Judgment, and 2 Card Guard. You can also Synchro out Stardust Dragon like I mentioned earlier. A recently released card called Forbidden Chalice can make it so your Toon monsters can attack the same turn they're summoned, but not a direct attack. Chalice can also save your Toon monsters from being destroyed as a result of losing Toon World. Emergency Provisions can also save your Toon monsters should your Toon World be destroyed, because Provisions says "send X number of Spell and Trap cards to the graveyard", not destroy and send.
Vengeful Bog Spirit makes it so your opponent has to suffer from the same delay in attacking as you do when you summon your Toons, which gives your Toons that needed turn to stay alive and start their rampage. Another tactic that can be used would be Future Visions and a main decked Terraforming. Since most Toons are special summons, they get around Future Visions and make your opponent wait a turn as well since you can't initially attack anyway.
I hope this has enlightened some players out there that older concepts can be revived when combined with newer strategies, and make them competitive once again. Personally I like Toon decks, and hope that they'll become tier 1 competitive someday.
The winning response to last week's question "Do you feel that it is unfair how Doomcaliber Knight was reprinted? Many people have complained to me about how hard it is to get a set of them, and how pricey they are. So do you feel like a card of this nature should be released in another fashion, or keep it the way it is due to it being so powerful and sought after?" is PKpwnage from the Pojo Yugioh Message Boards! His response:
All in all, I think the reprinting of Doomcaliber Knight was a good move by Konami for three reasons: The timing, the placement, and the rarity.
The Timing: With Konami's reputation of reprinting money cards every so often, Doomcaliber Knight seemed to fit in perfectly. It hadn't been mass released in the TCG and was only available as a prize card to Shonen Jump winners (and 2008 Nats, I think). With tons of people that could use the card in some sort of anti-meta build, making it *more* widely available was a good move.
The Placement: What a great way to announce the Knight's reprinting with that of the new Turbo Packs. It was a great headline card to boost tournament entries, and is really a superior choice to being released in a possible third Gold Series.
The Rarity: I caught a lot of heat on the boards when I suggested that Crush Card Virus be reprinted at a higher rarity than just rare. Simply put, both CCV and Doomcal are powerful cards, and both should command a higher price in the secondary market. I'm not a proponent of reprinting powerful and hard-to-get cards as commons or rares, and prefer for rarities to be gradually decreased, like Solemn Judgment, Monster Reborn, and Call of the Haunted.
The bottom line is that Doomcaliber's reprinting was a great success, and even if it's a $50 card, the game has and probably always will have $50 cards. It motivates people to buy product.
Great explanation PK! I couldn't agree more. And as far as the rarity of a reprinted CCV, I fully agree with you that it should've been a higher rarity than just a plain old rare, but unless we work for Konami, then it doesn't matter…. =(
This week's question is: Sure Blackwings won Orlando, but what is your opinion on the Norleras Deck that also placed in the top 16? Why do you think it placed so high? Was it because it was so random people weren't ready for it, or because it was just total luck? Give me a good reason, and you'll see your name here!
So until next article, play fair and play fierce….
~ Nick "Techno Syndrome" Curtis
AIM: ssjtrunks756
Email: ssjtrunks756pojo@gmail.com