DM7FGD's Look Into the Future
Article #17 - Avatar of Apophis and Foolish Burial
No fancy title today; just getting right to the point. Today, we'll be taking a look at 2 interesting Japanese cards, neither of which have a known English release. The two cards are Avatar of Apophis, released as a Japanese Weekly Jump promo card a long while ago, and Foolish Burial, released in the Jounouchi Structure Deck Volume 2. Let's begin with a look at Avatar of Apophis..
Avatar of Apophis
Type: Permanent Trap Card
Effect: This Card can only be activated during a Main Phase. Once activated, this card becomes a Monster card (Earth/Reptile - Level 4 - 1600/1800), and is Special Summoned to the Field.
Avatar of Apophis is an interesting Trap Card indeed. Not only is it very fun to play, but it can also be very effective at times. It provides a nice Defense, or it could even be a Trap Card just for use of turning into a Monster for some extra damage to your opponent.
First off, note that Avatar can only be activated during one of your or your opponent's Main Phases. Second, note that Avatar is a Permanent Trap Card, and even though it becomes a Monster Card, it's still treated as a Trap Card, therefore, like Metal Reflect Slime, Avatar can be destroyed by the likes of Monster destruction and/or M/T removal. And third, Avatar may be Special Summoned to the Field in either ATK or DEF position, whichever you may want.
One good thing about Avatar is that it's Special Summoned, and it doesn't count as a Normal Summon or anything. So you could Special Summon an Avatar (Or perhaps more than one) from your M/T Zone, and still bring out some other Monsters for some pretty heavy attacking power. Stats of 1600/1800 for a Trap/Monster Card isn't bad at all, and could prove to be pretty useful.
Not only is it a Trap/Monster Card with pretty good stats, but it can also be used for Tribute for any other High-Level Monster you may have in your deck. Yet another advantage to using this card.
Avatar of Apophis can work especially well in decks with more-than-the-average-amount of Traps, Earth-based Decks, Reptile-Based Decks, and a few character-based Decks. Overall, I'd give it a rating of 7.3/10. For the second card review of today's article, we'll be taking a look at Foolish Burial..
Foolish Burial
Normal Magic Card
Effect: Search your Deck for a Monster card and put it into your Graveyard. Shuffle your deck afterward.
There are quite a few possibilities with this card, and in my opinion anyway, it's more like "Not-So-Foolish Burial." At first, you may be thinking "What's so great about using a card just to search your deck for another card to put in your Graveyard?" Well, look at some of the Deck Types that this card can work extraordinarily well in:
Chaos Decks
Reversal of Worlds Decks
Trap-based Decks
Jounouchi-based Decks
Now, those are not the only deck types it works well in, just a few of the more notable ones. It works well with Makyura the Executioner (Refer to my Designators of Darkness Article) and Trap cards, as you could use Foolish Burial to get rid of a Makyura from your deck, then activate a Trap card from your hand. It helps Reversal of Worlds (Refer to Tenacious Trap Cards) as that's at least a free 2 cards into your Graveyard right there. It could help Chaos decks by searching your deck for a Dark or Light type Monster to get into the Graveyard for use with either of the Messengers. If you're stuck in a duel, Foolish Burial could help you to search your deck for a Sinister Serpent to get into the Graveyard so it'll return to your turn hand during your following turn, or any other Monster that might benefit you by being in the Graveyard, either by setting it up for some Revival or for something other than that. Other uses for Foolish Burial in other types of Decks would be quite obvious.
Simply searching your deck for a Monster to put into your Graveyard might not seem too good at first, but it could really help you quite a bit, probably more often than you might think, and in quite a few different deck types.
It's quite a fun card to try using, and I wouldn't be too surprised if Foolish Burial ends up Semi-Restricted sometime in the future. I'd rate Foolish Burial a 7.7/10.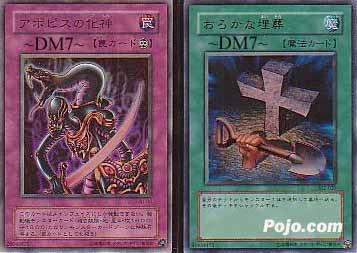 And that'll do it for today's article. As always, I can be reached with any questions or comments at dm7fgd32@hotmail.com
Until Next Time..
~DM7~
A Note: My e-mail address for responses to my articles will be changing again soon, as my Inbox fills up rather quickly. I'd say by the time of my 20th Article, my e-mail address will be changing.
Also, please do not send me any e-mails with any attachments, nor any e-mails asking for Deck Help, though I wouldn't mind answering some Deck Help questions every once in a while. Just know that if you send me your deck for some suggestions, you may or may not get a response.
Thanks to all who have been following and enjoying my articles here.
~DM7~